The United Nations 2030 Global Agenda has laid great emphasis on ensuring universal access to safe and affordable drinking water and preserving water resources in target 6.1. It requires adequate infrastructure and related facilities that can be acquired through effective international cooperation.
For aiding UN's relevant cause and in response to the existing water res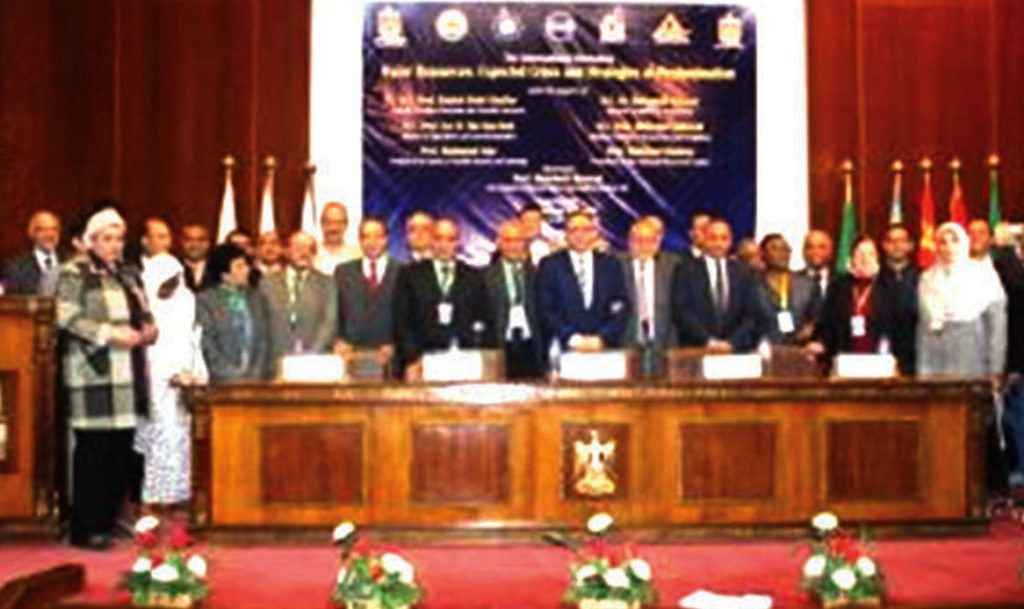 ource crises in the world, COMSATS in collaboration with its Centre of Excellence in Egypt, National Research Centre (NRC), organized an international workshop on Water Resources: Expected Crises and Strategies of Predomination" from 11th – 12th March 2019, in Cairo, Egypt. The event brought together scientists, academicians, managers in private sector, and mid-to senior-level government officials to discuss and find solutions to the issues related to water resources.
The workshop was inaugurated on 11th March 2019 in the presence of scientists and researchers from China, Egypt, Nigeria, Pakistan, Sri Lanka, and Sudan. Speaking at the inaugural, Dr. S.M. Junaid Zaidi, Executive Director COMSATS, noted that water availability, quality and management are the most significant challenges in developing countries, especially under changing climatic conditions. He pledged that COMSATS shall continue to extend its full support to its member countries and developing world as well for addressing these challenges. He thanked the participants and experts for their presence, and lauded NRC for organizing a successful event.
Prof. Mohamed Hashem, President of NRC, Egypt, pointed out that rational use of water is getting a special attention all over the world and right responses in this regard need cooperation among governments, academia and industries. He noted that excellence in science and technology is central in socio-economic development. Prof. Ashraf Shaalan, Chairman COMSATS Coordinating Council, in his remarks, appreciated the work of COMSATS in supporting young researchers from the South and strengthening the South-South and Triangular cooperation.
Dr. Ahmed Abdul-Nazeer, speaking on behalf of H. E. Dr. Mohamed El-Assar, Minister of Military Production, Egypt, overviewed the mission of COMSATS for promoting Science and Technology in Egypt as well as technical support that Egypt has been receiving from COMSATS in the fields of Science and Technology. He noted that Egypt and other COMSATS' member countries could come together for solving their common problems.
Prof. Mahmoud M. Sakr, President, Academy of Scientific Research and Technology (ASRT) congratulated COMSATS and NRC for the organization of workshop. He stated that the Government of Egypt highly values the efforts of COMSATS for promoting South-South cooperation. He also pledged to work closely with COMSATS for the sustainable development in Egypt and in the other developing countries in order to address the common challenges that are being faced by developing countries.
The technical proceedings of the two-day Workshop comprised thirty (30) sessions including two plenary sessions during which speakers from Pakistan, Egypt, China, Sri Lanka, Nigeria, and Sudan made their presentations on various topics which, inter alia, included: rational use of water in agriculture, green environment, irrigation, water resources, wastewater treatment, improving water productivity and quality, and sustainable water management.