A three-member delegation led by Hon. High Commissioner of Ghana to Pakistan (Resident i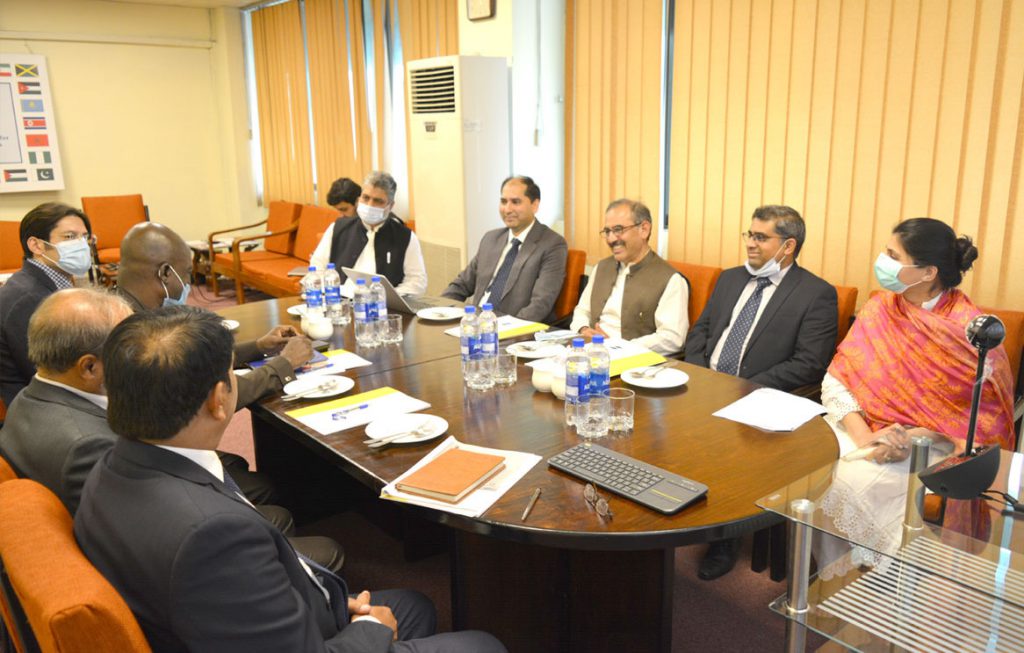 n Tehran), H.E. Eric Owusu-Boateng, visited COMSATS Secretariat, on 1st October 2021. The High Commissioner was accompanied by Mr. Omar Shahid Butt, Vice Consul General of Ghana in Pakistan, and Mr. Tahir Javed, Public Relations Officer at Ghanaian Consulate in Pakistan.
The Republic of Ghana is a founding member country of COMSATS and is currently holding the Chair of the Commission. The visiting delegates held a meeting with the Executive Director COMSATS, Dr. Akhtar Nazir, who is also the Federal Secretary, Ministry of Science and Technology, Government of Pakistan. Besides the Executive Director, senior officials present at the meeting were Mr. Irfan Hayee, Deputy Director (Programme); Mr. Nisar Ahmad, Deputy Director (Systems); Ms. Huma Balouch, Sr. Assistant Director (Programme); Mr. Farhan Ansari, Sr. Assistant Director (Programme); and Mr. Zain-ul-Abedin, Joint Scientific Adviser (International Liaison), Ministry of Science & Technology, Government of Pakistan.
During the meeting, the High Commissioner was given a presentation by Mr. Hayee on COMSATS' engagements with Ghana focusing on past and ongoing collaboration with the Government as well as Ghanaian scientific institutions. It was recalled that Ghana hosted the last (3rd) meeting of the Commission as COMSATS' Member State with Chair, as well as two meetings of COMSATS Consultative Committee, a meeting of COMSATS Coordinating Council, and three joint scientific capacity building events. Recent interactions with the Chairperson of COMSATS, Hon. Nana Addo Dankwa Akufo-Addo, President of Ghana, in connection with the preparations for the next General Meeting were also discussed.
Highlighting the impact of collaboration on scientific grounds, Mr. Ahmad presented trainin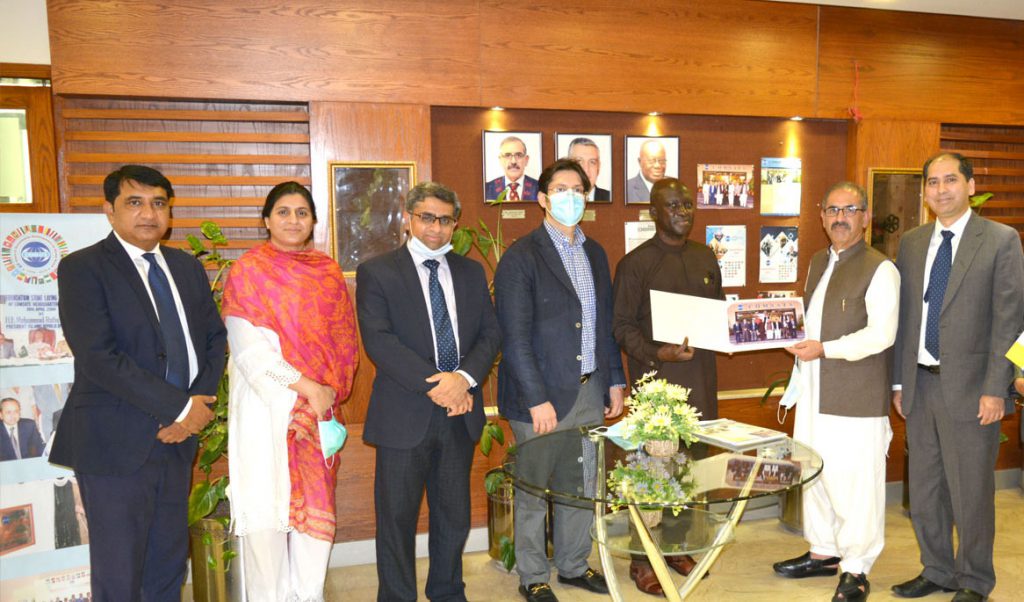 g workshops on 'Repair and Maintenance of Scientific Equipment' organized by COMSATS in Ghana as a success in terms of building technical capacities of local community. He also apprised the High Commissioner of the facilitative role being played by the Office of the President of Ghana with regard to COMSATS' engagements in Ghana.
While discussing other programmes of COMSATS, Mr. Ansari shed light on the recently established COMSATS Joint Center for Industrial Biotechnology (CCIB) in Tianjin, China; ongoing collaboration of COMSATS with the Alliance of International Science Organizations (ANSO), China; and scholarships and fellowships offered by COMSATS' Centres of Excellence, emphasizing the contributions being made by the Council for Scientific and Industrial Research (CSIR), Ghana, in the afore-mentioned activities. Ms. Balouch highlighted the recent initiatives taken by COMSATS for facilitating the achievement of Sustainable Development Goals (SDGs) in COMSATS' Member States.
H.E. Eric Owusu-Boateng expressed pleasure on visiting COMSATS Secretariat and receiving the briefing on its programmes and activities. He applauded the contributions made by COMSATS towards S&T-led socio-economic development of the global South, particularly in African countries. He considered COMSATS as a unique forum for the promotion of South-South scientific cooperation, and expressed satisfaction on the role being played by Ghana in this regard. He took keen interest in COMSATS' Scholarship and Fellowship Programme, and offered facilitation to ensure that Ghanaian students would benefit from these opportunities. The High Commissioner pledged to support and facilitate smooth communication between COMSATS and Ghanaian authorities/institutions for future collaborative undertakings, especially for holding the next meeting of the Commission.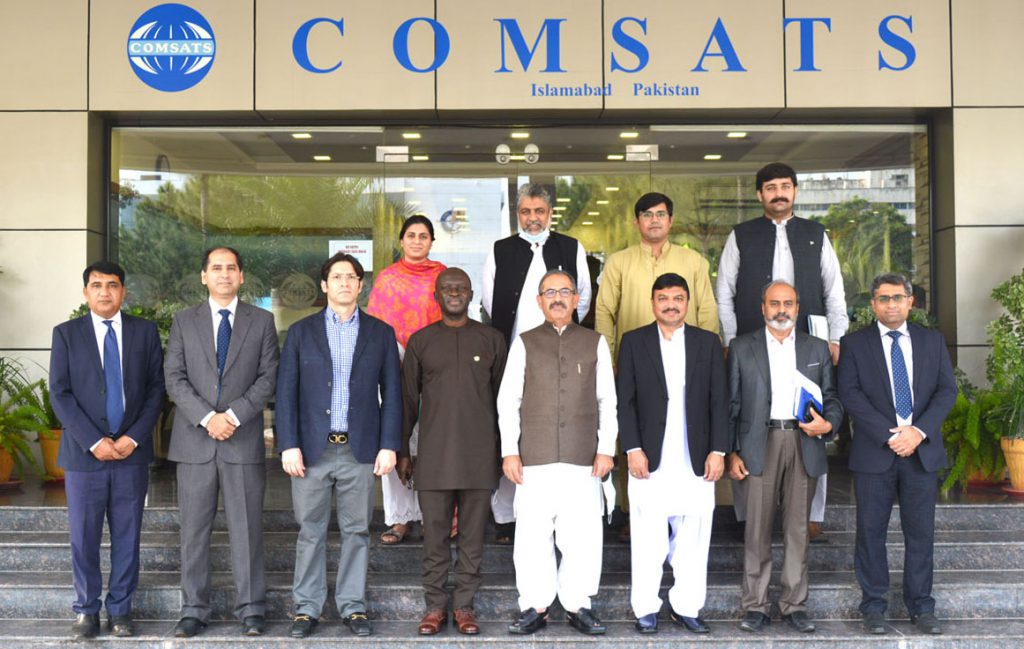 Mr. Omar Shahid Butt shared some of the planned activities of the Ghanaian Consulate in Pakistan, and discussed possible participation of COMSATS in the same. Other matters discussed between the Executive Director COMSATS and the Ghanaian High Commissioner included Ghana's annual membership contribution to COMSATS; possibility of Ghana offering scholarships/fellowships to other member countries; and expansion of COMSATS' membership in African region.
The meeting concluded on the note of strengthening existing ties between COMSATS and the Government of Ghana and paving way for mutually beneficial collaboration.