On June 26, 2018 the Commonwealth Secretariat officially approved the accreditation of the Commission on Science and Technology for Sustainable Development in the South (COMSATS).
COMSATS is the first Pakistan-based organization to have been accredited to the C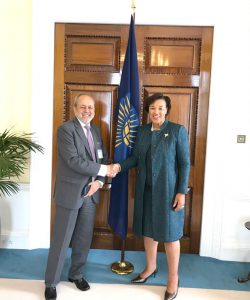 ommonwealth. The accreditation to the Commonwealth provides formal recognition of the organization becoming a part of a large network of accredited civil society and professional organizations. The accreditation shall now enable COMSATS and its member countries to explore new avenues for collaborations, projects and networking with one of the largest organizations in London, United Kingdom.
The Commonwealth consists of 53 member states and over 80 international organizations, with 9 mutual member countries with COMSATS. Some of the priority areas where COMSATS and the Commonwealth could work hand in hand include Science, Technology and Innovation, Sustainable Development and Climate Change.
The Commonwealth is involved in diverse activities, including supporting nations' negotiations and education to women empowerment, to supporting youth participation or support in policy making. COMSATS' Member Countries and Centres of Excellence (COE) can greatly benefit through collaborations in the form of research and development projects within the network of Commonwealth's accredited organizations.
This accreditation is an important milestone for COMSATS that is looking to expand its triangular cooperation which is manifest from its outreach to the North in the recent months.