In pursuance of COMSATS' mandate of South-South Cooperation and with a view to explore prospects of expansion of COMSATS' telehealth activities in its Member States, COMSATS facilitated a virtual meeting between Dr. Orkun Hasekioğlu (Advisor at the Scientific and Technological Research Council of Turkey – TÜBİTAK) and Dr. Sohail Chughtai (Orthopedic Surgeon & Fellow in Clinical Telemedicine, Islamabad). The meeting, held on 21st December 2022, was chaired by Ambassador Dr. M. Nafees Zakaria, Executive Director COMSATS, and had the participation of Dr. Azeema Fareed, Additional Director (Health); and Mr. Irfan Hayee, Additional Director (Programmes) from COMSATS Secretariat. Dr. Orkun's colleague, Dr. Omer, a medical specialist and General Surgeon, also attended the meeting.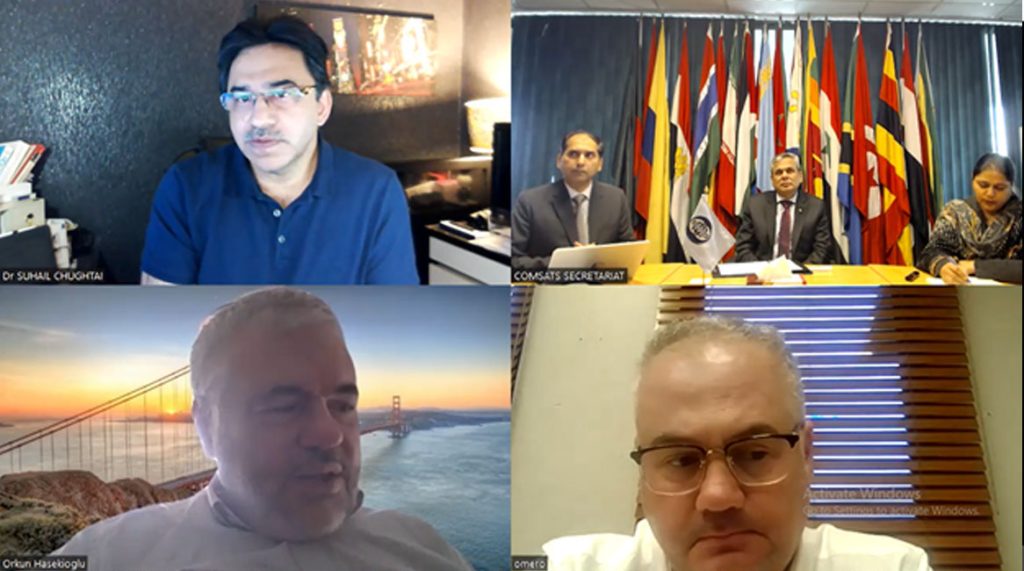 During the meeting, Dr. Zakaria appreciated the efforts of his team in bringing the two stakeholders together and hoped that this collaboration would result in a pilot project in other Member States of COMSATS similar to the one launched in Pakistan and is now being expanded to far-flung areas with the patronage of Government of Pakistan.
Dr. Chughtai briefed about the software developed by his company and the various services offered by it, including telemedicine, online ward rounds and training. He also informed that his company, housed in London, is also operating in Dubai-UAE and Karachi-Pakistan.
Further, it was learnt during the meeting that Dr. Hasekioğlu and Dr. Omer are in the process of establishing a network of hospitals in Doha-Qatar and Istanbul-Turkey where they aim applying telemedicine. Dr. Omer also mentioned that after working at various positions in hospitals of Turkey and Doha, he has realized that there is a strong need for AI-based solutions for challenges relating to hospital administration, and medical record keeping.
Some areas of collaboration suggested by Dr. Orkun included: development of a software platform for telemedicine; emulation of telehealth services in other countries; Artificial Intelligence; and medical training of doctors.
The meeting ended on cordial note with the pledge to follow-up the matters discussed in coming days.