COMSATS' officials were invited by the National Flood Response & Coordination Centre (NFRCC) at its Centre in-response to a proposal submitted earlier by COMSATS to the Ministry of National Health Services Regulation and Coordination (NHSR&C) of the Government of Pakistan. NRFCC has recently been instituted as a responsive nerve centre by the Government in the wake of devastating floods in the country that have resulted in a serious humanitarian and climate crisis.
Held on 10th October 2022, objective of the meeting with COMSATS' officials was to as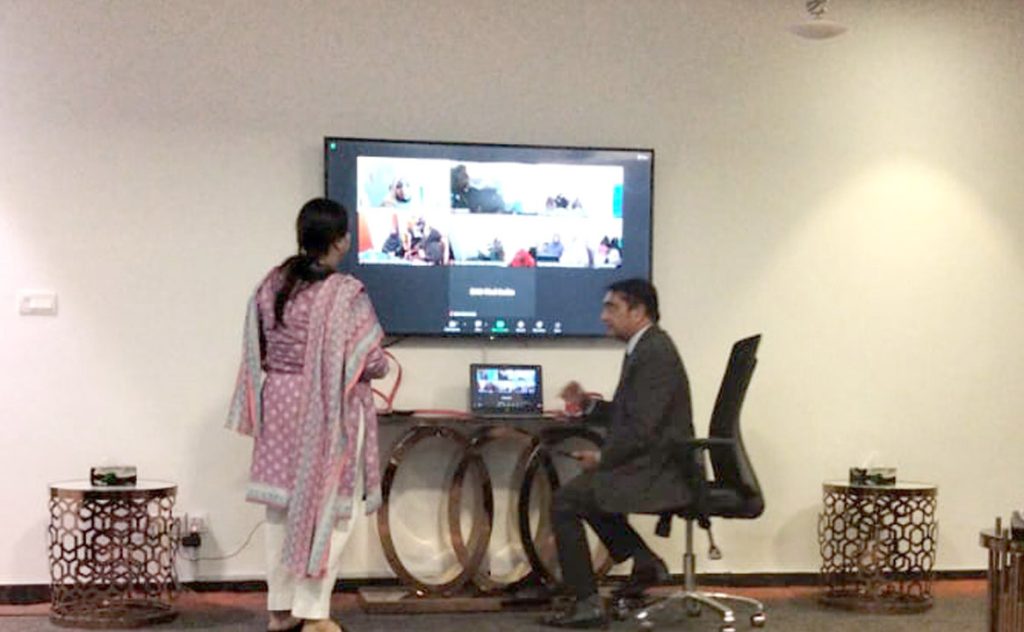 sess COMSATS' proposal on "Providing Accessible Primary Healthcare to Flood Affected Communities through a Telehealth System". Drawing upon the experience and expertise of COMSATS Telehealth (CTH), COMSATS' proposed project aims to support flood relief activities in the country in collaboration with government agencies, including NFRCC.
The visiting officials of COMSATS were Dr. Azeema Fareed (Additional Director, Health/ In-charge, Telehealth); Mr. Irfan Hayee (Additional Director/ In-charge, Programmes); and Mr. Nisar Ahmad (Additional Director/ In-charge, Systems) who held a meeting with Brigadier Omer Khursheed (Director IT, NFRCC) and Ms. Ayesha Humera (Executive Director, National Information Technology Board – NITB).
During the meeting, officials of NFRCC were briefed about COMSATS and its ongoing projects, especially the Telehealth programme, which is operational from COMSATS Internet Services (CIS). Taking keen interest in the mode of services delivery of CTH, NFRCC's official requested COMSATS for a demo to be presented in the follow-up meeting. COMSATS' team was also encouraged to share the details of the concept note through a multimedia presentation covering project's scope, features and functionalities along with its application in the current disaster management interventions and future roadmap.
The follow-up meeting that took place on 11th October 2022 also had the presence of Dr. Rabail Javed from Ministry of NHSR&C. Dr. Azeema Fareed gave a live demonstration of COMSATS Telehealth model during which Dr. Nadia Rasheed (Project Manager, Telehealth – CIS) present at Telehealth Resource Centre at CIS connected with four BHU tele-clinics in Balochistan. NFRCC officials observed the tele-consultation process and asked questions about various aspects of the online healthcare system.
Dr. Azeema and Mr. Hayee also discussed the customized aspects of CTH model for current situation and Mr. Ahmed delineated on some related technical aspects. In his feedback, Brig. Khursheed lauded the model for its utility for the remote areas in non-disaster circumstances. He suggested having a "mobile application" compatible with hand-held mobile devices, such as mobile phone or tablet to cater to the primary healthcare needs in disaster hit areas. Furthermore, he advised COMSATS to partner with NGOs working in this domain for implementation of COMSATS' ideas in this emergency situation.
The meeting concluded with a pledge to explore further avenues of cooperation in the field of health to help flood affected people of Pakistan. NFRCC's team was also invited to pay a visit to Telehealth Resource Centre.