Upon invitation from the Executive Director COMSATS, Dr. S.M. Junaid Zaidi, the German Ambassador to Pakistan, H.E. Mr. Martin Kobler visited COMSATS Secretariat on 23rd November 2018. He was accompanied by Ms. Christine Rosenberger, First Secretary and Ms. Veronique Wagner, Political, Press and Communication Counsellor at Embassy of Germany in Islamabad.
The agenda of the meeting was to explore common grounds of cooperation with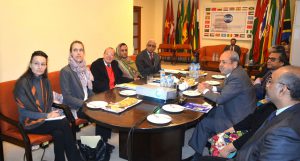 the German Government for the benefit of the countries of the South. The Ambassador was given a detailed briefing on programmes and activities of COMSATS during the meeting which was held in the presence of senior officials of COMSATS and IPD. It was proposed that bilateral cooperation between COMSATS and Germany may be established for joint capacity building programmes in areas of mutual interest; faculty development; vocational and technical training; exchange of expertise and technical resources; and various R&D projects.
Dr. Zaidi also propounded that through cooperation and partnership between Germany and COMSATS' Member States, R&D Centres in the field of Climate Change & Environment and Biotechnology, as well as Technology Parks and vocational training institutes may also be established. Further, it was submitted that linkages of German institutes with COMSATS' Centres of Excellence would pave way for the latter to achieve excellence in cyber-physical systems – the hallmark of fourth industrial revolution.
H.E. Mr. Martin Kobler was receptive of COMSATS' proposals and e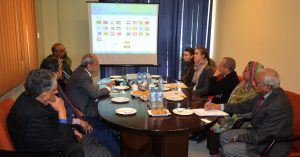 xpressed keen interest in the establishment of Centre for Climate Change for which governments of Germany and France have already been approached by COMSATS. Further, the Ambassador apprised that German Government is already extending support to Pakistan in higher education sector through provision of scholarships.
The meeting ended with a note to foster bilateral cooperation for the mutual benefit of the developing countries of the South. The Embassy officials were presented with souvenirs and COMSATS' publications by Executive Director COMSATS.