On 24th December 2018, a delegation from a newly established Division, Arms Control and Disarmament Division-II (ACDIS-II) & Science Diplomacy, Ministry of Foreign Affairs (MoFA), Government of Pakistan, visited COMSATS Secretariat upon invitation from the Executive Director COMSATS, Dr. S. M. Junaid Zaidi. The meeting, held in the presence of senior officials of COMSATS, was aimed at strengthening bilateral cooperation and earning the support of MoFA for furthering COMSATS' programmes oriented towards achieving sustainable development within the landscape of Science Diplomacy.
During the meeting, the delegation comprising Ms. Saima Syed – Directo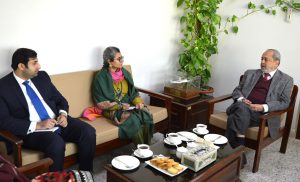 r, and Mr. Kamran Ahmad – Assistant Director, ACDIS-II & Science Diplomacy, MoFA, received a briefing on COMSATS by Dr. Zaidi. The Executive Director underscored major achievements of the Organization and its contribution towards the promotion of S&T in COMSATS Member States including Pakistan. Speaking on the occasion, Ambassador (R) Fauzia Nasreen, Advisor (SDGs) at COMSATS Secretariat, added that COMSATS has always remained cognizant of the need of Science Diplomacy for national progress and development and has, therefore, given it a due place in COMSATS objectives. She opined that Science Diplomacy could serve as a tool to address ever increasing global challenges of socio-economic nature through forging constructive international partnerships.
It was informed by Ms. Saima Syed that ACDIS-II & Science Diplomacy Division has recently been established by MoFA in order to facilitate scientific collaboration between national stakeholders and international partners, as a part of Pakistani's diplomatic outreach in support of the government's socio-economic development priorities. In line with this, Pakistani missions abroad, she added, have been tasked with the responsibility to build and reinforce bilateral linkages especially in the area of Science Diplomacy; identify funding sources; as well as map emerging trends and technologies for the stakeholders in Pakistan.
Further, avenues were explored for due utilization of COMSATS' platform for leveraging partnerships on scientific grounds with international organizations particularly Organization of Islamic Cooperation (OIC) in order to secure international support for various scientific and research-based initiatives. Both sides pledged to engage relevant stakeholders through Science Diplomacy for achieving socio-economic development in accordance with 2030 Global Agenda.
The meeting ended with a note to advance cooperation for science-led national development with a view to create positive image of Pakistan in the world.