On 12th September 2022, a two-member delegation of the Islamic Organization for Food Secu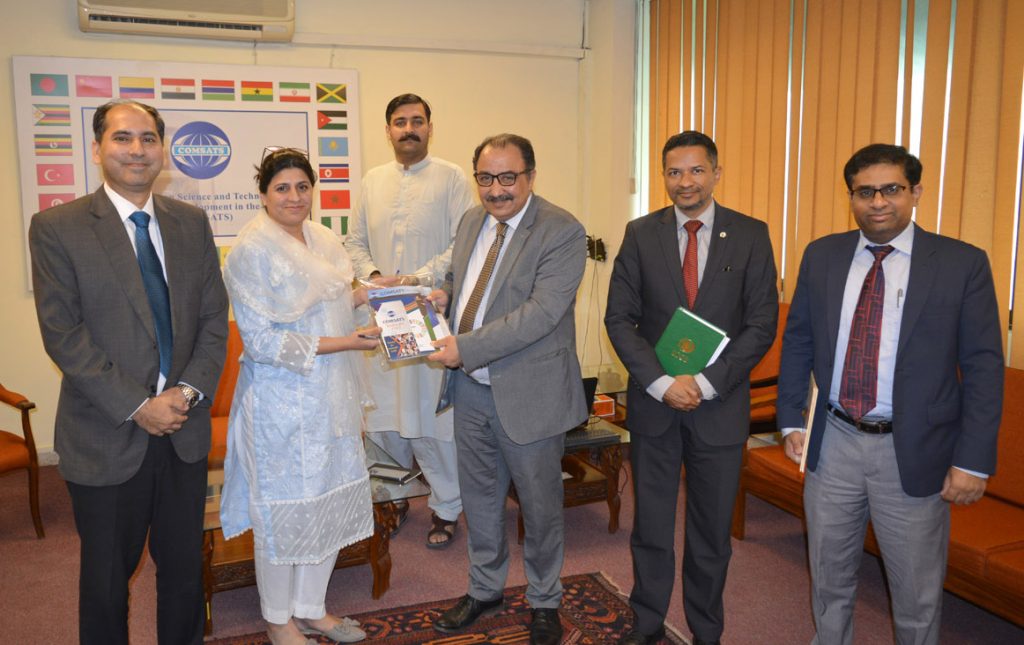 rity (IOFS), Kazakhstan, visited COMSATS Secretariat for a meeting to initiate and discuss prospects of cooperation for climate-resilient agrifood systems transformation in common Member States of COMSATS and IOFS. The visiting delegation comprised of Dr. Ismail Abdelhamid, Director of Programmes & Projects Office, and Mr. Abdula Manafi Mutualo, Senior Liaison Officer of IOFS.
Welcoming the delegation, Mr. Irfan Hayee, Incharge Programmes/ Additional Director at COMSATS, briefed the delegates about COMSATS' role and mandate, as well as its on-going programmes and activities. He highlighted the initiatives taken by COMSATS in areas of climate change, sustainable agriculture development and food security. These include: COMSATS Centre for Climate & Sustainability (CCCS), COMSATS Joint Centre for Industrial Biotechnology (CCIB) and International Thematic Research Groups (ITRGs) on 'Agriculture, Biotechnology and Food Security'.
Introducing his organization, Dr. Abdelhamid stated that IOFS is one of the largest international organisations of the OIC family. It was founded in December 2013 by statutory mandate and began operations in 2017 after ratification from member states. At present, IOFS has 37 out of the 57 Member States of OIC, 14 of which ratified the organization's statute. Dr. Abdelhamid also provided a brief overview of IOFS' upcoming activities aimed at increasing agriculture productivity and promoting sustainable agriculture development in its Member Countries through utilizing appropriate technology and scaling-up of funding mechanism and investments.
Mr. Manafi added that IOFS is operating under its recently adopted ten-year Strategic Vision 2031, which was approved by the 4th General Assembly in September 2021. He further informed that IOFS is undertaking initiatives relating to its five pillars of Governance Enablement, Food Crises Response, Capacity Building, Industrial Development, and Recourse Mobilization.
During the meeting, both sides agreed on developing a collaborative work plan and initiate coordinated programmes between CCCS and IOFS focussing on joint capacity-building in common Member States; making digitalization for Climate-Smart Agriculture (CSA) a focus area; undertaking collective efforts for mobilization of Climate financing; as well as setting-up a working group to further explore areas of closer cooperation and reinforcing each other's efforts towards combating climate change and global food insecurity.
On a concluding note, Mr. Hayee appreciated IOFS' efforts for promoting sustainable agricultural practices and food systems and expressed COMSATS' willingness to provide support to IOFS for its initiatives.
The delegation's visit to COMSATS came at a time when the IOFS is preparing to host its Fifth General Assembly in Tunis, Tunisia. The meeting focuses on a gamut of key topics, including IOFS Strategic Programmes and overview of the implementation; finance and governance; membership of IOFS; upholding commitments to multilateral cooperation and coordination, and collaboration towards implementing concrete measures and developing practical solutions to overcome challenges of climate change and food insecurity.
An Agreement between COMSATS and IOFS is already under consideration that draws on enhancing collaboration, coordination, and synergies between both organizations on common thematic areas at the global, regional, and country-level.