On June 29, 2011, COMSATS' two-member delegation comprising of Mr. Tajammul Hussain, Advisor (Programmes) COMSATS, and Mr. Farhan Ansari, Assistant Dir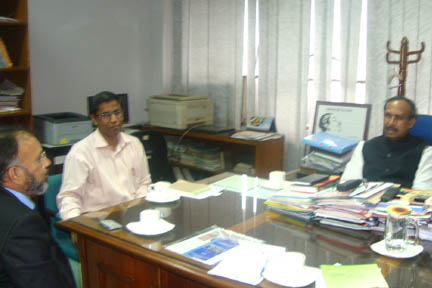 ector (Programmes) COMSATS, visited the Bangladesh Council of Scientific & Industrial Research (BCSIR), Bangladesh, and held a meeting with its Chairman, Prof. Dr. S. M. Imamul Haq. Mr. Hussain made a brief presentation on COMSATS, highlighting its history, organizational structure, Member Countries, Centres of Excellence, on-going projects and programmes, recently held capacity building activities, and future strategy. He stated that COMSATS' Network of International S&T Centres of Excellence has been further strengthened by virtue of BCSIR's membership. During the meeting, opportunities of scientific collaboration available with COMSATS were discussed as well as strong participation of BCSIR in COMSATS' projects and programmes, especially Thematic Research Groups, was stressed.
COMSATS' delegation also visited different sections of BCSIR that included: Food and Safety Lab, Food Toxicology Analytical Lab, Bio-gas Plants, and Bangladesh Institute of Chemical Metrology. Brief meetings were held with the respective heads of different laboratories/sections of BCSIR in order to identify the Council's training needs and jointly organizing capacity building events.
Subsequently, COMSATS' delegation held a meeting with the h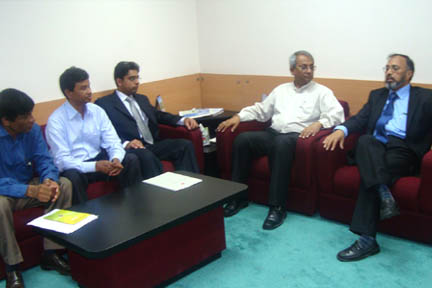 onourable State Minister for Science and Information & Communication Technology (MOSICT), Government of Bangladesh, Arch. Yeafesh Osman, at MOSICT, Dhaka, Bangladesh. Also present in the meeting was Mr. Dilip Kumar Basak, Additional Secretary, MOSICT, Bangladesh. Mr. Hussain briefly shed light on COMSATS' support for Bangladesh's scientific capacity building through the sponsorship of its scientists/researchers for participating in COMSATS' international capacity building events, and acquainted the State Minister with COMSATS' recently held International Training Workshop on 'Science Education for Sustainable Development', June 27-28, 2011, Dhaka, Bangladesh.
The State Minister admired COMSATS' initiatives for Bangladesh's scientific capacity building and assured of his full support for facilitating Bangladesh's scientific collaboration with other developing/developed countries from COMSATS' platform. He underscored the need of employing science and technology, especially ICTs, for improving the standard of education in the developing countries and regarded international collaboration as key for achieving this objective. He also shared with the participants of the meeting his Government's initiatives for strengthening the mechanisms of education in Bangladesh.