A delegation of COMSATS led by the Executive Director, Dr. I. E. Qureshi, visited COMSATS' Centre of Excellence in Tanzania, the Tanzania Industrial Research and Development Organization (TIRDO) on 22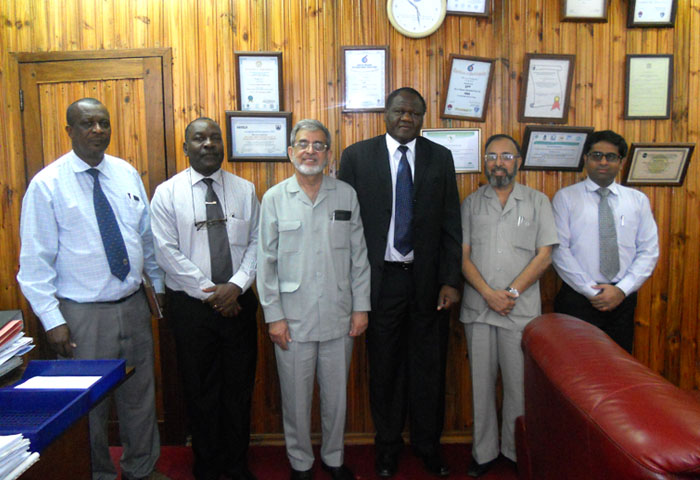 nd October 2014. TIRDO has been affiliated with COMSATS' Network of International S&T Centres of Excellence since 1995. The primary objective of the visit was to gain the first-hand knowledge of technical and human resources as well as the on-going activities of TIRDO. The Executive Director was accompanied by Mr. Tajammul Hussain, Advisor (Programmes) COMSATS, and Mr. Farhan Ansari, Sr. Assistant Director (Programmes) COMSATS.
The visit commenced with a meeting between COMSATS delegation and senior officials of TIRDO; Prof. Mkumbukwa M.A. Mtambo, Director General; Dr. Ludovick C. Manege, Director of Industrial Research; Mr. Robert Nindie, Acting Director of Engineering and Development; and Dr. George S. Oreku, Director of Information Communication and Technology Transfer. During the meeting, the Director General TIRDO shed light on the history, organizational structure and financial situation of TIRDO. He informed that TIRDO is making efforts to build its capacity for providing services to the local industries. In this regard, the Director General appreciated COMSATS' support towards the capacity building of TIRDO, and noted that three scientists of TIRDO were participating in the 4th International Workshop on 'Internet Security: Enhancing Information Exchange Safeguards' (October 19-23, 2014), which was being organized by COMSATS, in collaboration with its partner organizations at COSTECH, Tanzania. He also expressed TIRDO's interest to host a similar workshop.
The Executive Director COMSATS highlighted the history, mandate and organization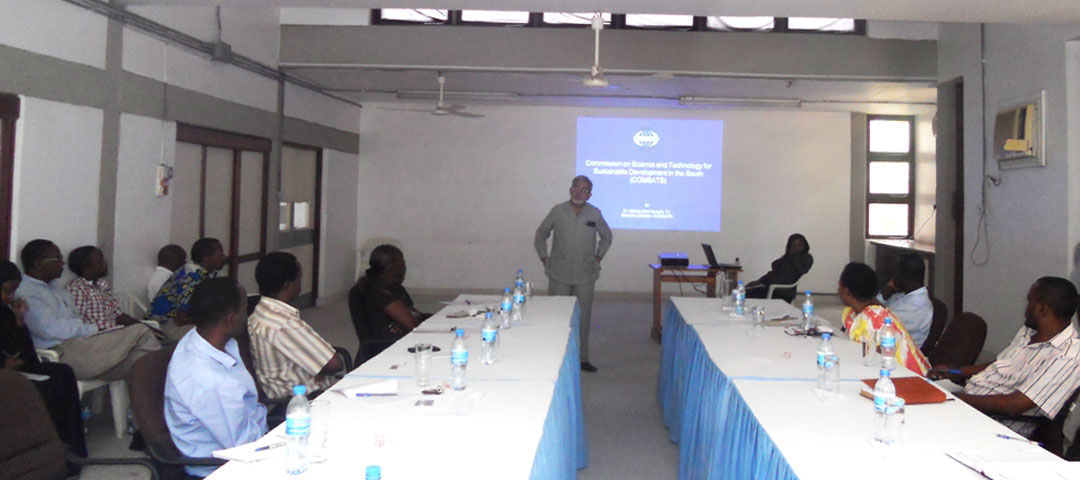 al structure of COMSATS. He recalled the catalytic role played by H.E. Mr. Benjamin W. Mkapa, Former President of Tanzania, for the establishment of COMSATS during its Foundation Meeting held on 4-5 October 1994, at Islamabad, Pakistan, in which he was representing the Government of Tanzania as the Minister for Science, Technology and Higher Education. The Executive Director underscored COMSATS' programmes pertaining to three broad categories, i.e. Education, Capacity Building, and Scientific Research. In this regard, he urged TIRDO to avail the postgraduate scholarships offered by COMSATS Institute of Information Technology (CIIT) and other Centres of Excellence. While discussing COMSATS' capacity building activities, the Executive Director invited the Director General TIRDO to nominate suitable scientists for participating in the events scheduled in 2014. In light of TIRDO's request for support regarding repair and maintenance of scientific equipment, made during the 17th Coordinating Council Meeting (19-20 May 2014, Iran), the Executive Director offered to organize a workshop on repair and maintenance of scientific instruments at TIRDO during 2015. He expressed pleasure that TIRDO has nominated a scientist for participating in COMSATS' International Thematic Research Group on 'Mathematical Modeling' to be launched during December 2014, and encouraged TIRDO to make appropriate nominations for other active ITRGs. The Executive Director invited the Director General to visit Pakistan with a view to strengthen its linkages with Pakistani scientific/research organizations and universities, specifically CIIT, and hoped that TIRDO will be represented during all future Coordinating Council Meetings of COMSATS.
Subsequently, a round-table meeting between COMSATS' delegation and scientists and technicians of TIRDO was arranged. Dr. Manege made a general presentation on TIRDO, while the specific activities of its three departments, i.e. (i) ICT and Technology Development Department, (ii) Engineering Development Department, and (iii) Industrial Research Department, were presented by their respective heads. The Executive Director COMSATS also made a presentation on the opportunities offered by COMSATS, with special reference to the needs of TIRDO. He urged TIRDO to benefit from the expert missions of COMSATS, such as COMSATS Distinguished Professors and Panel of Experts on ST&I Policy. The Executive Director also answered a number of questions related to COMSATS' programmes and activities in Member States.
Later, the COMSATS delegation had a tour of different laboratories of TIRDO, including Food and Microbiology Laboratory; Environment and Occupational Safety Laboratory; Agro Technology and Industrial Chemistry Laboratory; Computer Laboratory and Server Room, as well as different workshops. During the tour, the delegation was briefed about the working condition at each laboratory and views were exchanged regarding their upgradation. While noting the lack of adequate equipment in Chemistry Laboratory, the Executive Director announced to donate a Bomb Calorimeter to TIRDO. He also agreed to sponsor an expert to provide training to TIRDO's scientists regarding the operation of the Atomic Absorption Spectrometer.
The administrative and scientific staff of TIRDO expressed strong commitment to further explore the benefits offered by COMSATS, and keep close contact with COMSATS Headquarters in future.