Visiting Sri Lanka for participation in ITI's biennial Research Symposium held in Colombo, COMSATS' delegation held important sideline meetings.
On 18th December 2019, the Executive Director COMSATS, Dr. S. M. Junaid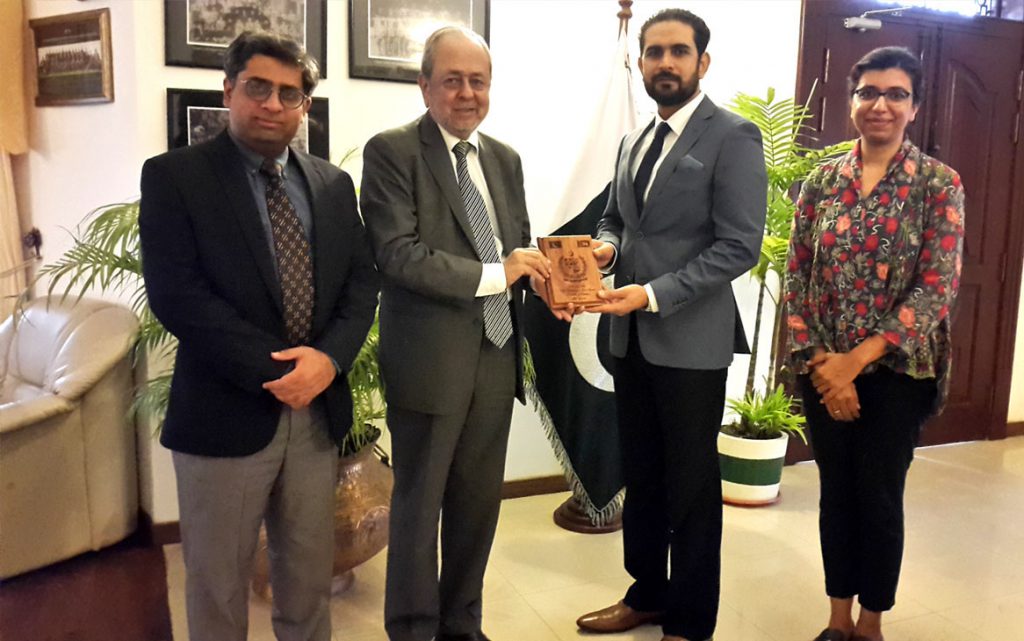 Zaidi, held a meeting with Hon. Thilanga Sumathipala, State Minister of Technology & Innovation, at his office. Mr. Tanvir Ahmad, Acting High Commissioner of Pakistan in Colombo; Mr. Chinthaka S. Lokuhetti, Secretary at the Sri Lankan Ministry of Technology and Innovation; Dr. Radhika Samarasekera, Director General, ITI; Dr. Ilmi Hewajulige, Additional Director General ITI; and Mr. Farhan Ansari, Sr. Assistant Director (Programmes) at COMSATS Secretariat, were also present during the meeting.
During the meeting, the Executive Director introduced COMSATS and its programmes, and informed regarding the past collaboration between COMSATS and Sri Lanka. He informed about the forthcoming meetings of COMSATS' organs (Coordinating Council, Consultative Committee and General Meeting) and hoped for adequate participation of Sri Lanka in these. Dr. Zaidi acquainted the honourable Minister with COMSATS University Islamabad that currently educated 40,000 students, has 1,200 PhD qualified faculty members, 2,700 impact factor publications, and very strong international collaborations.
The State Minister appreciated the programmes and activities of COMSATS as well as its contributions towards socio-economic development of the member countries. The two sides discussed matters regarding the possibility of establishing a top class university of S&T in Sri Lanka. The matter of ITI's upgradation to make it a top-notch research centre in the developing world was also discussed.
Speaking during the meeting, the Pakistani High Commissioner highlighted the ongoing collaboration taking place between the governments of Pakistan and Sri Lanka, including scholarships, expert-exchange, technology transfer, etc. He assured his full support for facilitating collaborations between COMSATS and the government of Sri Lanka. The Executive Director invited the State Minister and Secretary to visit COMSATS and two of its Centres of Excellence in Pakistan.
Earlier, COMSATS' delegation had held a separate meeting with Mr. Tanvir Ahmad, Acting High Commissioner of Pakistan in Colombo, during which COMSATS-Sri Lanka collaboration was discussed in detail.