The Ministry of Technology, Research and Atomic Energy (MOTR&AE), Democratic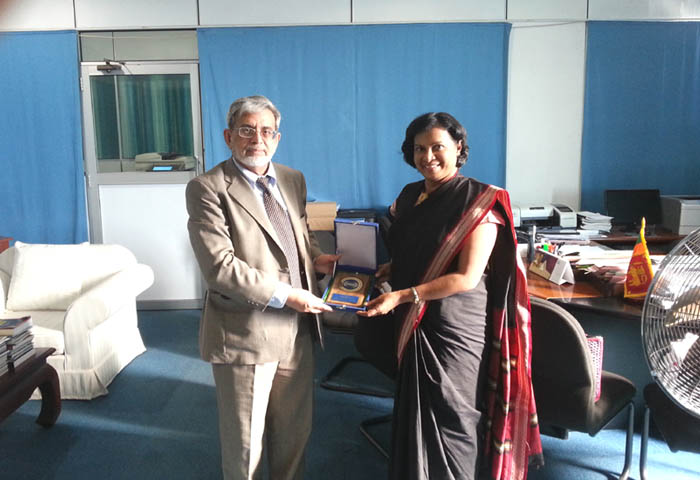 Socialist Republic of Sri Lanka, acts as the COMSATS' focal point in Sri Lanka, and, by virtue of the same, is represented in COMSATS' International Consultative Committee. In view of COMSATS' policy to foster greater coordination between its Secretariat and the focal points as well as between focal point and the Centre of Excellence within a Member State, the Executive Director COMSATS, Dr. I.E. Qureshi, visited the offices of MOTR&AE on 11th April 2013 and undertook detailed consultations with the honourable Secretary of the Ministry, Mrs. Dhara S. Wijayatilake. Also present in the meeting were Director, Technology & Science Development Division, Mrs. Himali W. K. Athaudage; Chairman Board of Management, Industrial Technology Institute (ITI), Sri Lanka, Prof. Vijaya Kumar; and Head of Chancery, High Commission of Pakistan in Sri Lanka, Mr. Bilal Akram Shah.
Dr. Qureshi informed the honourable Secretary that the 2nd meeting of COMSATS' Consultative Committee is being held in conjunction with the 16th Coordinating Council meeting in Accra, Ghana. The two meetings will take place consecutively on 1st May 2013 and the 2nd & 3rd May 2013, respectively. Sri Lankan Ministry of Science and Technology was represented in the 1st meeting of the Committee, held in 2009, in Abuja, Nigeria; however, since there is no Sri Lankan institution affiliated with COMSATS as its Centre of Excellence, Sri Lanka's participation in Coordinating Council meetings has been non-existent. Now that the ITI has been nominated as a prospective Centre of Excellence, the Coordinating Council will be glad to consider the application and approve induction of ITI in the Network during 16th Council meeting. The Secretary was also informed that the current visit of the Executive Director to Sri Lanka is principally meant to make assessment of ITI as an international partner organization of COMSATS. A report of the visit will be presented to the Coordinating Council, along with the presentation made by Prof. Kumar about this Institute's technical capacity.
The Secretary appreciated the progress being made to grant COMSATS' Centre of Excellence status to ITI. She was kind enough to issue an official memo, authorizing Prof. Kumar to represent the Ministry in the 2nd Consultative Committee meeting, in addition to his participation as an invited delegate in the 16th Coordinating Council meeting. It is understood that on getting the Membership of COMSATS Network of Centres of Excellence, the Director (CEO) of ITI will become a member of the Coordinating Council.
The matters related to increased funding for ITI for enabling the Institute to fully p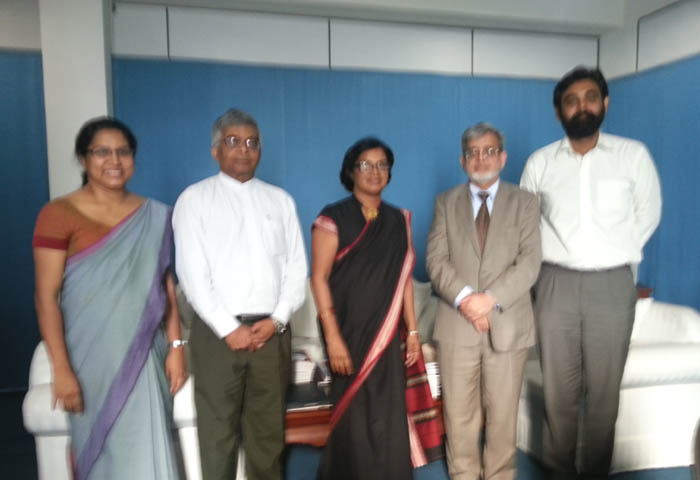 articipate in COMSATS' South-South cooperation programmes was discussed at length, along with the progress on the approval of Sri Lanka's Annual Membership Contribution for COMSATS. The honourable Secretary kindly expressed her desire to strengthen scientific relations with COMSATS on multilateral level as well as bilaterally with the Ministry of Science and Technology, Government of Pakistan. Any financial, legal and administrative action required for the same would be actively pursued by the MOTR&AE, Sri Lanka.
Recounting the support extended by COMSATS to Sri Lankan scientists, the Executive Director informed that 16 scientists were provided travel grants over a period of last three years, who participated in COMSATS' capacity-building programmes and trainings in Bangladesh, China, Malaysia, and Pakistan. COMSATS' future programmes with Sri Lanka, he noted, would involve five sectors:
Collaboration, through the participation of ITI in Coordinating Council;
Educational Opportunities, at COMSATS Institute of Information Technology (CIIT) and Iranian Research Organization for Science and Technology (IROST);
S&T Capacity-building, by participation of Sri Lankan scientists in COMSATS' sponsored symposia/workshops/training programmes;
Joint Research, through ITI's and other Sri Lankan institutions' participation in International Thematic Research Groups administered by COMSATS; and
Joint Conferences/ Workshops, with the support of COMSATS and relevant Sri Lankan organizations.
The meeting ended with a note of optimism for stronger scientific relations between COMSATS and its focal point in Sri Lanka. A decorative shield, bearing COMSATS logo, was presented to the honourable Secretary by the Executive Director.