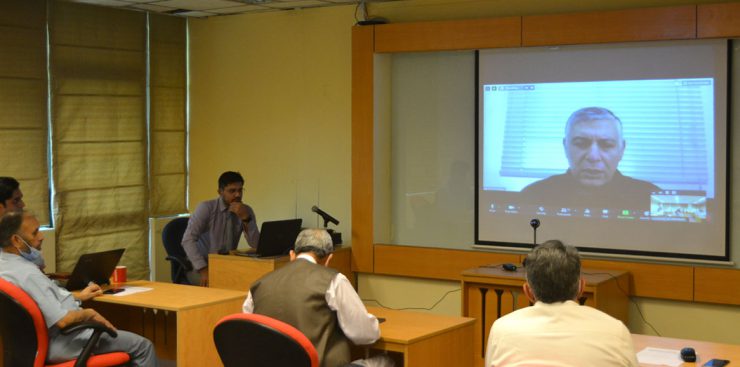 The second round of presentations in connection with the 23rd Council Meeting held in July,
 continued online on 15th September 2020, with COMSATS' Centres of Excellence in Iran and Pakistan, the Iranian Research Organization for Science and Technology (IROST), and the International Center for Chemical and Biological Sciences (ICCBS), respectively. Twelve participants from 8 Centers of Excellence from various member countries including Bangladesh, Colombia, Egypt, Kazakhstan, Iran, Indonesia, and Pakistan attended the session. Apart from Centres of Excellence, 14 officials of COMSATS were also present during the session. The purpose of these presentations is facilitating interaction among Centres in order to initiate joint programs for the benefit of the Member Countries, despite limitations of physical interaction due to COVID-19.
Speaking on the occasion, Dr. S. M. Junaid Zaidi expressed his gratitude to all the Council Members especially to Prof. Ashraf Shaalan, Chairperson COMSATS Coordinating Council for his presence and mediation. Prof. Shaalan, who also steered the session, appreciated the initiative of weekly presentations taken by COMSATS.
Dr. Alireza Allahyari, Director General for International Cooperation, IROST, Iran, gave a b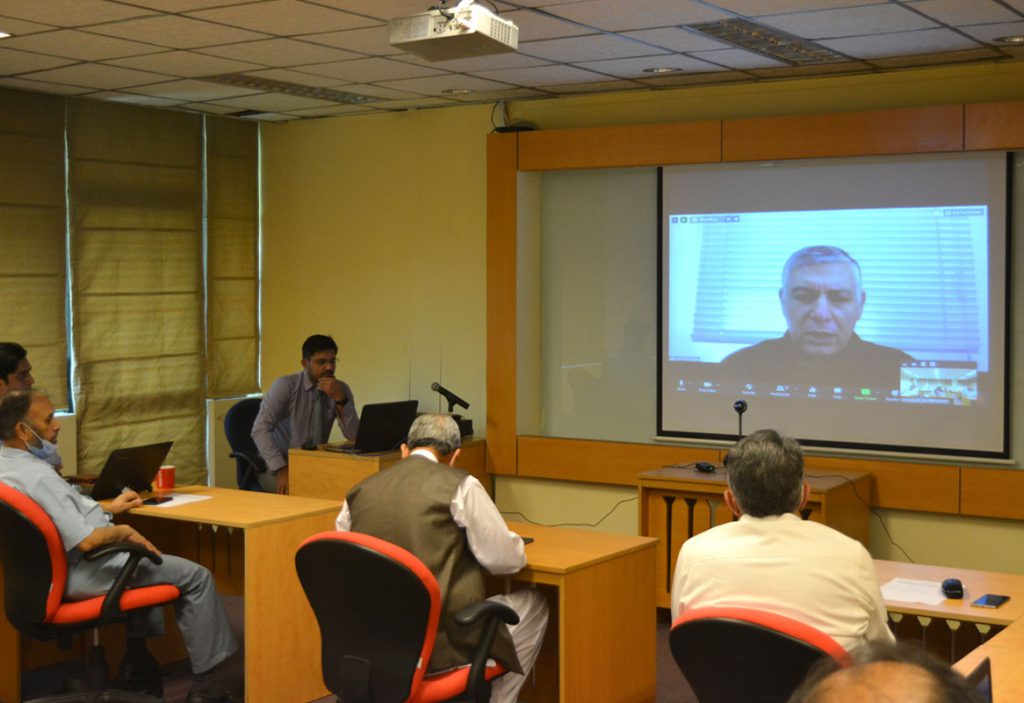 rief presentation covering his Centre's activities, structure, achievements, developments, and international collaborations. It was informed that, in addition to being home to 7 technology institutes, the center has 131 knowledge-based units and incubators; 472 commercial technologies; and 412 technologies for commercialization. Prof. Allahyari also expounded on IROST's annual Khwarizmi International Award and Khwarizmi Youth Awards to best researchers, scientists and innovators at national and international levels.
Prof Allahyari highlighted some of the technologies developed by IROST, including development of engine prototype for DME and Bio-diesel fuel, Biotechnology Pilot Plant facility, Vertical Wind Tunnel, and Hemodialysis Machine. Prof. Allahyari also extended offers of collaborative research in the following domains:
Design, production and evaluation of recombinant drugs;
Purification, characterization and anticancer activities of exopolysaccharide produced by isolated marine microalgae;
Extraction and characterization of neuroprotective compounds from marine microalgae; and
Improving technology of encapsulated herbal pesticides production of integrated test management
He also proposed conducting joint activities related to innovative technologies for sustainable development and utilization of clean/renewable energy resources.
Prof. Allahyari expressed willingness to avail the offers of collaboration made by the Universit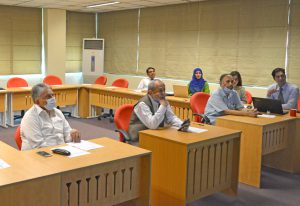 y of Tehran (designated member of COMSATS Centre for Climate and Sustainability (CCCS)) as part of its activities under CCCS. He also expressed willingness to have strengthen collaborations with other Centres of Excellence for initiating joint research activities, training programs, and technology transfer.
From Karachi, Prof. Dr. Farzana Shaheen made a presentation on behalf of Dr. Iqbal Chaudhry, Director ICCBS, covering the Centre's activities, programs, achievements and developments. She informed that ICCBS has established 17 research centers over the years. She informed that ICCBS has strong international associations and offers various scholarships and research grants. It is the only Center of Excellence of the Organization for Islamic Cooperation (OIC) in Chemical Sciences, she added. Dr. Shaheen noted that ICCBS is WHO's designated Center for pesticide analysis and has won the Islamic Development Bank Prize twice for best science institute.
Noting the major achievements of the ICCBS during 2019, Dr. Shaheen informed that the Centre established the Modern Forensic DNA and Serology Laboratory, National Institute of Virology, and Sequencing of SARS-COV-2. Dr. Shaheen informed that ICCBS has facilitated government of Pakistan's response to COVID-19 through setting-up a diagnostic facility and conducting over 100, 000 tests for COVID-19. She noted that Center had collaborations with ITS, TUBITAK and TIB during the year 2019. The center also won many awards including the 'China International Science and Technology Cooperation Award' awarded to Prof. Atta-Ur-Rahman, Patron-in-Chief of ICCBS. Dr. Shaheen informed that ICCBS organized the 7th International Symposium-cum-Training Course on Molecular Medicine and Drug Research, which was attended by over 700 scientists from all over the world.
An interactive session after the presentation, resulted in discussions on collaboration, inter alia, on, joint work on medicinal plants, technology transfer, as well as exchange of students.