The first-ever Entrepreneurship Congress for Innovation in the Green Economy, was jointly organized by the Business Centre for Innovation Technology of Al Quds University (BCITE), Palestine, Al Quds Open University (QOU), Palestine, COMSATS, and the U.S. Embassy in Jerusalem, in Jerusalem, Palestine, on 21st- 23rd November 2023. The event's objective was to bridge gaps between the agribusiness and clean technology industries while fostering international collaborations and a local culture of ethical entrepreneurship. Moreover, the event aimed to unite national efforts from among Palestinian Higher Education Institutions in order to develop a viable path for green entrepreneurship and the economy in Palestine. The congress was a part of the E3 Hub project by the U.S. Office of Palestinian Affairs, which seeks to advance the Palestinian entrepreneurial ecosystem and empower the Palestinian business community.
The congress featured nine talks/lectures by experts from China, Italy, Malaysia, Turkey, United Arab Emirates, and United States of America, with physical and virtual participation of over 200 students and entrepreneurs belonging to various countries.
The event was opened on 21st November 2023 by Prof. Imad Abu Kishek, President of Al-Quds University (AQU), Palestine. Other prominent figures including Prof. Samir AlNajdi, President of Al-Quds Open University (AQU), Palestine, Ambassador Dr. Mohammad Nafees Zakaria, Executive Director COMSATS, Eng. Adnan Samara, Chairman of the Scientific Dept. of Fateh and the PLO, Palestine, and Dr. Radwan Qasrawi, Founder and CEO of the Business Center for Innovation Technology and Entrepreneurship (B-CITE), Al-Quds University, Palestine, spoke on during the ceremony.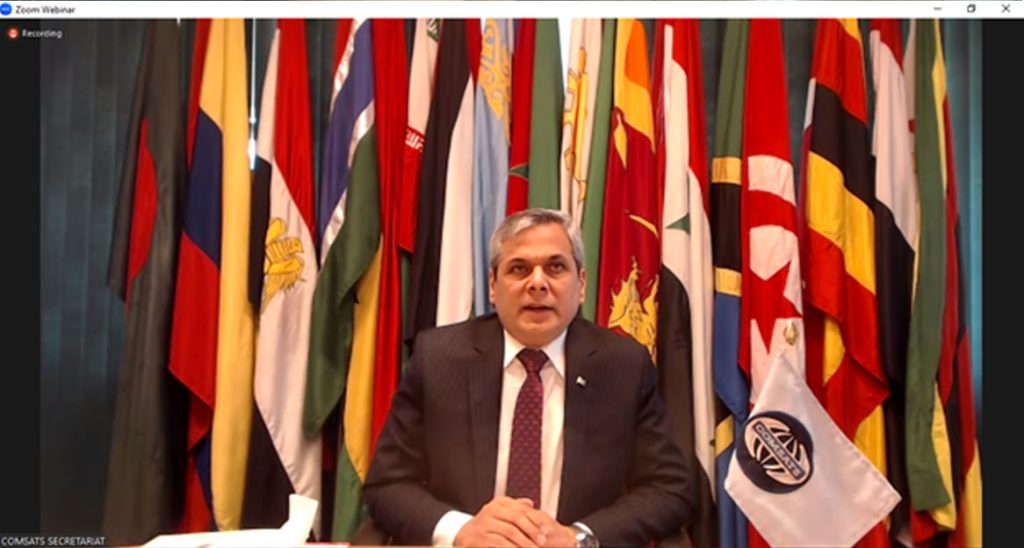 In his opening remarks, Hon. Ambassador Dr. Mohammad Nafees Zakaria, Executive Director COMSATS, thanked AQU for holding this important event and welcomed the distinguished experts and participants. Dr. Zakaria stated that comity of nations in the South must adopt a collective policy direction to address the formidable global challenges including climate change. He stated that entrepreneurs are the backbone of economies, which provide employment opportunities to the youth and contribute towards the GDP growth. Dr. Zakaria stated that the potential of the entrepreneurs might be utilized to help establish and maintain a green economy through guidance and incentive-driven government policy direction.
During the three-day event, lectures/talks were delivered on a number of topics including: 'The Future of Green Economy' (by Prof. Jibin Sun, Deputy Director-General of Tianjin Institute of Industrial Biotechnology (TIB), Chinese Academy of Sciences (CAS), China); 'International Opportunities for Green Startups' (by Ms. Carissa Gonzalez, Foreign Service Officer, U.S. Department of State); 'International Opportunities for Green Startups' (by Dr. Azzam Saleh, Head of Programme, FAO, Palestine); and 'The Role of Banking in Supporting Green Startups' (by Eng. Mohammad Kateeb, he Group Chairman & CEO of Path Solutions, Egypt); 'Industry Challenges and Needs in Palestine' (by Dr. Samer Jarrar, Vice President for Planning and Projects Management, Palestine Academy of Science and Technology (PALAST)); 'Access to the Global Market' (by Mr. Mazen Al-Hasasneh, Owner, Al-Basha International Investment Group, Turkiye); 'The Role of Smart Technology in the Green Economy' (by Dr. Sufian Mitani, TM Research & Development Innovation Center, Malaysia); and 'Artificial Intelligence and Due Diligence for Green Startups' (by Mr. Rushdi Siddiqui, Co-Founder/CEO EMStartups Tech Inc., United States); 'Success Stories in Green Entrepreneurship' (by Dr. Mohammad Sharaf, Assistant Professor, An-Najah National University, Palestine); and 'Commercializing your Technology' (by Dr. Sanjib Chowdhury, Professor, Eastern Mediterranean University, Cyprus, Turkiye).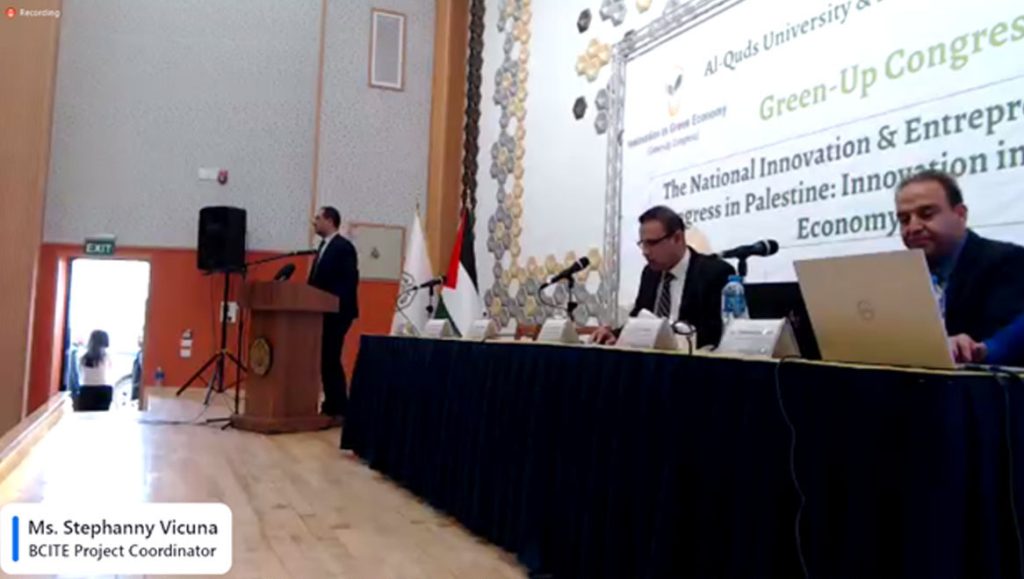 The topics covered sought to inspire innovation in the Green sectors among aspiring entrepreneurs, such as smart technologies, sustainable financing, and access to the global market.
A number of global leaders in the field participated in this congress and shared their knowledge with the students and entrepreneurs. The participants of the event learned about various topics of entrepreneurs and innovation including: design thinking, idea generation, innovation, industry and competitor analysis, development of lean model canvas, and business model canvas, minimum viable product, financial model pitching strategies such as pitch structure, & elevator pitch investment pitch.
At the conclusion of the event, 90 project proposals were submitted in various fields including Food & Agriculture, Climate and Environment, Renewable resources & Energy, Digital Innovation, Water, and Sustainable construction. Presenters of the most innovative ideas will be given a chance to visit BCITE and E3 Hub and learn about the American business environment as part of the incubation programmes offered by these institutions.