The 8th session of online presentations being held in connection with 23rd Me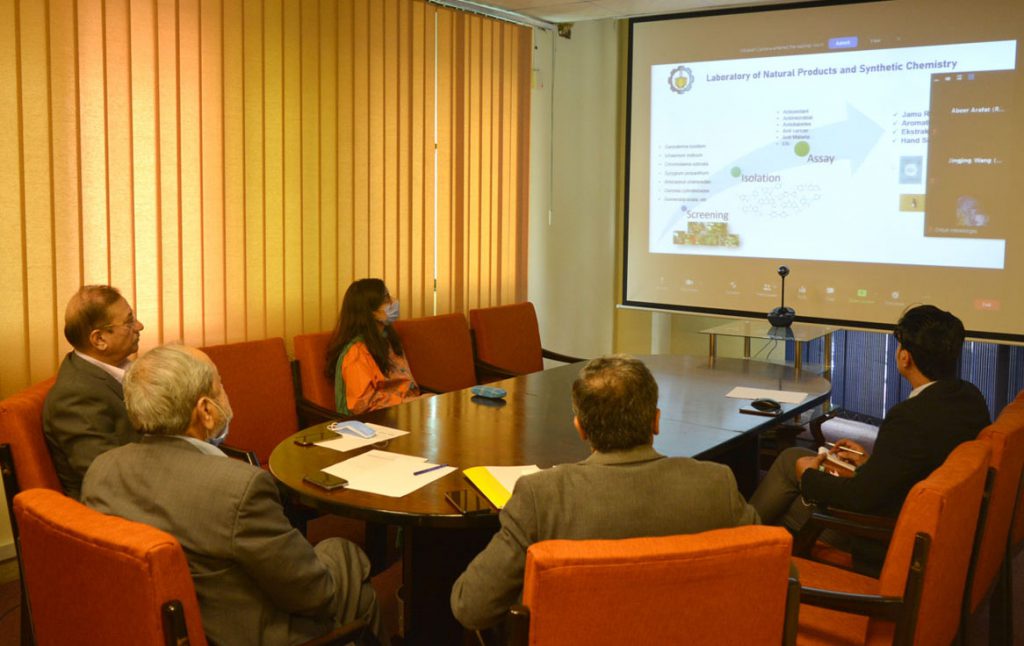 eting of COMSATS Coordinating Council was held virtually on 3rd November 2020. COMSATS Centres of Excellence in Jordan and Indonesia – Royal Scientific Society (RSS) and Sepuluh Nopember Institute of Technology (ITS) – made their presentations during the present session. The session was attended by 18 participants from COMSATS Centres of Excellence apart from officials from COMSATS Secretariat, Islamabad, where the sessions are being hosted.
In her presentation, Eng. Abeer Arafat, Assistant to the President for Organizational Knowledge Documentation, RSS, Jordan, informed that RSS is actively supporting the development initiatives of Jordan with sound technical and policy advice, testing services and consultations for building a sustainable knowledge-based economy in the country. She noted the four pillars of RSS as: Knowledge for Development: Science Engagement; Knowledge for Development: ICT4D; Technologies for Sustainable Development; and Research for Development.
Some major achievements and developments of RSS shared by Eng. Arafat, inter alia, included:
Launching of Arab Charter of Ethics in Science at World Science Forum 2019 by HRH Princess Sumaya bint El Hassan, President of RSS;
Designing of Multi-Level Integrated Monitoring, Reporting and Verification (MRV) System for Greenhouse Gas Emissions & Mitigation of Climate Change;
Second Phase Launch of the EU Funded Project "Transfer of Environmentally Sound Technology (TEST)" in Cooperation with UNIDO;
Regional workshop on entrepreneurship for scientists and engineers in COMSATS Member States; and
Election of RSS to Executive Board of IAP for Science, Seoul, South Korea;
It was also informed that RSS has made considerable progress in achieving S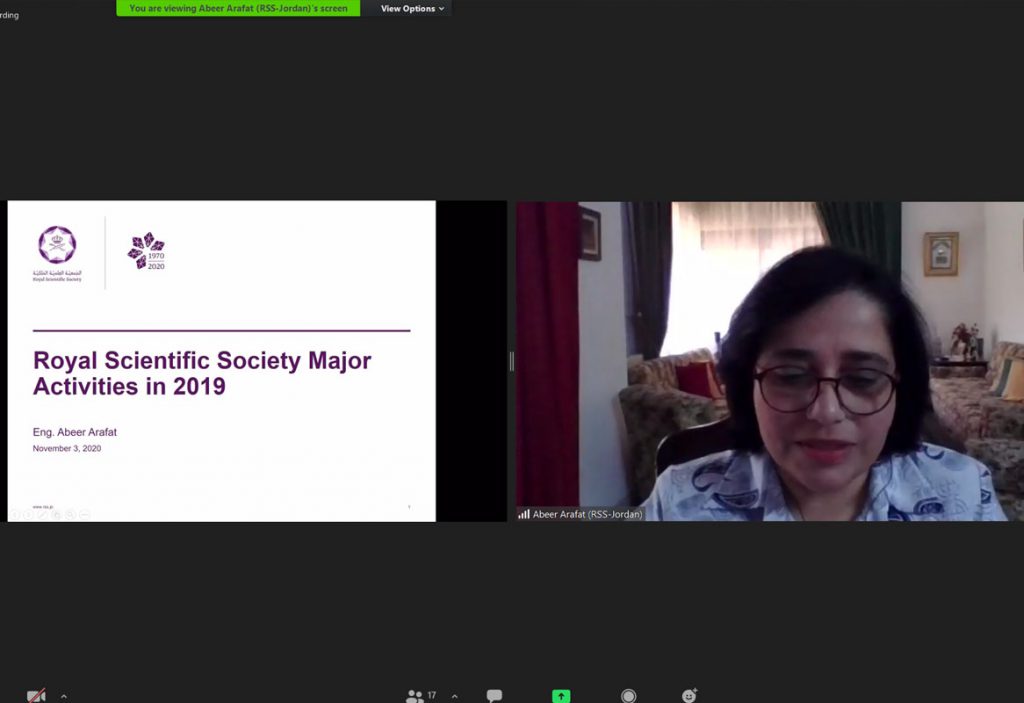 ustainable Development Goals (SDGs), particularly, Goal 4 (Quality Education); Goal 6 (Clean Water and Sanitation); Goal 7 (Affordable and Clean Energy); Goal 12 (Responsible Consumption and Production); Goal 13 (Climate Action); and Goal 17 (Partnerships for Goals). Engr. Arafat also shared RSS' aspirations for building cross-sectorial partnerships at national, regional and global level to strengthen international efforts for promoting climate action and achieving sustainable development.
Following are some areas highlighted by Eng. Arafat for potential collaboration with other Centres of Excellence: environment and climate change on water resources, agriculture, health and economy. She also looked forward to enhanced networking, information exchange, capacity-building activities, as well as sharing of good practices to support research around SDGs.
The second presentation was made by Prof. Bambang Pramujati, Vice Rector of Research, Innovation, Partnership and Alumni; and Dr. Sri Fatmawati, Assistant Professor at ITS. Established in 1960 and having three campuses, ITS, it was informed, has a strong emphasis on scientific, engineering, and vocational education.
The Institute houses a Science Techno Park with its innovation centers in automotive, maritime, ICT and robotics, and creative industry. Besides, ITS has 184 well-equipped laboratories spread across its 39 departments. ITS also has one leading laboratory operated under the auspices of the directorate for research and community engagement (DRPM), called Energy and Environmental Laboratory.
It was informed that ITS has expertise in: Science and Data Analytics; Experimental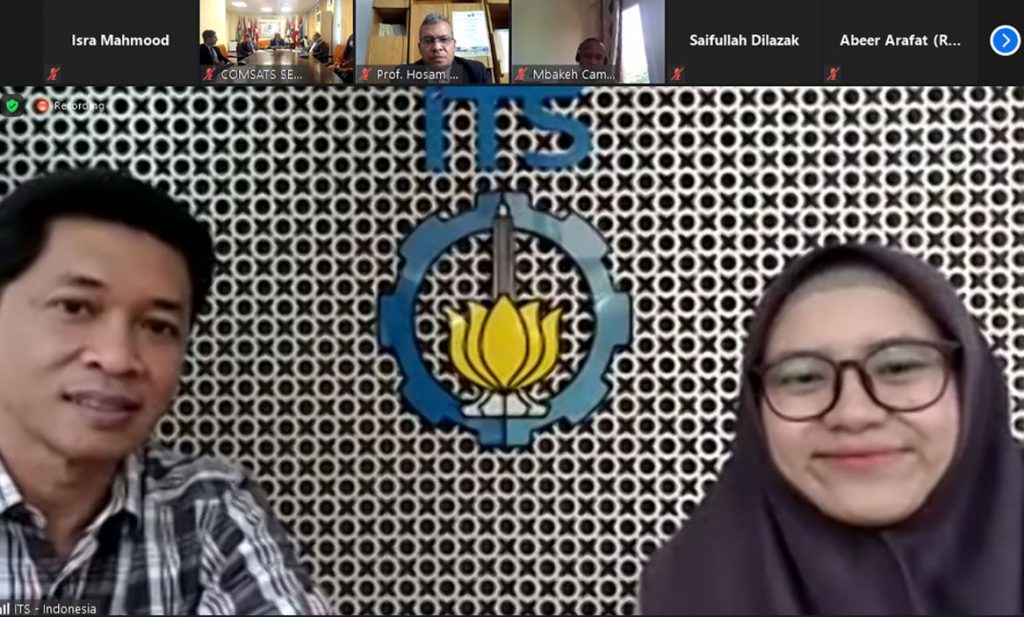 and Theoretical Physics; Civil, Planning and Geo Engineering; Marine Technology; Intelligent Electrical and Information Technology; Creative Design and Digital Business; Automation Electronic Engineering; Industrial Chemical Engineering; Instrumentation Engineering; and Business Statistics.
Focused areas of ITS for research include: manufacturing, transportation, and logistics; sustainable energy; artificial intelligence and biomedical technology; advanced materials and nanotechnology; internet of things and defense technology; agri-food and biotechnology; climate change and disaster mitigation; maritime science and technology; fundamental sciences and infrastructure and sustainable environment. It was informed by Dr. Fatmawati that ITS has also developed a robot for assisting the medical personnel during the COVID-19 pandemic.
During the discussion, Prof-Hosam, Assistant Vice President for Research National Research Centre (NRC), Egypt, showed interest in collaborating with RSS in the field of waste management.
Mr. Ali Tawab, Incharge, International Office, COMSATS University Islamabad (CUI), Pakistan, showed interest in collaborating with ITS, particularly in the field of robotics, artificial intelligence, national products and biotechnology. Mr. Tawab also hoped to have collaborations with RSS in the field of climate change, environmentally sound technology, energy challenges, green house gas and water related initiatives.