On 8th December 2020, the 12th session of presentations was held in continuation of the 23rd Coordinating Council meeting, covering the progress of Embrapa Agrobiologia, Brazil, and Industrial Research and Consultancy Centre (IRCC), Sudan. Apart from officials of COMSATS Secretariat, the session was virtually attended by 20 representatives from Centres of Excellence and Focal Ministries of COMSATS Member States.

Making his presentation during the session, Dr. Robert Boddey, Research Scientist at Embrapa Agrobiologia shed light on the agriculture sector of Brazil. He stated that Brazil produces 247 million tons of grain, 25 million tons of meat, and 43 million tons of fruits, annually. It was informed that Brazil is the world's third largest exporter of agricultural products as well as the largest exporter of coffee, chicken, beef, orange juice, sugar, and ethanol. To support agriculture sector as well as sustainable practices in the country, Embrapa Agrobiologia focuses on generating knowledge, technologies and innovation supported by agrobiological processes.
Dr. Boddey informed that Embrapa houses National Research Center for Agrobiology w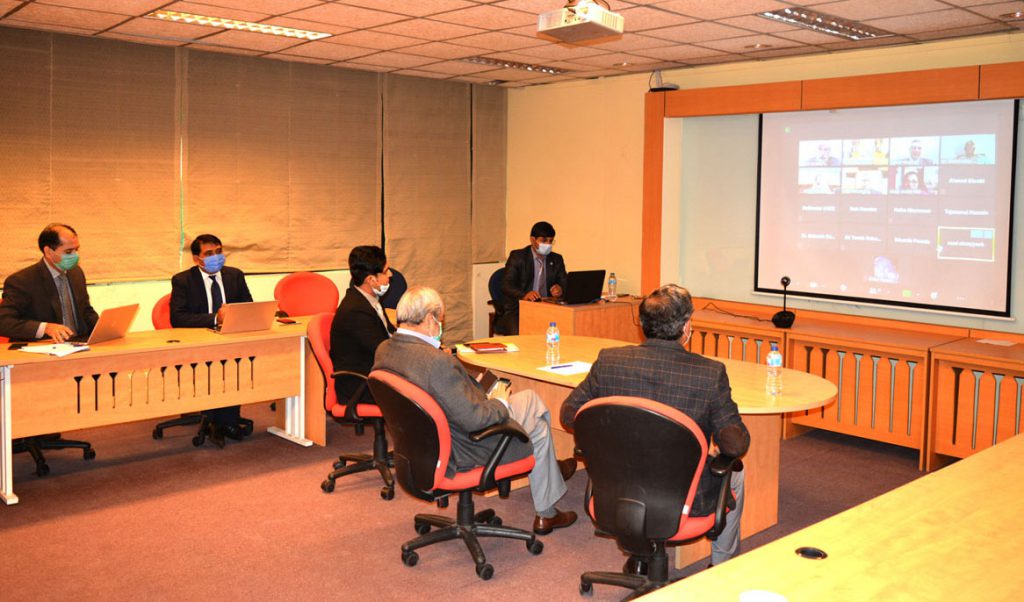 hich conducts research, inter alia, in the areas of biological nitrogen fixation (BNF) in legumes and non-legumes; molecular biology (genomics and proteomics) of soil and nitrogen fixing microorganisms; microbial diversity of microorganisms and soil fauna; organic agriculture; rehabilitation of degraded areas; bio-energy crops; nutrient cycling; and greenhouse gas emissions in agro-ecosystems. The participants were also apprised of the various R&D facilities available at the Centre. The various research developments of the Centre have resulted in high-quality crops and enhanced crops yields.
Dr. Boddey also informed that Embrapa Agrobiologia has established a network of experiments for research and technology-transfer and also offers training in microbiology and molecular biology. He expressed intent to initiate collaboration with other Centres for student-exchange and joint research projects.
The subsequent presentation was made by Dr. Omer Kamal, Researcher, IRCC, Sudan, who covered vision and mission; progress and achievements; as well as international linkages of his Centre. He informed that IRCC is a non-profit organization, undertaking industrial research and consultancy services and disseminating findings to industry. Some services of IRCC as noted by Dr. Kamal included: industrialization awareness, training, research & development, technology transfer associated with investment analysis, and quality-assurance.
While highlighting the progress and on-going research activities of the Centre in 2019, Dr. Kamal informed that IRCC has established three new institutes: 1) cleaner production centre; 2) energy design centre; and 3) mining & building material lab (River Nile State). Major research developments during the year related to: development of knowledge and small industries; projects in agricultural manufacturing and renewable resources utilizations; and projects in efficiency of industrial business. Some other achievements during the year included: capacity-building activities, including 3 short training courses, and 21 institutional and technical trainings.
Future plans of IRCC shared by Dr. Kamal pertained to: bringing structural reforms; assisting government's industrial policies; establishing industrial incubators; strengthening industrial liaison and public-private partnership; as well as developing cooperation with the relevant institutions, universities and international organizations. It was noted that a cooperation agreement with Shanghai University of Engineering Science, China, was also signed by IRCC.
During the discussion session, several queries of the participants regarding Brazil's bioenergy consumption, deforestation, production of sugar crops and carbon footprint of agriculture sector were addressed by Dr. Robert Boddey.
Concluding the session, Prof. Shaalan urged all the Centres to benefit from expertise and technological resources of Embrapa. Dr. Zaidi thanked the Network members for sharing their inputs and appreciated Embrapa Agrobiologia and IRCC for their comprehensive presentations.