Executive Director of COMSATS participated as a Special Guest at the inaugural of the 5th Biennial Research Symposium on "Positioning Science, Technology & Research for New Normal Industrial Challenges", organized by COMSATS' Centre of Excellence in Sri Lanka, the Industrial Technology Institute (ITI).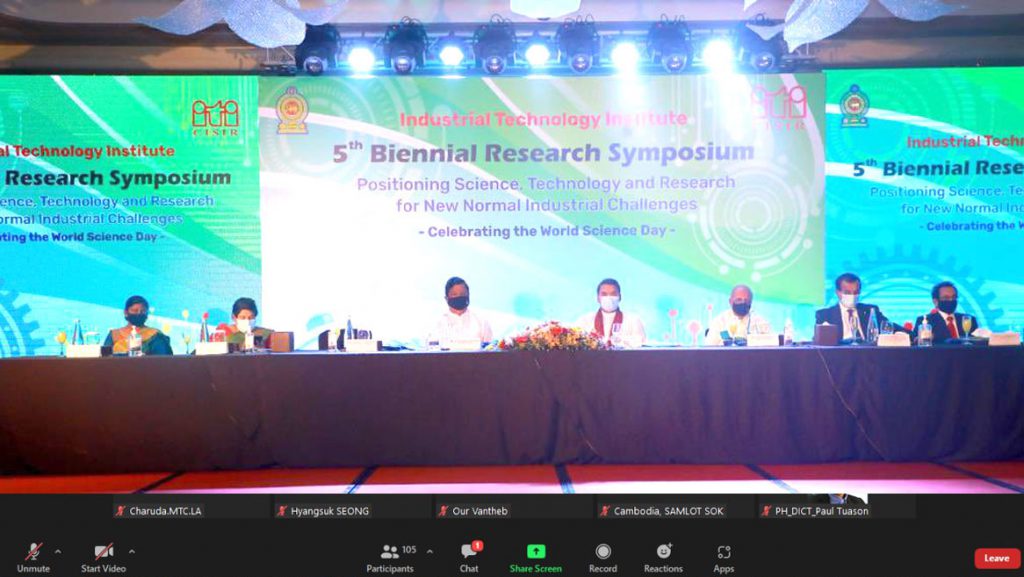 COMSATS' Centre of Excellence in Sri Lanka, the Industrial Technology Institute (ITI), held its 5th Biennial Research Symposium under the theme "Positioning Science, Technology & Research for New Normal Industrial Challenges", from 10th – 12th November 2021. Held with the aim to stimulate and foster the growth of scientific and technological research towards the development of industries, the symposium provided a platform to research scientists, engineers and technologists to present their research findings. Held on World Science Day, this event was also a means for COMSATS' fraternity to contribute to the day's objectives.
The Executive Director of COMSATS, Dr. Akhtar Nazir (Federal Secretary, Ministry of Science and Technology (MoST), Government of Pakistan), participated virtually as a Special Guest at the Inauguration Ceremony held on 10th November 2021. Several senior officials of the Sri Lankan Government, including State Minister for Digital Technology and Enterprise Development, and Minister for Trade were also present at the inaugural.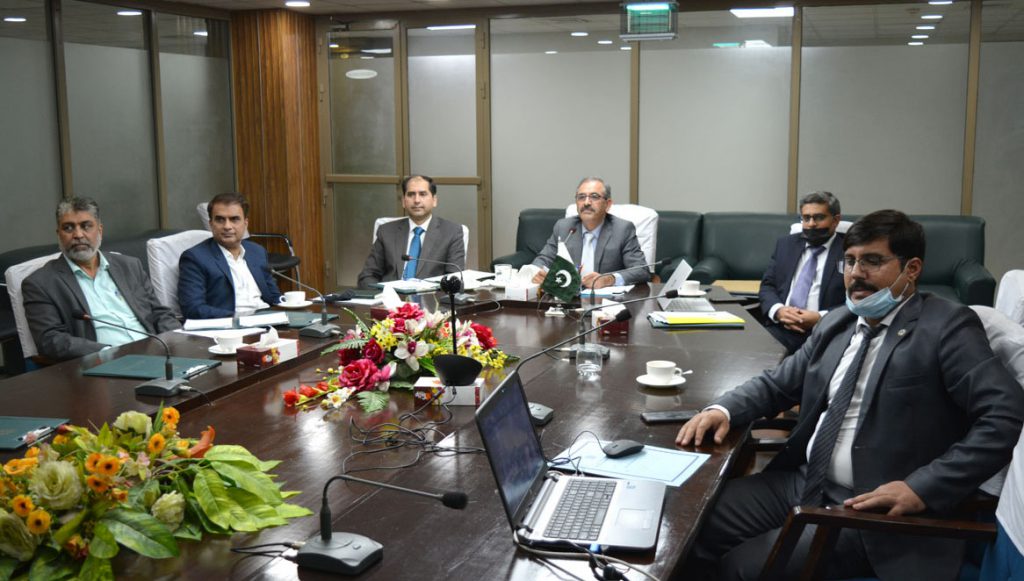 Inaugurating the event, Dr. G.A. S. Premakumara, Chairman of ITI, informed that Biennial Research Symposium, that was introduced in 2013, has expanded to be an international event being held during the national science week of Sri Lanka. During his speech, Dr. Premakumara highlighted ITI's long-standing relationship with COMSATS, appreciated continuous support from COMSATS and acknowledged its role in facilitating cooperation in science, technology and innovation for achieving sustainable development in the South, including Sri Lanka. Dr. Radhika Samarasekera, Director General, ITI, underlined ITI's contribution in upgrading hi-tech industrial development in Sri Lanka via undertaking R&D, consultancy, technology transfer, training, surveys and monitoring, and mitigation of environmental pollution, among others. She thanked Executive Director COMSATS for his participation as a special guest.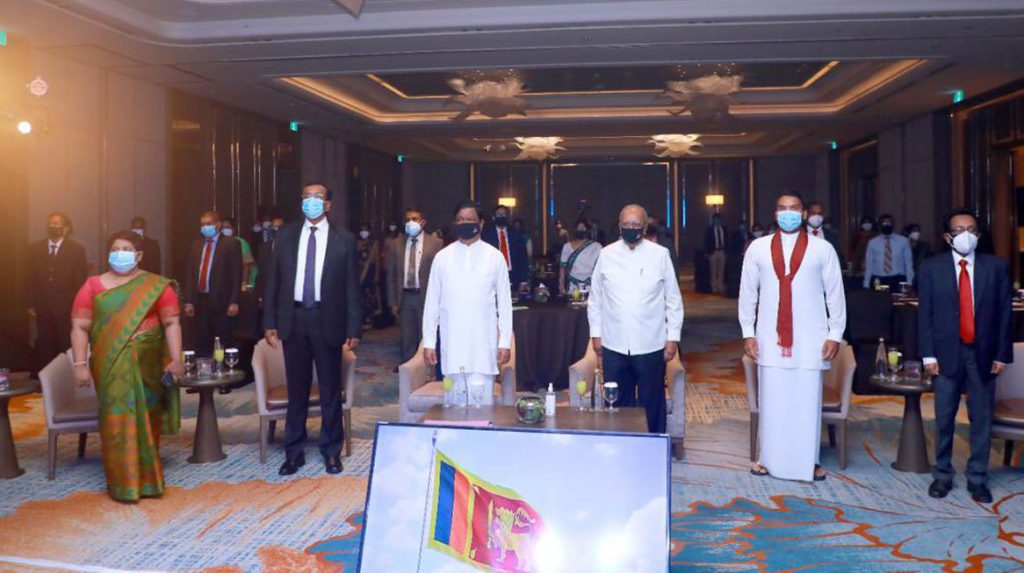 In his remarks read out on the occasion, H.E. Gotabaya Rajapaksa, President of Sri Lanka, remarked that science and technology have played a critical role in dealing with new challenges and achieving the common goals. His Excellency informed that the Government of Sri Lanka has formulated a National Policy Framework: 'Vistas of Prosperity and Splendor', setting out a plan of action for socio-economic development in the country. He appreciated the vital role played by R&D institutions during COVID-19 and hoped that the Symposium will pave way for the exchange and sharing of new ideas to help address economic challenges in the "new normal".
On the occasion, Hon. Namal Rajapaksa, State Minister of Digital Technology and Enterprise Development/Minister of Youth & Sports/Minister of Development Co-ordination and Monitoring, informed that Sri Lankan government is committed to tackling the challenges of the new normal since the Pandemic started by, inter alia, investing in innovation and research. He reiterated his Ministry's commitment towards the digital transformation of Sri Lanka and acknowledged the constructive role of ITI in industrialization of the country.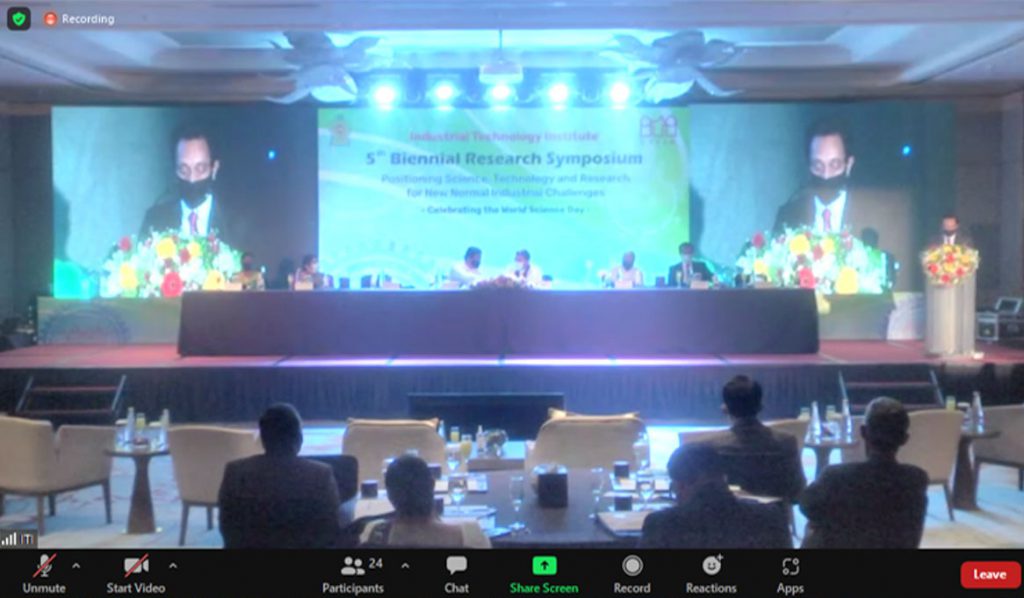 In his keynote address, Hon. Prof. Tissa Vitarana, Member of the Parliament, Government of Sri Lanka, stated that the developing countries should make the best use of Science, Technology and Innovation in order to achieve socio-economic development. He stated that natural and agricultural resources must be tapped judiciously to boost industrialization and, towards this end, Science, Technology and Research can play a crucial role. He was of the view that the negative fallout of COVID-19 on industry can be abated by taking necessary structural and organizational interventions. He noted that ITI has been providing solutions to industrial challenges of Sri Lanka through research and consultancies.
Speaking on the occasion, Dr. Nazir opined that the adoption of appropriate Science, Technology and Research policies, and putting in place robust infrastructure for research and development would be vital for the progress and development of countries. Dr. Nazir emphasized on building strong university-research institutions-industry nexus to help find innovative solutions to the challenges of post COVID-19 era. He stated that industrialization has the potential to help achieve a variety of social objectives, such as those related to employment generation, poverty eradication, gender equality, and greater access to education and healthcare. Dr. Nazir also acknowledged the mutually beneficial cooperation between COMSATS and ITI. On the occasion, Hon. Bandula Gunawardena, Sri Lankan Minister for Trade, acknowledged the efforts of ITI's scientists and researchers in developing technologies to help society during COVID-19.
At the end of the ceremony, a vote of thanks was presented by Dr. Ilmi Hewajulige, Additional Director General at ITI. The inaugural ceremony also included distribution of Appreciation Awards, Presidential Awards for Scientific Publications, Post-Graduate Awards, Special Awards etc., for ITI Staff.
The technical sessions of the Symposium comprised 39 talks focused on the topics of Food, Herbal, Environmental, Material, and Chemical Technologies; Electro and Biotechnologies; Industrial Metrology; and Microbiology.
A post-symposium workshop entitled "Entrepreneurship Development in New Normal: Challenges and Way forward" was also held virtually on 15th November 2021, for Micro, Small and Medium Enterprises (MSMEs) having the participation of scientists from COMSATS' Network.