COMSATS Secretariat, in collaboration with the United Nations Educational, Scientific and Cultural Organization (UNESCO) Pakistan, Pakistan Science Foundation (PSF), and the ECO Science Foundation (ECOSF), held a "Convention of Scientists" to commemorate the World Science Day for Peace and Development, on November 15, 2023, at the premises of PSF, Islamabad. The convention theme "Strengthening High-Quality STEM Education for Sustainable Development", was aligned with the theme of this year's Day, "Building Trust in Science".
Prof. Dr. Shahid Mahmood Baig, S.I., Chairman of Pakistan Science Foundation (PSF), formally opened the convention and delivered welcome remarks. Dr. Baig noted that the observance of World Science Day prompts us to reflect on the profound impact that science has had on each of us, permeating various aspects of our lives. Over the decades, science and technology have ingrained themselves deeply and irreversibly into every facet of our existence.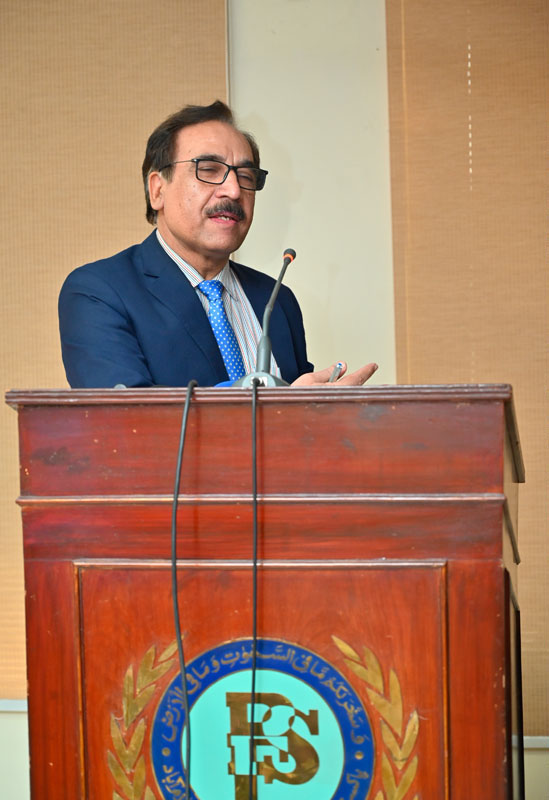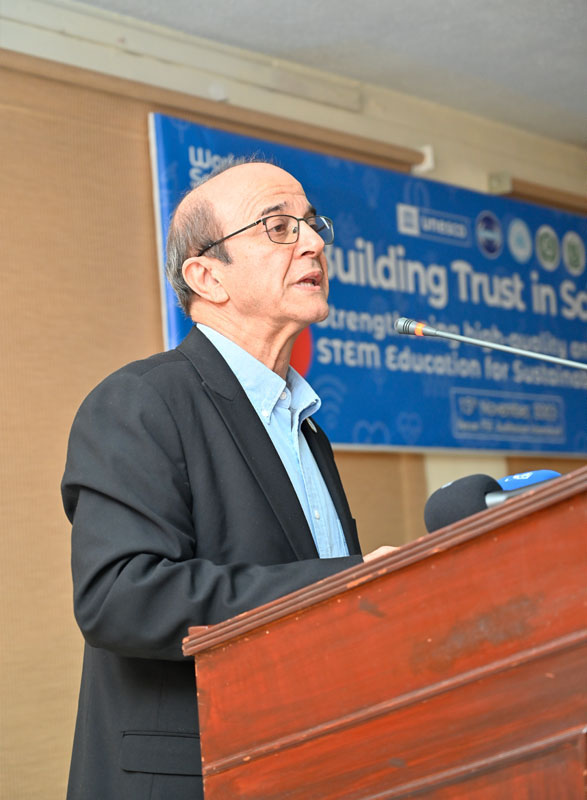 Dr. Seyed Komail Tayebi, President ECO Science Foundation (ECOSF), underscored the pivotal role of STEM education as the driving force behind economic development in the 21st century. Recognizing its transformative impact, he further opined that STEM education emerges as the key facilitator in equipping individuals with the essential skills required to navigate and excel in an increasingly technological and interconnected global landscape. President ECOSF's address served as a compelling call to action, emphasizing the indispensable nature of STEM education in shaping the economic trajectory of nations and fostering a future generation capable of meeting the challenges of our rapidly evolving world.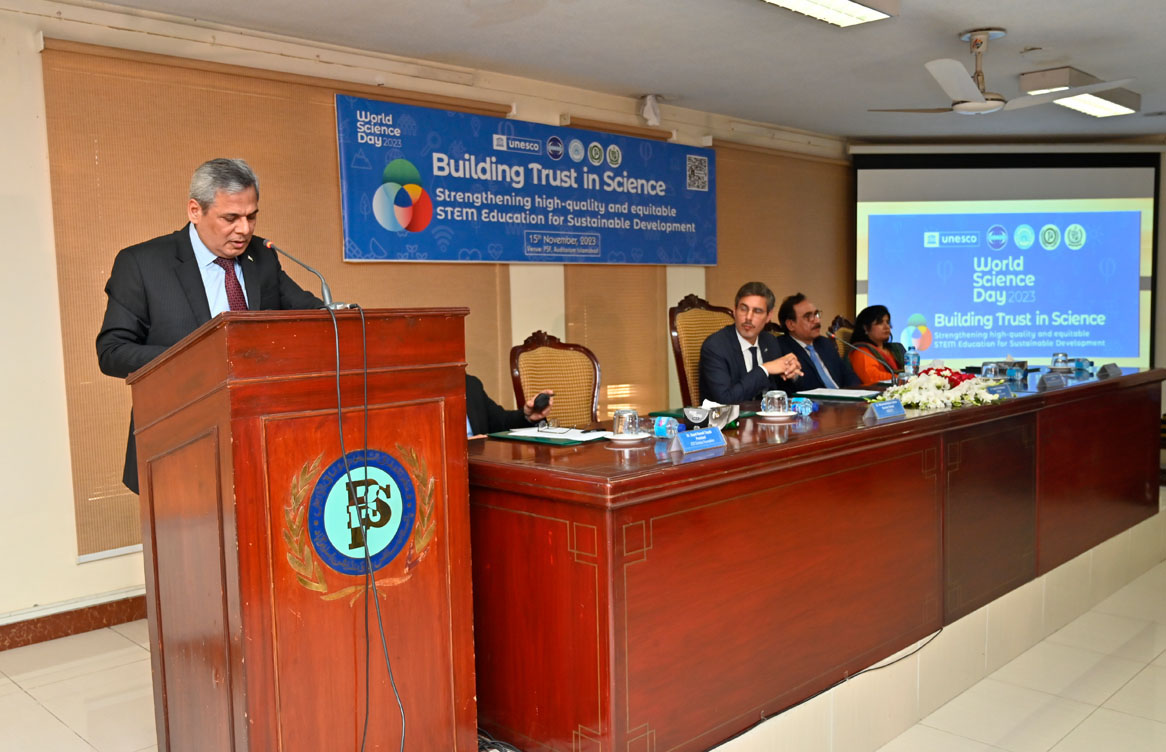 In his remarks on the occasion, Ambassador Dr. Mohammad Nafees Zakaria, Executive Director COMSATS, noted the pivotal role of science, technology, engineering, and mathematics (STEM) in addressing the contemporary challenges faced by the international community, including health crises, climate change, and poverty challenges, emphasizing a growing trend of prioritizing STEM education as an investment in the future. He underscored the crucial role of young people, especially in developing countries, in scientific pursuits and innovations. He stressed the importance of global efforts to invest in their education and nurture their talent for a brighter tomorrow. Ambassador Dr. Zakaria also highlighted COMSATS' instrumental role in propelling innovation and advancement through capacity-building, collaborative research and development, and the exchange of knowledge and technological resources among member countries.
During her keynote lecture on high-quality and equitable STEM education, Prof. Dr. Abida Raza Rao, the Technical Director of the National Center of Industrial Biotechnology (NCIB) at PMAS-Arid Agriculture University Rawalpindi, focused on discussing the stakeholders involved in STEM and provided a detailed analysis of the distinctions between STEM and conventional education. Dr. Abida's insights extended to the potential impact of STEM education on economic growth, emphasizing its integral connection with the Sustainable Development Goals (SDGs).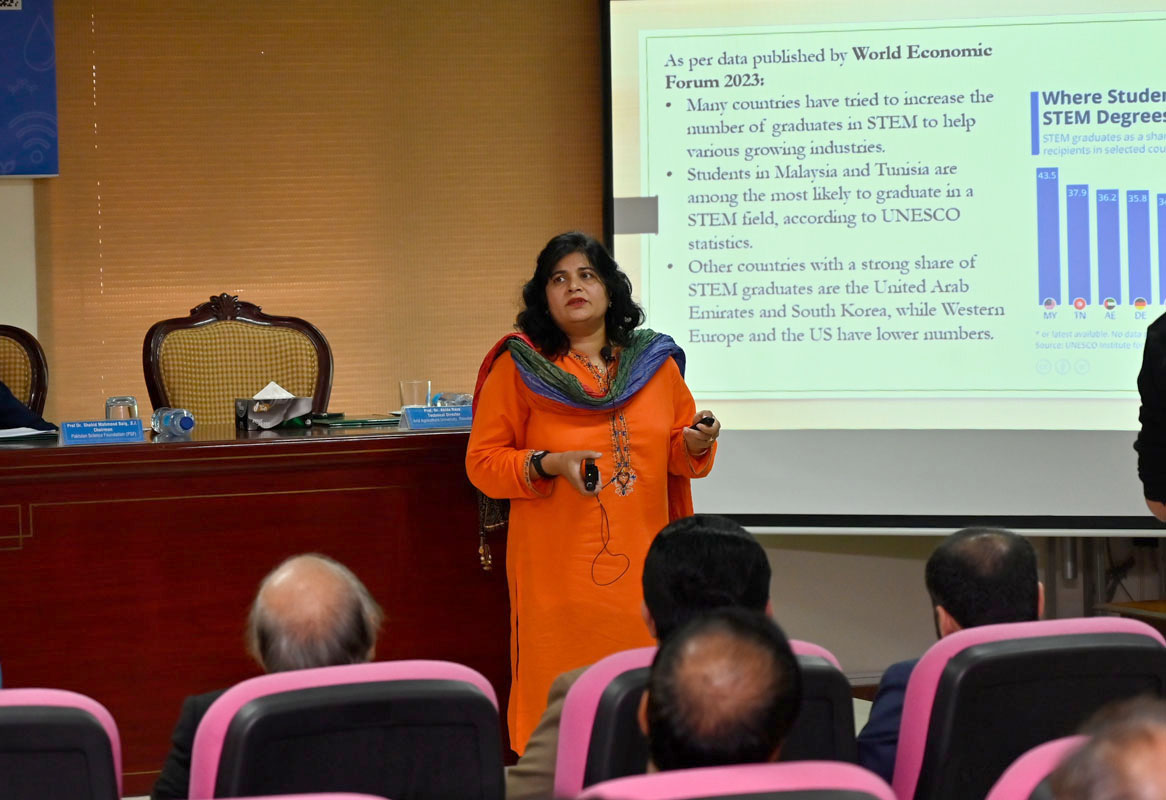 In her presentation, Dr. Rao appraised participants about the challenges associated with STEM education and its integration into mainstream educational practices. She not only highlighted the obstacles but also offered practical solutions to overcome the hurdles in the endorsement and adoption of science in the daily lives of the general populace. Dr. Abida's lecture aimed to provide a comprehensive understanding of the significance of high-quality and equitable STEM education, emphasizing its role in fostering economic development and aligning with global sustainability goals.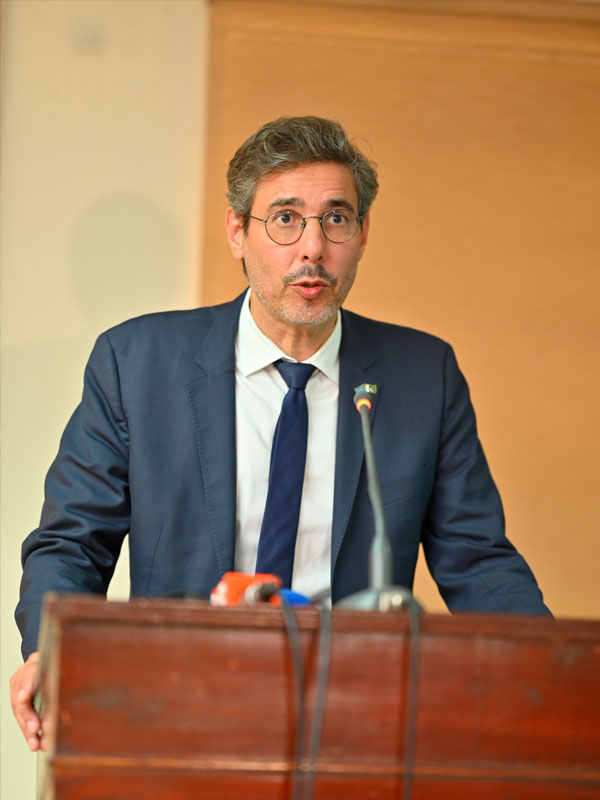 Dr. Youssef Filali Meknassi, UNESCO Representative and Director in Pakistan, served as the chief guest at the event. He emphasized the intricate challenge of increasing public confidence in research, impacting both scientific practices and public perceptions. Building trust in science is crucial for strengthening the foundation of research-based policy decisions and their acceptance by society. Dr. Meknassi addressed the noticeable gender disparity in STEM disciplines, emphasizing social, cultural, and psychological factors influencing the underrepresentation of girls and women. Dr. Meknassi stressed the importance of addressing these obstacles to ensure equal participation of women and girls in STEM, preserving talent, diverse perspectives, and contributing to the strength of the workforce. He further apprised that UNESCO is actively supporting member states in addressing these challenges through initiatives such as the UNESCO Laurel Award for Women in Science, UNESCO Kalinga Prize for the Popularization of Science, and others, aiming to promote gender equality and encourage the active engagement of women and girls in STEM fields.
The convention concluded on a hopeful note of making concerted efforts by the organizing partners at all possible levels to augment high-quality equitable STEM education as a development paradigm for the nations, particularly the Global South.