As part of COMSATS Silver Jubilee celebrations, a graceful ceremony marking the landmark was held at Aiwan-e-Sadr, Islamabad, on 10th December 2019. Their Excellencies, Dr. Arif Alvi, President of Pakistan, and Mr. Fawad Hussain Chaudhry, Federal Minister for Science and Technology, graced the ceremony with their presence.
Graciously hosted by the Ministry of Science and Technology, Governme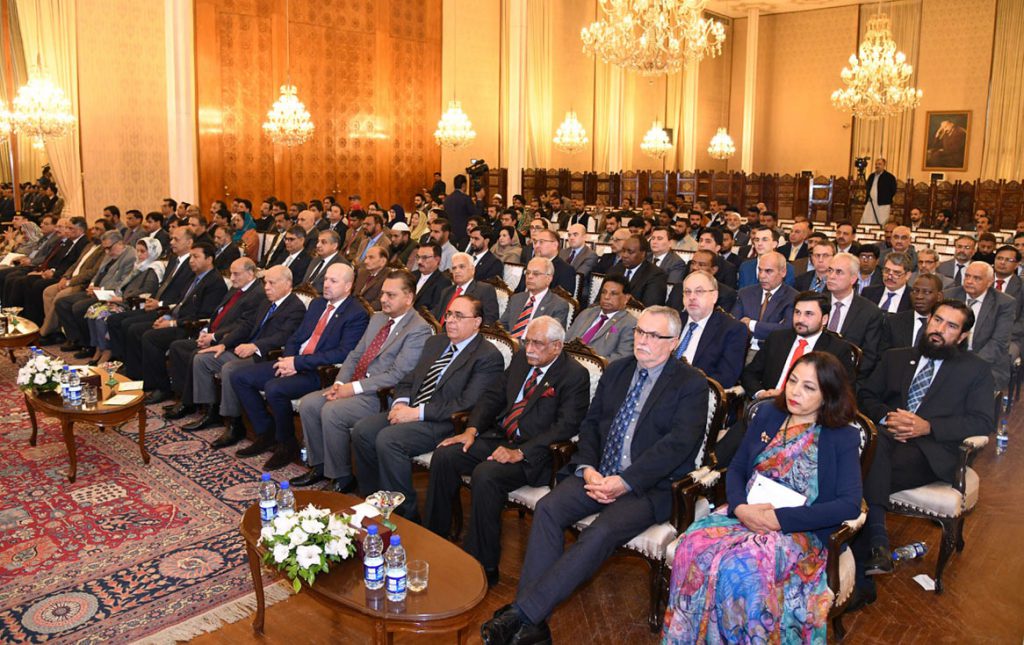 nt of Pakistan, the ceremony had an impressive attendance of over 160, including Islamabad based diplomatic missions from Embassies of Bosnia and Herzegovina, Belarus, Egypt, France, Hungary, Jordan, Kazakhstan, Kenya, Libya, Morocco, Nepal, Nigeria, Portugal, Palestine, Romania, Sudan, Sri Lanka, Turkey, Turkmenistan and Yemen. A number of government officials, including senior officials from Ministry of Science and Technology, Ministry of Foreign Affairs, as well as officials from COMSATS Secretariat, COMSATS University Islamabad, COMSATS Internet Services, and representatives of international organizations attended the ceremony.
In his congratulatory remarks on the occasion, Dr. Arif Alvi considere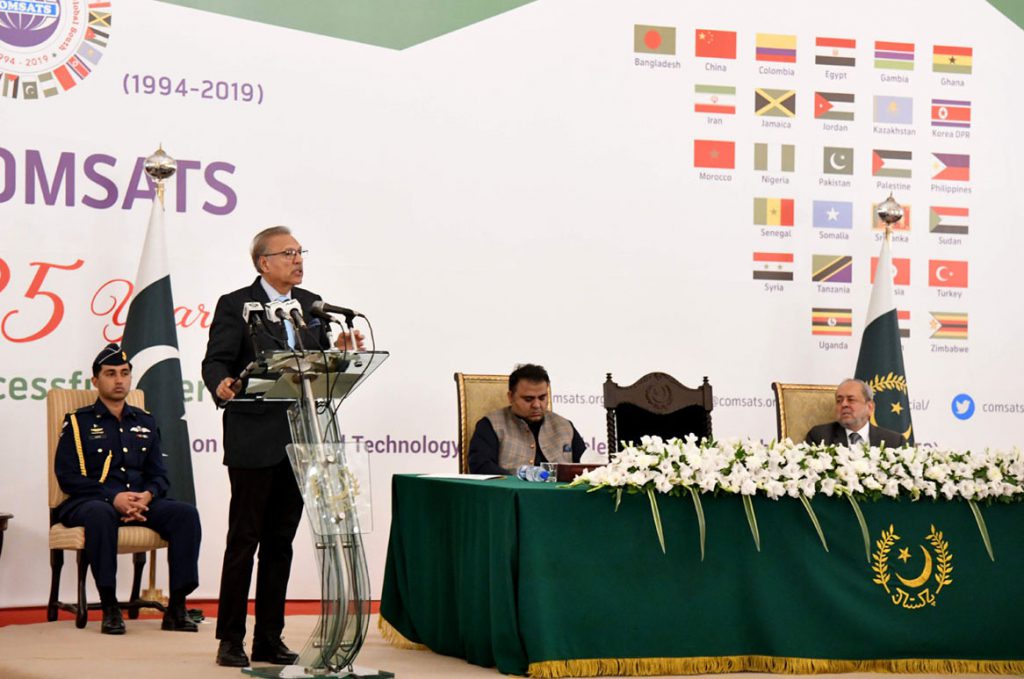 d COMSATS' role important for bringing sustainability and prosperity in the region through S&T. He shed light on the causes and effects of climate change in the developing countries including Pakistan, and emphasized the need to reducing carbon footprints through responsible and sustainable, production of resources. Dr. Alvi considered it imperative for creating knowledge-based economy and sustainable societies under the fourth industrial revolution. He was of the view that with education, skilled human resource, able minds and strong cooperation, the Global South and, in particular, Pakistan, can address present day challenges to help achieve Sustainable Development Goals.
Speaking on the occasion, H.E. Mr. Fawad Hussain Chaudhry, Fed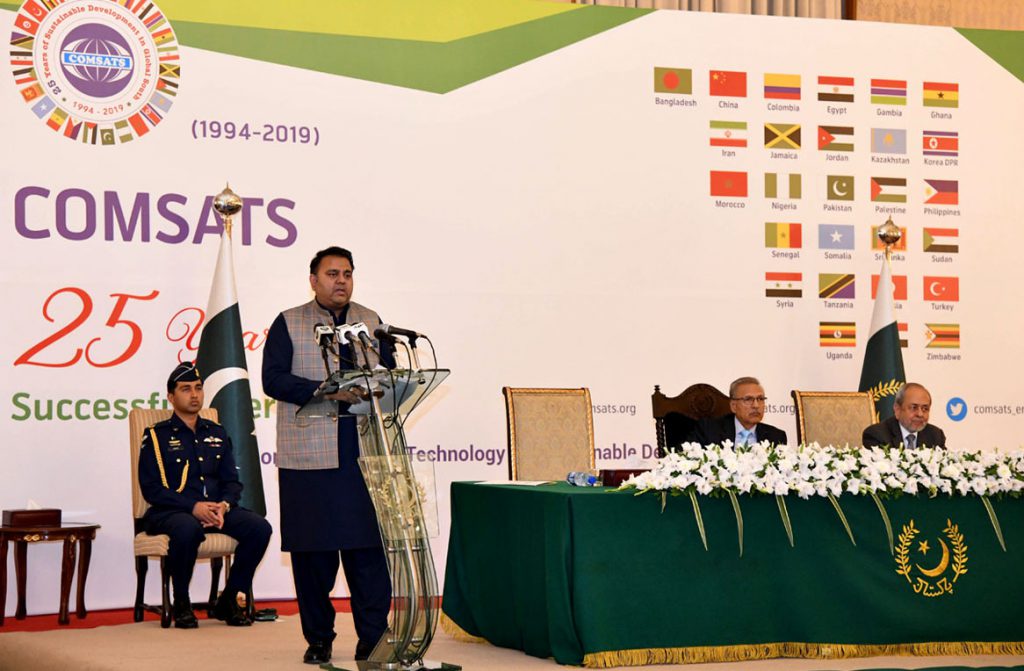 eral Minister for Science and Technology, acknowledged COMSATS' efforts in the fields of education, health and Internet technologies and indicated them well-aligned with the global sustainable development paradigm and important for furthering development plans of COMSATS member states. He emphasized the importance of multilateralism in S&T and considered initiatives taken by COMSATS an excellent example of Science Diplomacy. Reiterating his office's support to COMSATS, he urged the foreign missions and international organizations to help further organization's cause of bringing peace through S&T in the region.
Dr. S. M. Junaid Zaidi, Executive Director COMSATS, while speak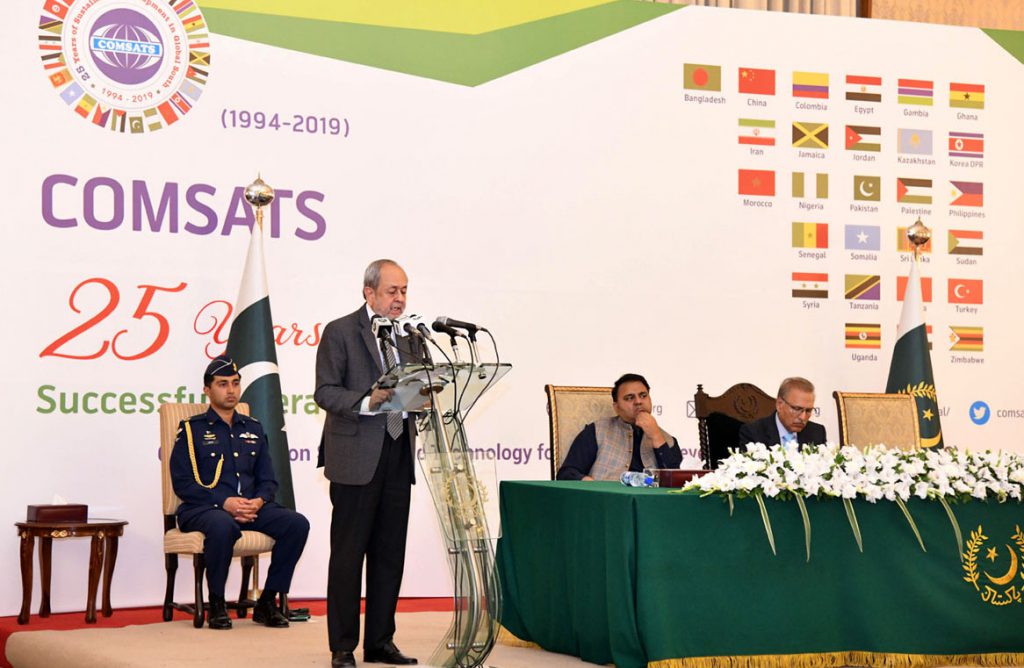 ing at the ceremony, communicated greetings of Hon. Nana Addo Dankwa Akufo-Addo, President of Ghana and the Chairperson of COMSATS, to the Honourable President and Minister. He lauded long-haul patronage of Government of Pakistan and Ministry of S&T towards COMSATS' operations. With the continuous support of all stakeholders, he added, COMSATS can reach new heights and flourish as an exemplary S&T organization, based in Pakistan.