Cognizant of the growing effects of the climate change and air pollution on the general health and well-being of communities being served by COMSATS Telehealth, COMSATS and Pakista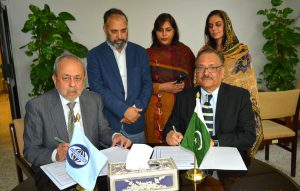 n Allergy, Asthma and Immunology Society (PAAIS) recently signed a Memorandum of Understanding on 1st November 2018.
The collaboration under this MoU aims to serve the Rural Population through COMSATS Telehealth clinics in effective treatment of allergic conditions. Telehealth would be used as a tool for pre-assessment of the patients for allergen immunotherapy and to follow-up to assess treatment response and side effects. Both the organizations agreed to organize free online allergy camps for patients and online allergy schools for the training of the health professionals associated with the clinics. It was also agreed to reach out various fora to initiate courses in Allergy and medical immunology and seek financial or technical assistance to develop products for diagnosis and treatment of allergic conditions.
PAAIS, an elite member of World Allergy Organization (WAO), strives to p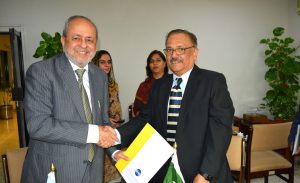 romote the highest possible standards of teaching, study and research among those engaged in the practice of Allergy, Immunology, Transplant Immunology and related diseases. The society organizes workshops, free allergy camps for the patients along with allergy Schools for hands on training in Allergy Tests, Patch Tests, management of allergic diseases for medical professionals.
Based on their respective strengths, both the collaborating organizations would help supplement the healthcare available to populations of remote areas in Pakistan.