The Director General ISESCO, H.E. Dr. Abdulaziz Othman Altw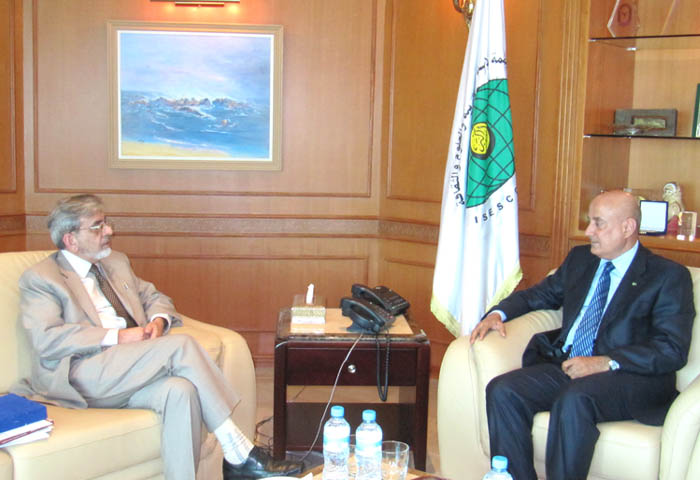 aijri, expressed satisfaction over the on-going cooperation between ISESCO and COMSATS to organize joint scientific activities for the benefit of common Member Countries. In a meeting with the Executive Director COMSATS, Dr. Imtinan Elahi Qureshi, in Rabat (Morocco) on 17th October 2011, he reaffirmed the commitment of his organization to continue such collaboration and desired to enhance the scope of joint capacity building programmes. Dr. Qureshi assured the honourable Director General that COMSATS considers this partnership very important and would like to join hands with ISESCO to launch scientific R&D initiatives aimed at solving pressing problems of developing countries. In particular, he mentioned the scheme of multi-national research groups initiated by COMSATS since 2010 to address challenges of clean water availability, food security, environmental changes and gaps in the development of biotechnology and ICTs in the South.
Dr. Faiq Billal, Director (Science), ISESCO and Mr. Wafaa El ALAMI, Head ICPSR, who were present during the meeting noted that COMSATS' strong technical support has resulted in successful organization of a number of training programmes, workshops and symposia since 2004. The launching of web-portal 'Islamic World Science Net (IWSN)' in 2006 was a significant step towards sharing the expertise between COMSATS and ISESCO.
Dr. Othman Altwaijri encouraged his senior officials to utilize the occasion of Dr. Qureshi's visit to work out the details of joint ISESCO-COMSATS activities for 2012 and beyond. The COMSATS' delegation comprising Dr. I.E. Qureshi, Mr. Tajammul Hussain and Mr. Nisar Ahmad would undertake consultations in this respect with Dr. Mukhtar Ahmed, the Deputy Director General, ISESCO, along with Dr. Faiq Billal and other Directors and Heads of Divisions of Science Directorate of ISESCO.