The names of the first group of awardees of the scholarships, given under the Endowment Fund of COMSATS Institute of Information Technology (CIIT), were announced on 22nd June 2010, during a ceremony held in Islamabad. Selected students from various campuses of CIIT were granted scholarships for masters- and bachelors-level education on merit-cum-need basis. Executive Director COMSATS, Dr. Imtinan Elahi Qureshi; Rector CIIT, Dr. S. M. Junaid Zaidi; and CIIT Registrar, Dr. Arshad Malik, were present on the occasion.
In his inaugural address, Dr. Qureshi noted that Pakistan has made remarkable progress in higher education sector during the last ten years. The talented y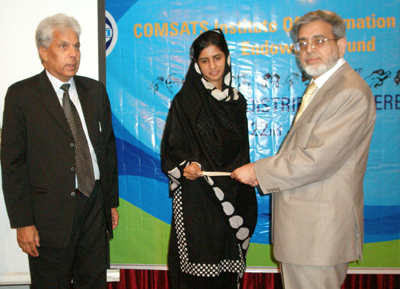 outh of Pakistan, constituting 55% of the population, are a great asset of the country. He advised the students to focus on their studies with the belief that the hard work and achievements of individuals can change the destinies of nations. Dr. Qureshi also announced a personal donation of Rs. 50,000 for the endowment fund. He called upon the Prime Minister of Pakistan (Chairperson of COMSATS) and the President of Pakistan (Patron of CIIT) to give generous donations to CIIT's Endowment Fund, which would make higher education available to talented students from low-income families.
Over the years, the Institute has been taking initiatives to make higher education available to the students from Balochistan, Khyber Pakhtoonkhwa, and the Federally Administered Tribal Areas (FATA) of Pakistan, with full or partial fee-waiver. In Lahore campus, 30% seats, with full-fee waiver, are reserved for the children of industrial workers. These scholarships that have been granted under the Endowment Fund, formally launched during the 18th Convocation of CIIT, in 2009, are a link to the same chain. The Endowment Fund has been established with donations from Government officials, COMSATS' alumni and the employees of CIIT.
The number of beneficiaries of this fund is hoped to increase every year. 'We are planning to increase the number of students awarded scholarships every year, whereby it would hopefully reach 15,000 in 2016.' stated Dr. Zaidi.