The COMSATS Institute of Information Technology (CIIT) has signed an MoU with the National Centre for Physics (NCP), Pakistan, on 4th June 2010, to boost rese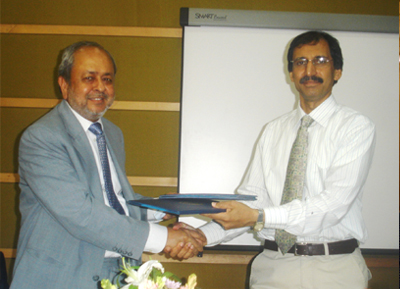 arch and technical cooperation in the areas of basic and applied Physics. The ceremony was held at the Chak Shahzad Campus of CIIT, in Islamabad. The Rector CIIT and the Director General NCP signed the agreement in the presence of Dr. Ishfaq Ahmad, Advisor Planning Commission of Pakistan, and Dr. I.E. Qureshi, Executive Director COMSATS. Under the provisions of this MoU, the two institutions will, inter alia, cooperate to:
1. Exchange and train scientific and technical personnel;
2. Collaborate for High Energy Physics research;
3. Hold joint conferences/seminars/workshops;
4. Undertake joint research projects;
5. Use each other's research, teaching and computer facilities.
Speaking on the occasion, Dr. Ishfaq Ahmad informed the audience about the purpose of the creation of NCP as a centre open to all Physics community of the country for enhancing R&D capacity and facilitating collaborations. Noting the high standards of Physics education and research at CIIT, he hoped that the two institutions will be greatly benefited by supporting each other's academic programmes. He also appreciated the role that COMSATS is playing in promoting scientific education, in line with its mission of socio-economic development through S&T.