The newly established Centre for Climate Research and Development (CCRD) of the Department of Meteorology at COMSATS Institute of Information Technology (CIIT), organized a two-day International Conference on 'Asian Monsoon and Climate Change' in Islamabad, on January 20-21, 2014. The event was organized in association with the Potsdam Institute for Climate Impact Research (PIK), Germany; and the International Center for Climate and Environment Sciences (ICCES), China – the two institutions that have already formalized research partnerships with CCRD-CIIT. The event was sponsored by the Commission on Science and Technology for Sustainable Development in the South (COMSATS) Headquarters and the Higher Education Commission (HEC) of Pakistan.
The conference was the first international event held under the CCRD umbrella that ha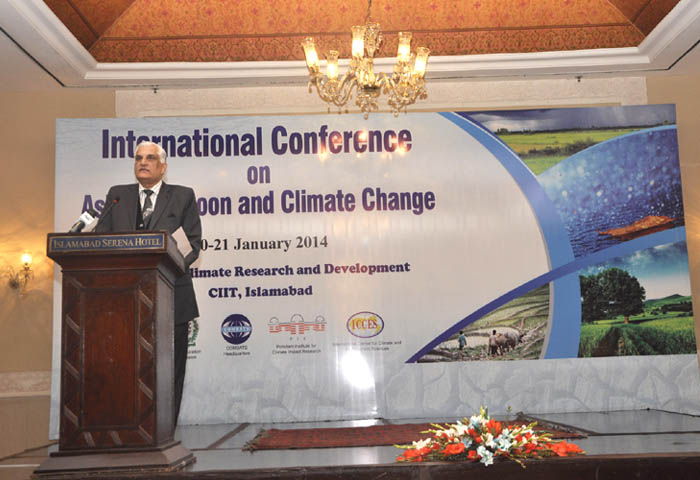 d participation of a large number of scientists, researchers and scholars from both developed and developing countries, including Bangladesh, China, Germany, India, Iran, Italy, Malaysia, Nepal, Pakistan, Sweden, Russia, and USA. Around 30 talks were delivered during the seven technical sessions of the event in addition to inaugural and closing sessions. Moreover, thirty-two posters were presented by the participants on research topics related to climate change and its implications. A cross-section of students, scholars, scientists, engineers, policy makers, diplomats, and media-men benefited from the two-day deliberations that helped improve general understanding on the impacts of climate change on monsoon system.
Earlier, the Federal Minister for Science and Technology, H.E. Mr. Zahid Hamid, presided over the Inaugural session of the conference held on January 20, 2014. Highlighting the importance of the theme of the conference to the Asian countries, the Federal Minister in his inaugural address remarked that developing countries are least responsible for climate change, contributing to only 10 percent of the annual global carbon dioxide emissions, but they are the ones most vulnerable to the environmental, social and economic impacts of climate change.
Addressing the gathering, Executive Director COMSATS, Dr. Imtinan Elahi Qureshi, noted that the Fifth Assessment Report of Intergovernmental Panel on Climate Change (IPCC) attributes global warming to anthropogenic activities and called for treating climate change as a global agenda with common responsibility but differentiated actions. He suggested bringing equity in the roles of both developed and developing countries and urged for respecting the aspirations of the developing countries in future international agreements on climate change.
Introducing ICCES-China to the gathering, its Director, Prof. Zhaohui Lin, highlighted its long standing cooperation with international organizations like COMSATS and TWAS. The Head of International Cooperation, PIK-Germany, Prof. Dr. Jürgen P. Kropp, noted that climate change is a constant phenomenon that influences human lives, especially in terms of water and food security, agriculture yield and energy production, among others. Due to the recent developments in climate sciences, projections on complex climatic phenomena are now possible, suggesting relevant changes in life styles to help cope with their effects. Dr. Kropp called for spreading greater awareness on the same among the stakeholders in order for them to take informed decisions, and suggested that CCRD-CIIT should streamline its programmes accordingly.
Also speaking on the occasion, the Rector CIIT, Dr. S. M. Junaid Zaidi, expressed special gratitude to the Honourable Minister for his patronage to the event. He informed the august gathering that CIIT has risen to second place among Pakistani universities with 557 publications during 2013 indicating the amount of research output of the Institute.
The first technical session of the conference was chaired by Dr. Chandima Gomes from Universiti Putra Malaysia (UPM), Malaysia, and comprised keynote addresses on topics: 'Nonlinearity of the 20th Century Asian Monsoon' by Dr. Abdel Hannachi from the Department of Meteorology, Stockholm University, Sweden; 'On Gradual and Extreme Changes of Monsoon Rainfall' by Dr. Anders Levermann from PIK, Germany; 'The Influence of the Tropical Atlantic on the South Asian Monsoon and Indian Ocean' by Dr. Fred Kucharski from ICTP, Italy; 'Impact of Pre-industrial to Present-day Changes in Urbanization and Pollutant Emissions on the East Asian Summer Monsoon' by Dr. Jie Song from Northern Illinois University, USA; as well as, 'Seasonal Climate and Hydrological Prediction over East Asian Monsoon Region' by Dr. Zhaohui Lin from ICCES, China.
The technical talks in the following six session of the conference highlighted the impact of climate change and monsoon variability, inter-alia, on extreme weather events, urban drainage system, food security, biodiversity and water resources. Various factors influencing the anomalous variations in rainfall patterns, their effects and possible predictive models were also deliberated upon. These sessions were chaired by Prof. Lin; Dr. Kucharski; Dr. Song; Dr. Levermann; Dr. Ashfaq Ahmad from University of Agriculture, Faisalabad, Pakistan; and Dr. Milind Mujumdar from Indian Institute of Tropical Meteorology (IITM), Pune, India.
The meeting highlighted that monsoon has a critical influence on the climate system of the region and adversely effects more than 60 percent of the world's population. The need for building climate resilience has become critical, calling for more work on climate vulnerability, adaptation and disaster risk management. The participating scientists resolved to promote linkages to advance research on climate change, develop collaborations among data centers and with CCRD. It was also pledged to use CCRD as a platform for more workshops, trainings, seminar, joint projects and conferences on climate change and related themes.
At the concluding ceremony, the French Ambassador to Pakistan, H.E. Mr. Philippe Thiébaud, called for scientific and diplomatic interactions on issues related to climate change. He was of the opinion that events such as the present conference aid the international interventions for adaptation, mitigation and estimation of financial implications for global negotiations relating to climate change.
In his vote of thanks, Prof. Kropp said that Islamabad was a perfect choice to organize a conference as evident from the arrangements made for the event. He urged scientists to look at how monsoon and other climatic phenomena affect economy, people and society and work out relevant solutions to sustainable development. Prof. Kropp lauded the efforts of the CCRD and hoped to see it develop into an important regional player on the subject.