The 27th convocation of CIIT Islamabad was held on September 22, 2010. Renowned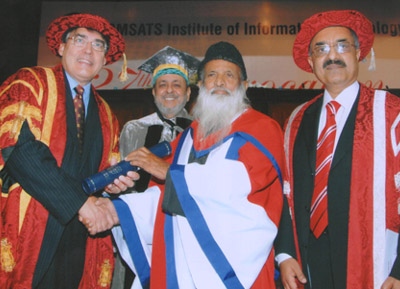 philanthropist and social worker, Mr. Abdul Sattar Edhi, graced the occasion as the Chief Guest. Apart from the faculty members, students and other senior academicians of the country, the convocation was attended by the Rector CIIT, Dr. S. M. Junaid Zaidi; Executive Director COMSATS, Dr. Imtinan Elahi Qureshi; and Vice Chancellor, University of Bedfordshire, UK, Prof. Les Ebdon CBE.
Around 725 successful graduate-level students from various disciplines were awarded degrees. Fifty-six gold, thirty-eight silver, and thirty-two bronze medals were awarded to students with outstanding academic performance. In addition, five students were awarded PhD, while another 114 received degrees in various disciplines of MS-level studies.
Speaking on the occasion, Dr. Zaidi shed light on the history of CIIT that has shown a tremendous growth and has developed in its state-of-the-art technological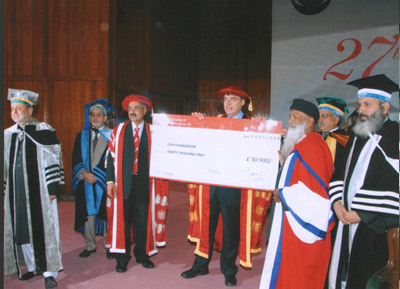 capacity, scientific curricula, and research and development facilities in various fields of science and technology. Prof. Ebdon lauded CIIT for its phenomenal growth over the years, and advocated a multi-cultural environment in universities that provides students a healthier learning experience.
Another highlight of this occasion was the awarding of an honorary doctorate degree by the University of Bedfordshire to Mr. Edhi in recognition of his untiring efforts for social welfare. The degree was awarded to Mr. Edhi on recommendation of CIIT. Edhi's social work that transcends the divides of caste, creed and religion spreads across 38 different countries of the world.