On 18-19 December 2012, a two-day workshop on Technological Innovation Governance for Sustainable Development was organized on the sidelines of the 10th International Conference on Frontiers of Information Technology (FIT). The workshop was organized by COMSATS Institute of Information Technology (CIIT), Pakistan, in collaboration with the Pakistani Ministry of Science and Technology (MoST), Inter Islamic Network on Information Technology (INIT), and National Testing Service (NTS), Pakistan.
The event was opened by Engr. Tahir Naeem, Director (P&D and HRD), CIIT,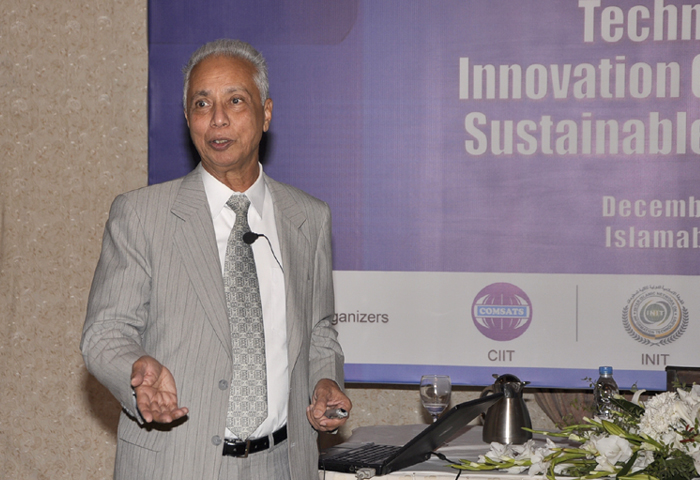 on December 18, 2012. Welcoming the 69 participants from various R&D organizations, universities, government bodies, and foreign missions, Mr. Naeem introduced the resource person for the workshop, Dr. Nawaz Sharif, Principal Consultant, Myriad Solutions, Inc., Fulton, Maryland, USA; and Adjunct Professor, Engineering Professionals Program, Johns Hopkins University, Laurel, Maryland, USA. Having a vast experience in technology innovation, Dr. Sharif has been engaged in many Science and Technology (S&T) for Economic Development related project consultancy work sponsored by the World Bank, ADB, IDB, UNDP, UNESCO and UNIDO. Mr. Naeem traced back the origin of the present workshop to 2011, when CIIT brought out a publication – 'Technological Innovation for Winning the Future' – in collaboration with Dr. Sharif.
During the six technical sessions: Dr. Sharif covered a spectrum of topics on Technological Innovation, including Rationale and Context of Technological Innovation; Technological Innovation Instruments, Structures, Framework, Programmes, Experiences, and Challenges; and Leadership for Technological Innovation. During the technical sessions, Dr. Sharif highlighted the difference between inventions and innovations, and discussed the role of innovation in accelerating socio-economic progress with special reference to the developing world. Japan, Korea, Malaysia, China, Indonesia and India were discussed as notable examples of countries that have risen in the world map through technological innovation.
He also discussed the concept of Innopolis in the developed world, wherein peo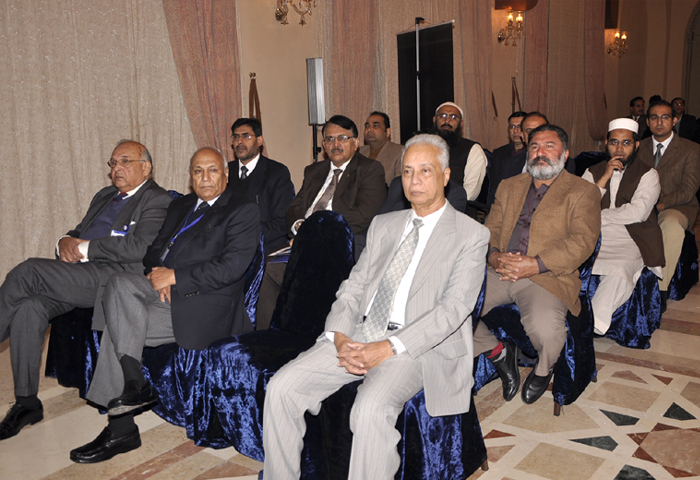 ple belonging to different backgrounds are brought together at an informal platform, such as a holiday resort, which promotes the exchange of ideas, experiences, best practices and lessons learnt, in an informal and cordial environment.
Dr. Sharif believed that the small and medium enterprises (SMEs) could improve their products and services through mutual collaboration and that the governments of developing countries have an important role to play in helping address their needs.
While discussing the importance of R&D activities in private sector, he noted that 75% of gross expenditure on R&D comes from the private sector in the developed world. Dr. Sharif advocated contract-based research focused on solving problems of the industry, and mentioned the Korea Institute of Science and Technology (KIST) as a precedent. He specifically deemed the role of technicians and their capacity building very important in technological innovation and R&D activities.
An open discussion session was conducted at the end of the technical proceedings to address the issues faced by the participants in their respective institutions.
During the closing ceremony held on 19th December 2012, the Rector CIIT, Dr. S.M. Junaid Zaidi highlighted the important role of technological innovation in attaining socio-economic progress in the developing countries, and hoped that the present workshop has contributed towards addressing related issues and challenges.