COMSATS Institute of Information Technology (CIIT)-Abbottabad organized the 8th Conference on Frontiers of Information Technology (FIT-2010) in Islamabad, on December 21–23, 2010. The event was organized in collaboration with IEEE's Technical Committee on Scalable Computing (TCSC), Association for Computer Machinery (ACM), the Higher Education Commission (HEC) of Pakistan, Inter Islamic Network on Information Technology (INIT) and National Testing Service (NTS).
More than 188 research papers from 27 countries were recei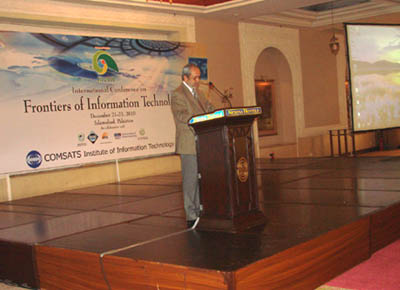 ved for FIT-2010, out of which 55 were selected for oral presentation after a thorough review process. A total of 25 sessions were organized for the subject presentations with the world renowned researchers/scholars as chairpersons and co-chairpersons of the technical session. Questions & Answers sessions were held at the end of each presentation. The extended versions of the papers accepted for FIT-2010 will be published in international journals.
A series of invited talks was organized during the technical sessions. A total of 26 inspirational talks were delivered, in which experts of various research fields relating to computer science and electrical engineering highlighted the latest trends. The invited speakers represented various universities from the US, Iowa State University, University of Central Florida, University of Minnesota, State University of New York, and National University San Diego; Johannes Kepler University, Austria; Kuwait University, Kuwait; University of Burgundy, France; and University of Warwick and Oxford University, the UK; as well as those from within Pakistan – Lahore University of Management Sciences (LUMS), National University of Science and Technology (NUST), Ghulam Ishaq Khan Institute of Engineering Sciences and Technology (GIKI), NED University of Engineering & Technology; Foundation for Advancement of Science and Technology (FAST); Sir Syed University of Science and Technology; and other campuses of COMSATS Institute of Information Technology.
Tutorial sessions led by experts in various research areas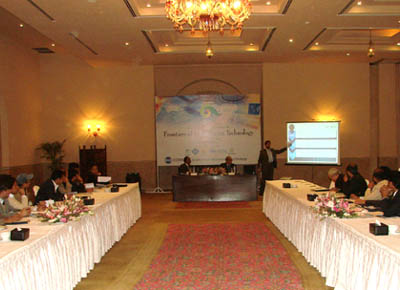 were conducted. The topics covered in these sessions included: The History and Evolution of Passive Optical Access; Knowledge Engineering & Knowledge Management; Pervasive Computing: Vision and Future Challenges; and Fair Path Planning.
Five separate sessions on PhD symposia were conducted. These sessions provided the young scholars an opportunity to present their research work to the academicians apart from their supervisors and seek feedback from a whole range of leading scientists and fellow students in their respective fields. Thorough deliberations were carried out and remedial measures were suggested for the problems faced during research. All major research topics relating to Information and Communication Technology, not limited to those of relevance to FIT-2010, were covered in the symposia.
An exhibition of research projects was also organized to promote innovation at the undergraduate-level. A total of 29 projects were showcased by undergraduate students of different CIIT campuses. The projects included 16 from the field of Computer Sciences and 13 from that of Electrical Engineering. Young developers discussed the technicalities with experts and received advice for improvements and development of new projects.
The Panel Discussion of the Conference was given the theme "Pakistan's Readiness to Exploit Revival of IT Market Internationally – A Gap Analysis". The participating IT experts deliberated on the untapped potential of ICTs and elaborated on ways and mechanisms to better benefit from it.
At the conclusion, prizes and shields were awarded to the winners and panelists, respectively.