Prof. Dr. Sirimali Fernando, Chairperson Sri Lanka's National Science Foundation, accompanied by Sri Lankan High Commissioner for Pakistan, Air Chief Marshal (R) Jayalath Weerakkody visited COMSATS' Headquarters in Islamabad on 30th June 2009. Prof. Fernando was in the capital to attend the SAARC meeting on Science and Technology. The purpose of Prof. Fernando's visit to COMSATS Headquarters was to discuss waysand means for strengthening Sri Lanka's participation in COMSATS activities.
The Executive Director, COMSATS welcomed the delegation and gave a presentation on COMSATS' mission, activities and functions focusing especially on Sri La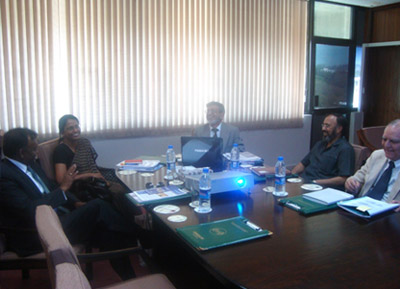 nkan participation as an esteemed member state of COMSATS. He briefed Sri Lankan delegation on the COMSATS' Consultative Committee Meeting and the Coordinating Council Meeting held in Abuja, Nigeria in April this year and the important contributions the Sri Lankan delegate (Ms. M.B.A. Ekanayake, Secretary MoST) had made during the Consultative Committees' deliberations. Matters regarding Sri Lanka's active participation in COMSATS' affairs were also discussed. Owing to the availability of several opportunities to Sri Lanka in COMSATS' programmes and activities like capacity building, education, training and joint technical programmes with COMSATS' member states, Sri Lankan delegates showed great interest in enhancing their country's participation in COMSATS' programmes. Several issues regarding strengthening of collaboration between COMSATS and Sri Lanka, including the affiliation of a Sri Lankan Centre of Excellence with COMSATS came under discussion. It is expected that Sri Lanka will actively pursue the process of designating one of its R&D organization as a Centre of Excellence for COMSATS in order to accelerate the pace of technical cooperation.
Deliberating on the forthcoming Commission's Meeting in A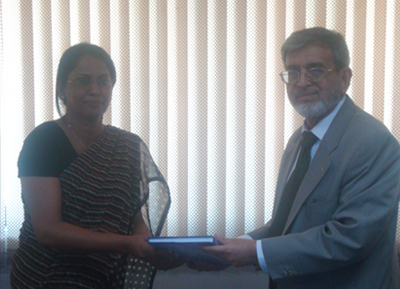 pril 2010, the Executive Director briefed the Sri Lankan delegation on the importance of this Meeting and informed about the seriousness with which both COMSATS and the Government of Pakistan are making efforts to make the Meeting a real success. COMSATS, was hopeful of a large participation in the Commission's Meeting as was evident from the enthusiastic response from the Member States attending the Consultative Committee and Coordinating Council Meetings held in Abuja. The Executive Director, COMSATS urged the Sri Lankan delegation to ensure such a participation from its government. Diplomatic channels will be used by both sides for this purpose.
The visit of Prof. Fernando alongwith the Sri Lankan High Commissioner, to COMSATS' Headquarters turned out to be highly successful as several issues of mutual interest were discussed in detail. Further steps will be taken by both sides to follow up on the proposals considered in the meeting.