During his one-day visit to Pakistan, on 5th April 2011, the British Prime Minister, Mr. David Cameron delivered a lecture at COMSATS Institute of Information Technology, encompassing key elements of UK policy relevant to Pak-UK relations. He touched upon a broad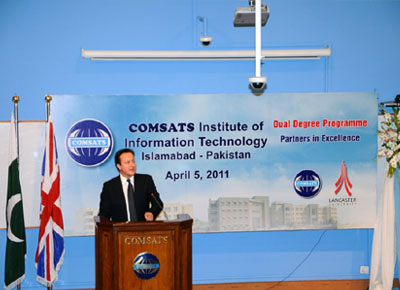 range of issues, while declaring that his visit to Pakistan is the "new beginning" in the strategic engagements with Pakistan. To emphasize his point, he rendered his words in (reasonably well-pronounced) Urdu, i.e "Naya Aaghaz". What this new beginning amounts to is a commitment to build partnership with Pakistan, independent of whatever relations exist between UK and India. He was categorical in declaring that UK does not have to choose either India or Pakistan – "We want strong ties with both".
Justifying his country's involvement in wars in Iraq, Afghanistan and more recently in Libya, he declared that it is neither a fight against Islam nor a ploy to control oil resources. "In Afghanistan our objective is to keep that country free of terror, terrorists and terror camps". In Libya, he believed, UK is saving lives of Muslims as it did 10 years ago in Kosovo. To partly dispel the damage done during his anti-Pakistan remarks in India in July 2010, he paid rich tributes to the people and army personnel of Pakistan, who are paying a huge price in terms of human lives in their struggle against terrorism. The Prime Minister, then gave his own view of the root causes of terrorism, which, he believed, is a joint threat to both Pakistan and UK. To combat terrorism, it is necessary to be "intolerant of intolerance", i.e extremist political philosophy is to be challenged at an early stage in his view. He assured that UK troops will be out of Afghanistan by 2015, although UK will remain engaged in the affairs of this region.
With Pakistan, he envisaged "unbreakable relations" which included his country's support for Pakistan's access to European markets, provision of aid to support educational sector and enhanced bilateral trade reaching a level of £ 2.5B by 2015. To a question asked by a student at the end of his speech, Mr. Cameron shied away from committing UK's role in mediating between India and Pakistan on Kashmir dispute. However, he believed that there is a potential of "50-fold" increase in trade between India and Pakistan.
The Prime Minister expressed his admiration for rapid development of CIIT while maintaining good standards of education. He was pleased to learn that a premier university of UK – The Lancaster University – has started dual degree programmes in Pakistan in partnership with CIIT. Earlier, in his welcome address, the Rector CIIT, recalled that the COMSATS, which is a parent organization of CIIT, was established at the behest of Pakistani Nobel Laureate and a Professor of Imperial College, London – Prof. Abdus Salam.
The British Prime Minister was seen off by the Minister of Science and Technology and the Executive Director COMSATS, besides other dignitaries from the Ministry of Science and Technology, the Planning Commission and Higher Education Commission. Before leaving, he wrote the following words in the Visitor's book:
"Thank you for such a warm welcome at your superb campus – and can I wish you well with your partnership with Lancaster University"
Signed: David Cameron, 5th April 2011