The thirteenth virtual presentation session in connection with the 23rd COM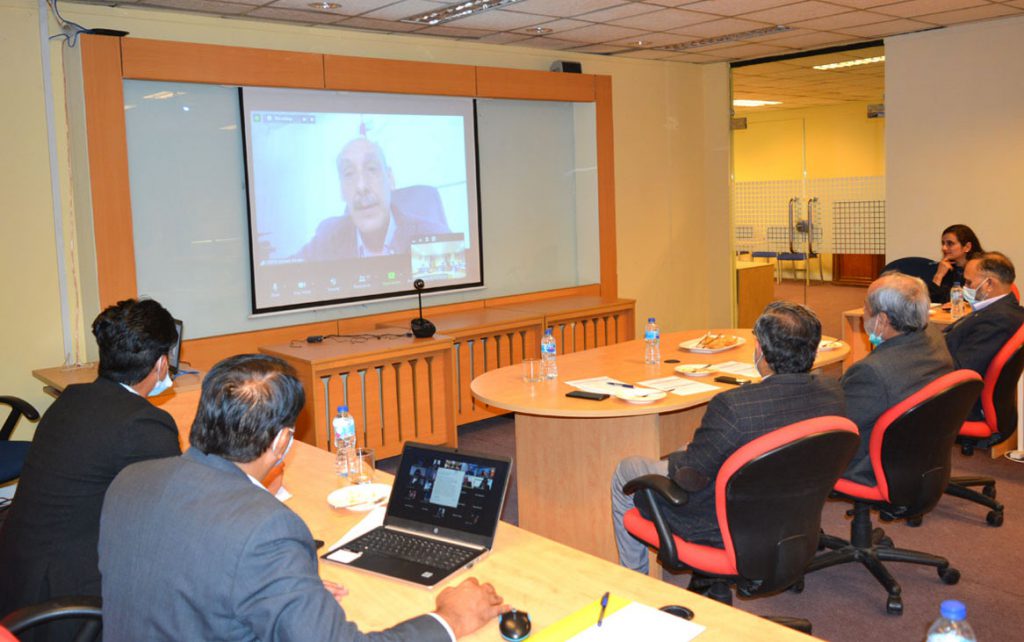 SATS Coordinating Council Meeting was held on 15th December 2020, with participation of representatives from COMSATS' Focal Ministries, Centres of Excellence and COMSATS Secretariat. During the present session, COMSATS Centre from Bangladesh – Bangladesh Council of Scientific and Industrial Research (BCSIR) – presented its activity report covering the period since the last Coordinating Council Meeting.
Dr. M. Nashir Uddin, Director Planning and Development at BCSIR, in the presentation, gave an overview of BCSIR's core functions, technical facilities, research and development activities as well as shared the future plans of the Council.
It was informed that BCSIR is conducting R&D activities according to the national demands and needs and contributing to accelerate the economic growth of the country. Major R&D areas of BCSIR as highlighted by Dr. Nashir, inter alia, included: food science and technology; chemical metrology; bioscience and biomaterials; biogas technology; leather technology; microbiology; mining, mineralogy and metallurgy; pharmaceutical chemistry; herbal medicine; natural products fiber; and renewable energy.
BCSIR houses 03 multi-disciplinary regional laboratories, 08 mono-disciplinary institutes,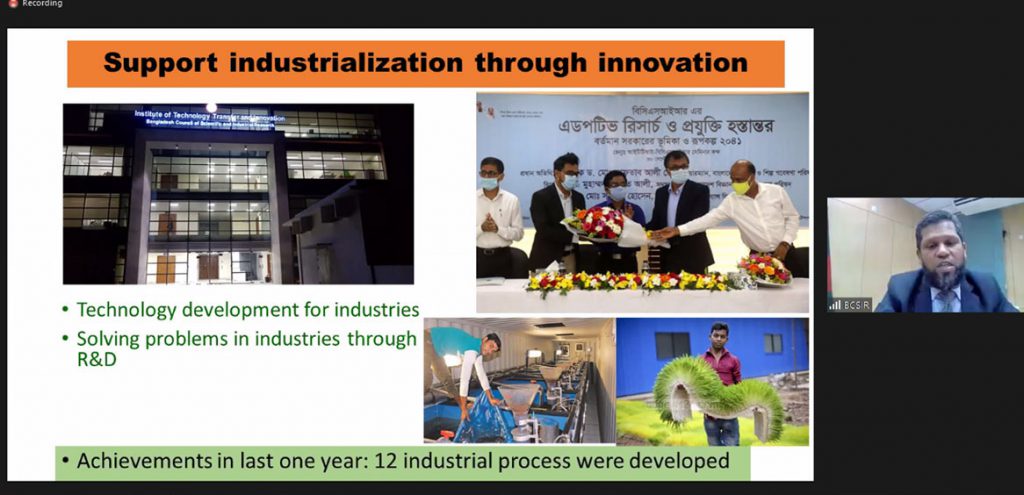 and one centre for pilot plant studies. Furthermore, a new institute namely Bangladesh Reference Institute for Chemical Measurement (BRICM) has been established at BCSIR for proficiency testing, CRM development and other works relating to chemical measurements. Further, another laboratory named as Institute of Mining, Mineralogy and Metallurgy (IMMM) has also been established at BCSIR. It was informed that BCSIR's Genomic Research Laboratory has sequenced more than 300 whole-genomes of SARS-CoV-2 strains collected from different divisions of Bangladesh.
While sharing the research output of BCSIR during last year, Dr. Nashir stated that BCSIR published 141 research papers, won 8 patents, and developed 12 industrial processes.
Furthermore, Dr. Nashir informed that BCSIR has international partnerships and affiliations with various international organizations, including the Commonwealth Scientific and Industrial Research Organization (CSIRO), Australia; Council of scientific and Industrial Research (CSIR), India; China National Pulp and Paper Research Institute (CNPPRI), China; Nihon Kokudo Kaihatsu Co., Japan; Portuguese Institute Quality (IPQ); and COMSATS.
Concluding his presentation, Dr. Nashir identified following areas for collaboration with members of the COMSATS' Network: nanotechnology, renewable energy, food safety, essential oil and industrial surfactant, herbal medicine and medicinal plant, biotechnology, biomedical, leather/shoe technology biomaterials, biochemical and bio fuel (bio refinery) materials, and metallurgical science and engineering.