The Executive Director COMSATS, Dr. S.M. Junaid Zaidi, called upon the Ambassador of Italy in Islamabad, H.E. Stefano Pontecorvo, with senior officials of COMSATS Secretariat and Institute of Peace and Diplomatic Studies. These included Ambassador Fauzia Nasreen, Mrs. Farhat Asif, and Mr. Laeeq Hassan Jaswal.
Dr. Zaidi briefed the Ambassador about the vision and mission of the Commissi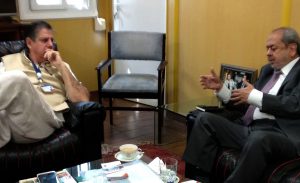 on and its activities. While highlighting COMSATS' recent expansion of cooperation with institutions from the North like the European Union and the Commonwealth, ED shared that COMSATS was conceived by Dr. Abdul Salam in Italy that is also the location of two important scientific institutions TWAS and ICGEB that are like sister institutions for COMSATS.
While taking interest in learning about COMSATS, the Ambassador informed COMSATS' officials about strengthening the Embassy staff for Academic and Institutional linkages. He also informed about the recent connections established between the Italian Ministry of Education, Universities and Research, and HEC and different academic institutions of Islamabad and Lahore. It was informed that the Embassy is in process to establish "Italian Cultural Centre" in Lahore similar to Goethe Institute and British Council in 2019. Dr. Zaidi offered COMSATS facilitation for providing assistance to the Italian Embassy in developing linkages with higher education institutions in Pakistan. Dr. Zaidi also highlighted the scholarships offered by COMSATS University.
An important discussion point from the Executive Director was COMSATS vision to establish world class higher education Institutions and Research Centres in its member countries. In this regard, Dr. Zaidi was of the opinion that Italy can assist COMSATS in project management, faculty provision and development, designing of the facility, curriculum development etc.
Speaking during the meeting, Ambassador (R) Fauzia Nasreen emphasized the role of Centres of Excellence (CoE) of COMSATS and explored the possibility of induction of a Centre from Italy to the Network. In response, His Excellency shared a possibility of two Italian institutions' nominations for inclusion in the Network: Consiglio Nazionale delle Ricerche (CNR), and INFN: Instituto Nazionale di Fisica Nucleare (INFN). It was noted that CNR is already working in Pakistan with an NGO in KP and Gilgit Baltistan area on climatic and environmental issues and mapping of Glaciers. With a big project of around Euros 100 million, the NGO has been able to map 5000 glaciers. He noted Disaster Management and Maritime Pollution as other areas in which Italy can offer assistance.
His Excellency further informed about the Euros 240 million that was made available by the Italian Government for education and research collaboration. It was agreed to have a follow up conversation/meeting on the subject in November for further the discussion to some concrete levels.
The Executive Director thanked the Ambassador for his offers of cooperation and looked forward to due follow-ups on the same.