On 23rd January 2020, H.E. Mr. Bernhard Schlagheck, Ambassador of German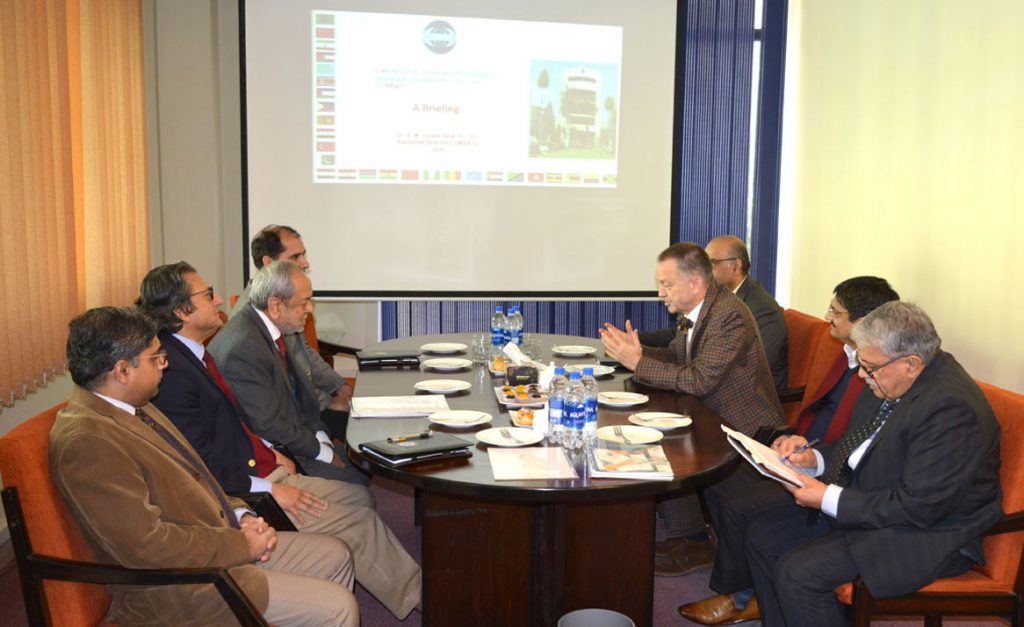 y to Pakistan, called on Executive Director COMSATS, Dr. S.M. Junaid Zaidi, and other senior COMSATS' officials, at COMSATS Secretariat. The meeting held with the German Ambassador was aimed at building cooperation with Germany for seeking patronage and broadening COMSATS' international activities within the framework of triangular cooperation and United Nations 2030 Global Agenda.
During the meeting, Dr. Zaidi briefed the Ambassador about COMSATS' S&T-related engagements with different institutions and state-owned scientific departments in its Member States. H.E. Mr. Schlagheck was also apprised of COMSATS' initiatives in the field of health, ICTs, higher education and climate change as well as recent engagements with international bodies such as UNOSSC and Commonwealth.
On the occasion, Ambassador (R) Shahid Kamal, Advisor (Climate Change), gave a briefing on COMSATS forthcoming Accra Forum on S&T for Sustainable Development, on which German Ambassador expressed keen interest. The Forum, he added, will provide a platform for multilateral cooperation towards achievement of United Nations Global Goals and will help identify key needs of the developing countries, in particular from Africa.
H.E. Mr. Schlagheck lauded COMSATS for its innovative approach to bring about sustainable development in the Global South. Introducing Germany as an ardent supporter of multilateralism, His Excellency supported the idea of Germany's participation at the Accra Forum and pledged to convey the message to his Government for campaigning and active participation of Germany in the said Forum.
Further during the meeting, support of the Ambassador's office was sought for the following: proposals:
Establishment of top-class research centres in COMSATS' Member States in contemporary areas with the support of German institutions and development agencies.
Placement of German expert(s) on secondment at COMSATS Secretariat for consultancy and advice on COMSATS' regional and international programs. In this connection, it was informed that experts from China and Nigeria are already on board.
The meeting ended with a pledge to deepen cooperation with Germany for the achievement of common goals pertaining to sustainable development.