The Executive Director COMSATS, Dr. Imtinan Elahi Qureshi, on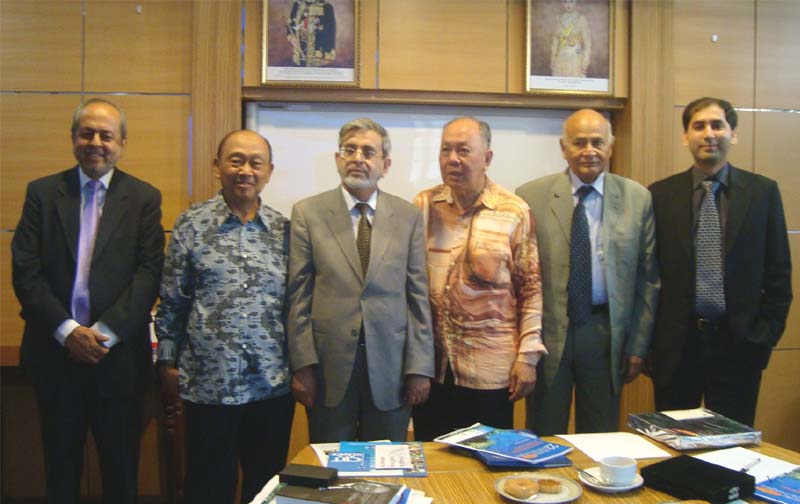 his recent visit to Malaysia representing COMSATS at the 5th Islamic Conference of Ministers of Higher Education and Scientific Research (ICMHESR), paid a visit to the International Science, Technology and Innovation Centre for South-South Cooperation (ISTIC) located in the premises of Academy of Sciences Malaysia. The visit took place on 22nd October 2010 and a meeting was held with the Chairman of its Governing Board, Dato' Ir. Lee Yee Cheong, and Director, Dato' Dr. Samsudin Tugiman. Other senior officials of COMSATS and ISTIC were also present on the occasion.
Highlighting the similitude of objectives and missions and the organizational structures of the two organizations, Dr. Qureshi introduced COMSATS to the officials of ISTIC and expressed a desire to have a cooperative mechanism for S&T-based programmes. Mr. Cheong also elucidated various organizational and procedural aspects of ISTIC, especially about its membership that comprises senior scientists nominated by UNESCO and informed that ISTIC works in cooperation with the national commissions and academies of sciences of various developing countries. He strongly advocated having cooperation for specific programmes with common objectives for the development of the South. The meeting concluded with an exchange of souvenirs and publications.
Following the meeting with the officials of ISTIC, Dr. Qureshi met the President of Academy of Sciences Malaysia, Tansri Datuk Dr. Yusof Barison.