The Ambassador of the Kingdom of Morocco to Pakistan, His Excellency Mr. Mohamed Karmoune, visited COMSATS Secretariat, on 27th November 2017 in order to hold a meeting with the Executive Directo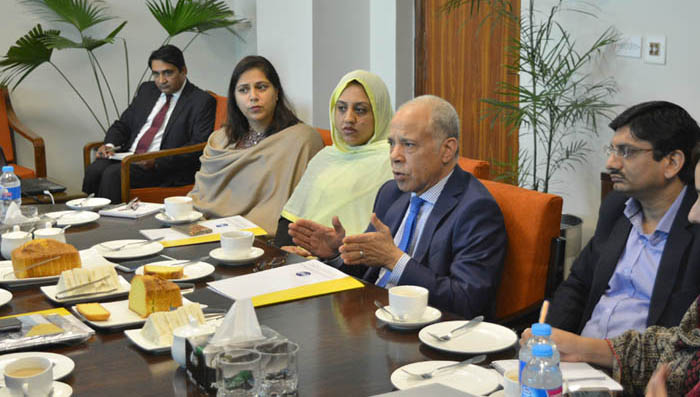 r COMSATS, Dr. S. M. Junaid Zaidi. Senior officials of COMSATS were also present during the meeting. The purpose of the meeting was to brief His Excellency on the projects and programmes of COMSATS to help enhance Morocco's participation in COMSATS' international activities and statutory body meetings.
Welcoming His Excellency, Dr. Zaidi noted the potential of cooperation between COMSATS and Morocco for enhancing the organization's efforts for South-South cooperation for S&T led development. He recalled COMSATS' cooperative ties with a number of organizations with similar mandates, including the Rabat-based Islamic Educational, Scientific and Cultural Organization (ISESCO). He opined that more involvement and contribution of Morocco in COMSATS' projects will be beneficial for the country.
Dr. Zaidi made a presentation introducing the organization to the Ambassador as an intergovernmental/international organization of 26 Member States, working for their S&T-led development. The Ambassador was, inter alia, informed about the Annual Membership Contribution, which is voluntarily paid by the member states and is kept as the contributing country's trust fund to be utilized specifically for the scientific activities with in the country. Delineating on the organizational structure of COMSATS, Dr. Zaidi informed that the President of Ghana is the incumbent Chairperson of COMSATS.
Morocco is a relatively recent member of COMSATS as it joined the organization as a Member State during mid-2015. The Ambassador was asked for his cooperation to help ensure Morocco's participation in the 21st Coordinating Council Meeting to be held in Kazakhstan during 2018. The participation is of crucial importance in view of the prospective induction of Mohamed V University, Morocco, in COMSATS International Network of Centres of Excellence as its 22nd node.
| | | |
| --- | --- | --- |
| | | |
COMSATS' heads of state-level forum, The General Meeting, and the ministerial level forum, the Consultative Committee, are expected to meet in 2018 for which, Morocco's participation was also sought. Dr. Zaidi expressed his desire to have stronger representation of Morocco in other fora of COMSATS, such as its international Technical Advisory Committee. Dr. Zaidi expressed his desire to have one scientist as a TAC Member from Morocco. Dr. Zaidi also apprised the Ambassador about the International Thematic Research Groups of COMSATS and hoped that one of the ITRG can be headed by a person and an institute from Morocco.
Dr. Zaidi presented to His Excellency COMSATS' flagship projects in Pakistan: COMSATS Institute of Information Technology (CIIT), COMSATS Internet Services (CIS), and COMSATS Tele-Health programme.
Concluding the presentation, Dr. Zaidi discussed international partners of the COMSATS, the capacity building activities and projects of COMSATS, and the publications of COMSATS.
Mr. Karmoune showed keen interest in COMSATS' projects and programmes in res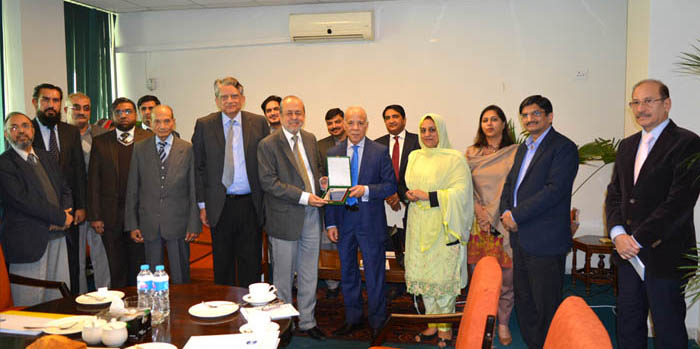 ponse to the presentation made by Dr. Zaidi. He believed that without collaboration in education and science, countries cannot progress, and, therefore, considered it important for Morocco to have good ties with COMSATS' Member States and Network of Centres of Excellence.
His Excellency hoped to have further avenues of mutual cooperation explored between COMSATS and Morocco. He pledged his support for improving the participation of Morocco in the programmes and activities of COMSATS.
Discussing the possible avenues of cooperation between COMSATS and Morocco, Dr. Zaidi suggested establishment of a high quality research and development institute in Morocco, for which due support and expertise can be harnessed. He also considered it important to have more frequent exchanges and interactions of scientists between Morocco and other member states of COMSATS.
The Ambassador was very receptive of these ideas and ensured his due support for realizing the proposals that were made during the meeting. The meeting ended on a cordial note of support to reinforce the relationship of cooperation between COMSATS and Morocco.
At the end, the Ambassador was presented souvenirs by Dr. Zaidi.