Minister of Science and Technology, Government of Pakistan, Mr. Muhammad Azam Khan Swati hosted a dinner in honour of the Ambassadors of member states of Co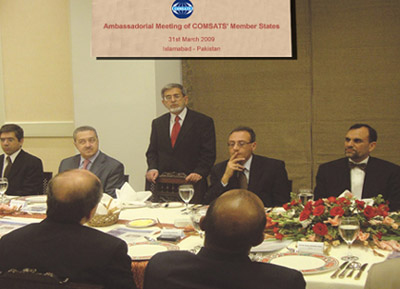 mmission on Science and Technology for Sustainable Development in the South (COMSATS), in Islamabad on 31st March 2009. The Ministry of Science and Technology, Government of Pakistan is also one of the Focal Points of COMSATS. Ambassadors and senior diplomats from COMSATS' member states: Bangladesh, China, DPR Korea, Egypt, Jordan, Kazakhstan, Iran, Nigeria, Philippines, Sudan, Sri Lanka, Tunisia and Syria, as well as from Brazil and Turkey attended the dinner.
The meeting was intended to have an exchange of views on the operations of COMSATS, in its member countries. On this occasion, the Minister asserted the importance of science and technology in the present times and the need to overcome S&T related dependence of the developing world. Identifying the potential areas of cooperation in selected fields of science, the developing world should collaborate for undertaking joint projects.
The meeting reviewed the importance of South-South cooperation for research, industry, academy-industry linkages and human resource development. COMSATS' role as a facilitator of South-South cooperation by means of institution building, expert exchange, training, joint international projects and international symposia, was also called to attention. It was urged that COMSATS' member states, besides making regular Annual Membership Contribution to support COMSATS' initiatives, should fully participate in the upcoming Consultative Committee and Coordinating Council meetings in Abuja, Nigeria (27-29 April 2009) and Commission meeting to be held in Islamabad in April 2010 as well as COMSATS annual projects and programmes in different member states.
The Nigerian Ambassador assured the participants that satisfactory arrangements have been made for Abuja meetings. Speaking on behalf of their countries, the distinguished guests reiterated their commitment to support COMSATS' programmes.