The Ambassador of Vietnam, H.E. Mr. Kim Pham, visited COMSATS Secretariat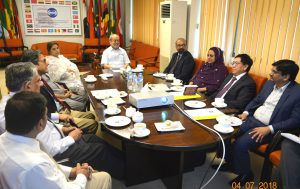 on July 4, 2018 and had a meeting with Executive Director COMSATS, Dr. S. M. Junaid Zaidi. Some senior officials of COMSATS also attended the meeting.
During the meeting, Amb. (Rtd.) Shahid Kamal (Advisor) highlighted the importance of food security and accomplishments Vietnam has made in the fields of rice production and agriculture. He also emphasized the role that Vietnam can play for helping Pakistan increase its agricultural production.
Mr. Tajammul Hussain, Advisor Programmes, highlighted the role of IT and technology and requested His Excellency to identify partner institutions in Vietnam that could work with COMSATS.
The Ambassador was requested to take the offer of COMSATS' membership, through a formal letter of invitation handed to him by the Executive Director, to the relevant government officials.
Dr. Zaidi further mentioned that scientist exchange among the institut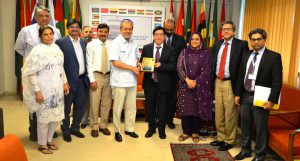 es of COMSATS and Vietnam is of utmost importance. He also emphasized that Research and Development will be the key to a sustainable future for the South and asked the ambassador to help identify a few R&D institutes which have good infrastructure and are willing to collaborate with the member states.
His Excellency, Mr. Kim Pham commented on Vietnam's relations with COMSATS Member State, Pakistan, which include the latter's cotton exports used in the latter's textile industry, as well as other exports, such as Iron ore and electronics. He expressed satisfaction over scholarship offers available through COMSATS, which Vietnam could benefit from once a Member. He pledged to do everything possible to help the COMSATS in supporting immunization campaigns being run in member countries.
The meeting ended on a cordial note.