On 18th August 2017, the Ambassador of Vietnam to Pakistan, H.E. Nguyen Xuan Luu, visited COMSATS Secretariat, Islamabad, on an invitation from Executive Director COMSATS, Dr. S. M. Junaid Zaidi. The Ambassador was invited for a briefing about projects and mandate of COMSATS and to discuss about the Vietnam's possible membership of COMSATS. Senior officials from COMSATS Secretariat, including Mr. Tajammul Hussain (Advisor Programmes), and Ambassador Fauzia Nasreen, also attended the meeting.
Mr. Hussain made a brief presentation on COMSATS covering the scope and activities of the organization. He highlighted the programmes of COMSATS, including Tele-health programme, International Thematic Research Groups, and capacity-building programmes. He also apprised the Ambassador about the process of COMSATS' Membership should Vietnam decide to join the organization, as well as benefits and obligations of this membership.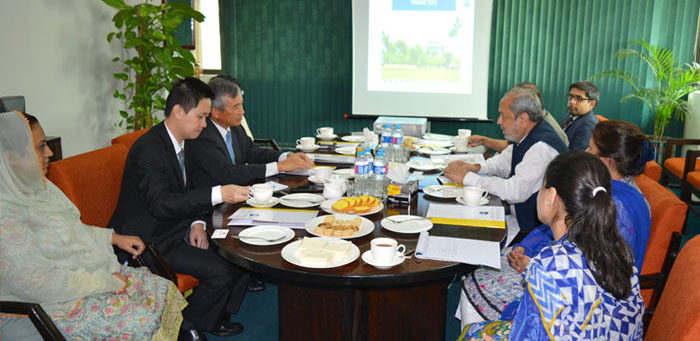 His Excellency noted that COMSATS is a leading institution in Pakistan which has connected different countries of the South. He further added that an organization like COMSATS is interesting for him, as there are no such organizations in Vietnam. He said that he would like to further learn about COMSATS, including its collaborative programmes and scholarship offers for developing countries. The Vietnamese Government, he informed, is looking forward to building universities with collaborations from countries like Australia, Russia, and Germany.
Dr. Zaidi thanked his Excellency for his visit to the Secretariat. He opined that the membership of COMSATS would be beneficial for both Vietnam and COMSATS. He highlighted the organizational structure of COMSATS including three levels: (i), Head of State (Commission), Ministerial Level (Consultative Committee), and Network of Centres of Excellence (The Coordinating Council). The Coordinating Council, he noted, meets every year for scientist-level technical cooperation.
The Ambassador was informed about the Annual Membership Contribution which the member states are encouraged to pay on voluntary basis. This AMC, he informed, is kept separate and used only for the respective country, while the expenditure of COMSATS Secretariat is met by the Government of Pakistan. He added that the platform of COMSATS can be used for development of the University in Vietnam, with support from organizations like Commonwealth and United Nations.
The Executive Director expressed that the President of Ghana is currently the Chairperson of COMSATS, whose tenure is ending in May 2018. He hoped that the Chairpersonship would then be rotated to China.
The Ambassador highlighted long term cooperative relationships between Vietnam and Pakistan, spanning over 45 years. He suggested that cooperation in both countries in terms of education should be enhanced. The Ambassador was requested to take the offer of COMSATS' membership, through a formal letter of invitation handed to him by the Executive Director, to the relevant government officials.
COMSATS would later reach out to the respective Ministry of Education and Academy of Sciences in Vietnam for a follow up. The Ambassador pledged to take up the matter with the Ministry.
The exchange of pleasantries during the meeting between His Excellency and the Executive Director included souvenirs.