A series of meetings are being held by the Executive Director COMSATS, Dr. S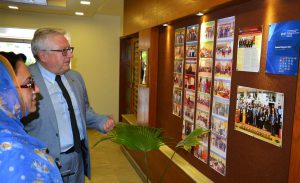 .M. Junaid Zaidi with foreign missions in Islamabad, Pakistan, with the purpose to extend COMSATS' outreach towards North for seeking support and patronage for achievement of the Commission's objectives. In this regard, the Ambassador of Ukraine to Pakistan, H.E. Mr. Volodymyr Lakomov, was invited to COMSATS Secretariat for a meeting.
During the meeting held on 9th October 2018, in the presence of senior officials of COMSATS and IPD, Dr. Zaidi gave a briefing to the Honourable Ambassador on COMSATS' programmes, activities and flagship projects. He expressed desire to collaborate with Ukraine in areas of mutual interest.
H.E. Mr. Volodymyr Lakomov informed that Ukraine stands among the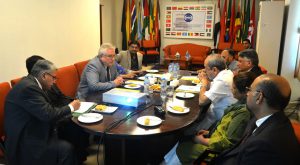 top three countries in the world in the field of IT and has well-developed agriculture sector. He suggested identifying Ukrainian center(s) for establishing linkages with COMSATS Centres of Excellence.
A formal accession letter to Ukraine for joining COMSATS was handed over to the H.E. Mr. Volodymyr Lakomov and he assured to take up the proposal with Ukrainian government for final decision. Maj. Gen (Retd) Muhammad Tahir, Advisor (China Desk) was appointed as COMSATS' focal person to follow-up on the matter of Ukraine's accession to COMSATS
The meeting ended with the presentation of souvenir to the Honourable Ambassador by the Executive Director COMSATS.