On the invitation from the Executive Director COMSATS, H.E. Ambassador of Somalia, Mrs. Khadija Mohamed Almakhzoumi, visited the COMSATS Secretariat on 4th October 2018.
Building on earlier discussions with Her Excellency since Somalia's incepti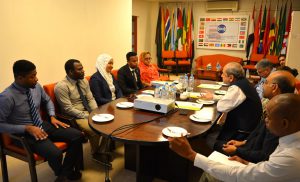 on to COMSATS in 2017, the Executive Director further informed the Ambassador on the Commission's potential to facilitate the Federal Republic of Somalia, especially in higher education as well as technology development.
Possibilities were explored to establish Centres of Excellence on Climate Change and Technology Parks based on the need and priority of the Somali Government. It was noted that collaboration of relevant institutions in China, Turkey and European Union can be sought to establish bio-technology centres oriented towards the needs of industrial sector upon Somalia's request. Somali government was encouraged to share a complete plan in this regard.
The Honorable Ambassador was requested to encourage more Somali students to benefit from the scholarship offers available at COMSATS University and other Centres of Excellence. COMSATS support and cooperation was also extended for Faculty development of Somali higher education institutions.
Her Excellency showed gratitude for COMSATS' intent towards aiding d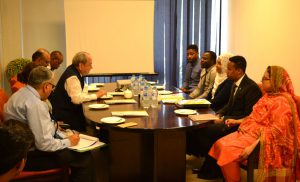 evelopment of Federal Republic of Somalia. She looked forward to benefitting from various programmes of COMSATS, especially those pertaining to higher education. She looked forward to holding a reception for the Somali students that would be graduating from various HEIs in Pakistan, including COMSATS University. She remarked on the quality education these students received in these institutions.
Dr. Zaidi offered COMSATS' facilitation for securing admissions in further higher studies in Pakistani universities by serving as a conduit between the students and the universities.
The meeting ended with vote of thanks from both sides.