H. E. Mr. Sherali S. Jononov visited COMSATS HQ on 30th August 2017 on invitation from the Executive Director COMSATS, Dr. S. M. Junaid Zaidi. The visit is a part of COMSATS' membership campaign as well as in keeping with the COMSATS' tradition of keeping the diplomatic missions of the member and non- member states abreast of its mission of sustainable development through South-South Cooperation in S&T. Senior officials of COMSATS present during the meeting included Dr. Abdul Aziz Khan, and Mr. Amanullah.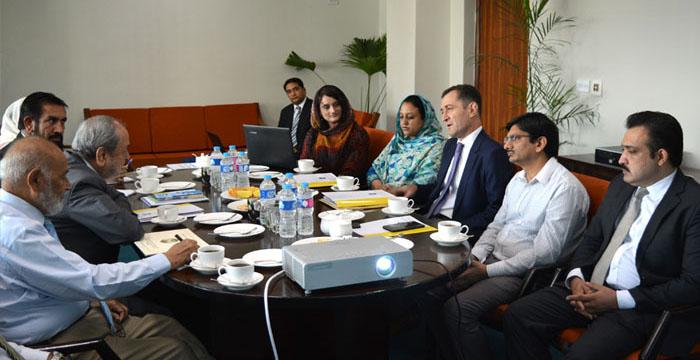 Dr. Zaidi's presentation covered the historical, organizational, functional and operational aspects of COMSATS as an Intergovernmental organization created as a realization of visionaries like Dr. Abdus Salam. The apex forum thus created harnesses political patronage, government support and scientific technical cooperation through its three major statutory bodies, the Commission, the Consultative Committee, and the Coordinating Council. The membership of the Commission currently chaired by the President of Ghana, he further informed, has reached 25 since ratification of the accession agreement signed by Turkey. Dr. Zaidi shared with His Excellency further plans to enhance COMSATS' membership, and informed him about the recent efforts made in this regard.
Highlighting COMSATS potential for institution building and welfare services, he noted COMSATS Institute of Information Technology, COMSATS Internet Services, and COMSATS Tele-health as the organization's flagship projects. The Ambassador took keen interest in learning about these. Collaborative research under COMSATS International Thematic Research Groups was also highlighted facilitating joint R&D on important topics: 'Information and Communication Technologies (ICTs)'; 'Natural Products Sciences'; 'Climate Change and Environmental Protection'; 'Mathematical Modeling'; 'Agriculture, Food Security and Biotechnology'; and 'Renewable Energy'.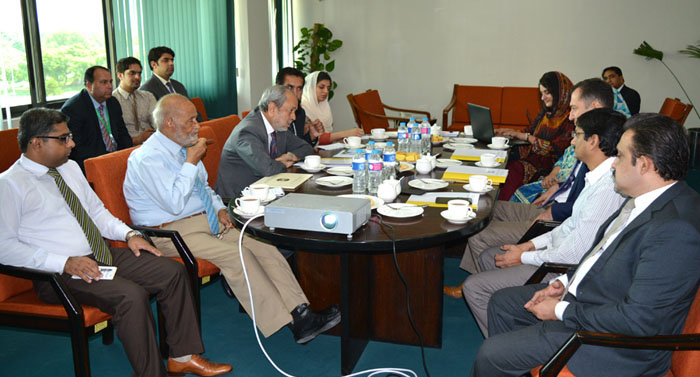 Also highlighted were COMSATS' international partners, capacity-building activities, scholarship offers and facilitation of scientists in their interactivity. It was further noted that to optimally benefit from the COMSATS' programmes and activities, Tajikistan should consider joining the organization's Commission and Network, for which Dr. Zaidi handed a formal invitation letter to the Ambassador for taking up with relevant Tajikistani government officials and institutions. In this connection, Annual Membership Contribution was introduced to him as an effective financial instrument used for facilitating scientific activities of the contributing countries, which is voluntary in nature.
The Ambassador thanked the Executive Director for his briefing. He noted with concern a huge gap in technical cooperation between Pakistan and Tajikistan, which he had been trying to address by meeting with relevant Pakistani officials recently. He advised to have meetings between high officials of COMSATS and government officials at relevant Ministries of Tajikistan, such as Ministry of Education, as well as having interactivity on the ground level and cultural exchange, e.g. through holding exhibitions in Tajikistan.
Mr. Sherali was appreciative of COMSATS Secretariat's efforts of reaching out to the diplomatic community in Pakistan. In response to the Executive Director's requests to play the intermediary role in realizing Tajikistan's accession to COMSATS, the Ambassador pledged to study the matter further and to take it up in due course at relevant government fora of Tajikistan. His Excellency also asserted the need to take the matter up at the level of heads of states.
He opined that it is important to have bilateral and multilateral cooperation based on sound planning and proposals for collaborations on matters of mutual interest. In this regard, he welcomed proposals from COMSATS Secretariat and member countries that could be taken up with relevant Ministries and government institutions of Tajikistan. While assuring his complete cooperation in his capacity as the Ambassador of Tajikistan to Pakistan, he encouraged direct meetings among senior officials of COMSATS and relevant Government functionaries of Tajikistan for greater impact of the reach-out efforts. In this regard, he pledged to facilitate meetings in Tajikistan.
Mr. Sherali fondly recalled his visits to COMSATS Institute of Information Technology (CIIT), and appreciated the facilities and growth of the institute which is an iconic flagship project of COMSATS in Pakistan.
It was noted by Dr. Abdul Aziz that the recent summit in Dushanbe was a great success and has further paved the way for future collaboration in S&T. It was also stated that the exchange of delegations between COMSATS and Ministry of Education/ Science and Technology will pave the way for cooperation and benefit from various programmes which are launched by COMSATS from time to time.
Appreciating the worthy inputs from the Ambassador, the Executive Director assured him of taking due actions. Receiving COMSATS' Publications from the Executive Director, His Excellency showed interest in receiving the same on regular basis.