The Honourable Ambassador of Nepal to Pakistan, Her Excellency Ms. Sewa Lamsal Adhikari paid a visit to COMSATS Secretariat on 24th November 2017 upon invitation of Executive Director COMSATS. The purpose of the meeting was to apprise the Ambassador about COMSATS' as an IGO of developing countries working for their S&T-led socio economic progress. The briefing was arranged with a view to take the ambassador on board about the membership drive of COMSATS and to give Her Excellency a better understanding of the organization with which the membership offer to Nepal could be duly followed up. Meeting with her Excellency was held in the presence of senior officials of COMSATS and Institute of Peace and Development Studies.
| | | |
| --- | --- | --- |
| | | |
Briefing Her Excellency, Mr. Tajammul Hussain, Advisor (Programmes) COMSATS, presented information on COMSATS' mandate and vision, its statutory bodies, organizational structure and highlighted the key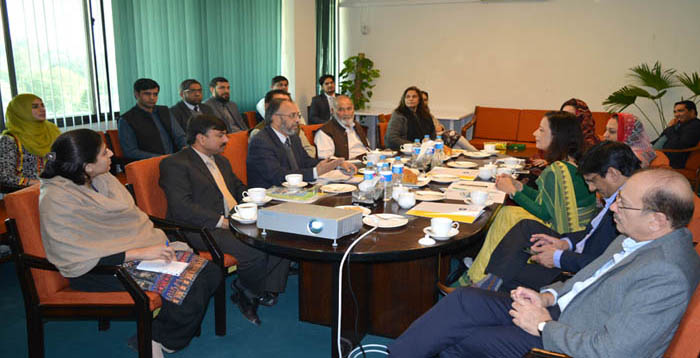 R&D areas, in which the twenty one (21) Centres of Excellence of COMSATS specialize. He expressed the desire to enhance COMSATS' membership from SAARC countries, of which three countries presently hold the membership, i.e., Pakistan, Sri Lanka and Bangladesh.
Her Excellency Ms. Adhikari lauded the vision of Prof. Dr. Abdus Salam that provided the developing countries a forum for pooling necessary resources and expertise for addressing their gaps in S&T. She appreciated the expansion of COMSATS' membership as well as the R&D at COMSATS' Centres of Excellence. She greatly admired the initiatives taken by COMSATS in its efforts to help being development in the South through the use of S&T.
Ms. Adhikari stressed upon the need of developing and promoting small technologies for the benefit of common people, in particular, from developing countries of South Asia. She expressed keen interest in COMSATS' tele-health services and expressed desire to launch a similar project for the people of remote areas in Nepal. Further, Ms. Adhikari highlighted a number of fields that are of common interest to developing countries and offer potential for multilateral cooperation, which included: agriculture, ICTs, disaster management, and renewable energy. She opined that meaningful research in such fields can accelerate the developmental process. While highlighting the si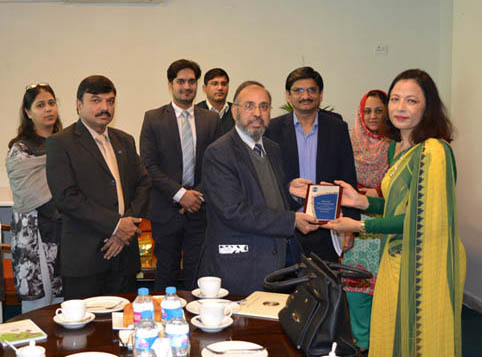 gnificance of renewable energy, she noted that solar energy and micro-hydel power has mitigated electricity crisis in less privileged areas of Nepal.
Mr. Hussain apprised Her Excellency that being a Member State, Nepal can solicit support from COMSATS for establishing a top class S&T/R&D or a higher education institution. She accorded consent to the offer made by Dr. Abdul Aziz, Advisor at COMSATS, of mobilizing students from Nepal for study and research at COMSATS Institute of Information Technology (CIIT).
Taking note of the prior correspondence between COMSATS and Ministry of S&T, Government of Nepal, and Nepal's Chemical Society, the Ambassador pledged to sensitize the Government of Nepal and the concerned authorities about the importance Nepal's accession to COMSATS, during her visit to Kathmandu in December 2017. Further, she hoped that the membership of Nepal to COMSATS shall bear meaningful results for both sides.
The meeting concluded with the exchange of pleasantries and presentation of COMSATS' plaque on behalf of Executive Director, COMSATS to Her Excellency Ms. Sewa Lamsal Adhikari.