On invitation of the Executive Director COMSATS, Dr. Imt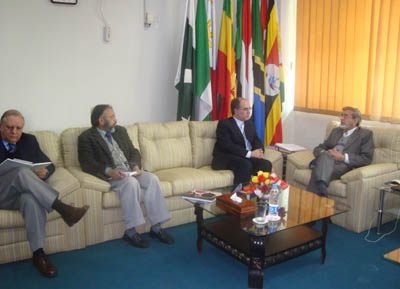 inan Elahi Qureshi, Ambassador of the Islamic Republic of Iran to Pakistan, H. E. Mr. Masha'allah Shakeri paid a visit to COMSATS Secretariat on January 26, 2010. The invitation had been extended to apprise the Ambassador about the engagements of Dr. Qureshi during his visit to Iran, scheduled for February 5-8, 2010.
Dr. Qureshi briefed the Ambassador about Iran's association with programmes and activities of COMSATS including its participation in the Coordinating Council and Consultative Committee meetings held in Abuja, Nigeria, in April 2009. A presentation was made to elucidate the scientific activities of COMSATS conducted in collaboration with its Centre of Excellence in Iran, Iranian Research Organization for Science and Technology (IROST), as well as the future plans for COMSATS–IROST cooperation.
The Ambassador was also informed about the highlights of Dr. Qureshi's visit to Iran that include his participation in the 23rd Khwarizmi International Award, visit to IROST, and meeting with the Iranian focal point of COMSATS, Minister for Science, Research and Technology, H.E. Dr. Kamran Danishjou.