Upon invitation of Executive Director COMSATS, Dr. S. M. Junaid Zaidi, the Ambassa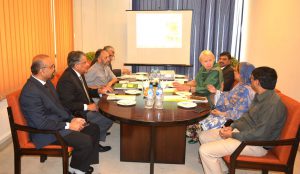 dor of Republic of Austria to the Islamic Republic of Afghanistan (Resident in Islamabad – Pakistan), Her Excellency Dr. Brigitta Blaha, visited COMSATS Secretariat, on 8th October 2018. The agenda of the meeting was to explore common grounds of cooperation for the benefit of the South, especially African region. The meeting was attended by senior officials of COMSATS and IPD.
The Honourable Ambassador was briefed about the programmes, activities and achievements of COMSATS. It was proposed that the two sides can mutually collaborate for joint cooperative projects pertaining to capacity building of scientists and researchers; trainings of academicians; setting-up of Centres of Excellence in COMSATS Member States; and strengthening linkages with various stakeholders working in climate change and environmental sciences niche. Dr. Brigitta Blaha apprised that scholarships are already being offered by Austrian Government to Pakistani students.
During the meeting, Her Excellency was handed a formal letter of invitation to join COMSATS. She pledged to take up the membership matter with the Government of Austria and concerned authorities. The meeting concluded with presentation of souvenir on behalf of Executive Director COMSATS to Her Excellency Dr. Brigitta Blaha.