Dr. S. M. Junaid Zaidi, Executive Director COMSATS, was awarded the Al-Farabi Gold Medal by the Al-Farabi Kazakh National University (KazNU), Kazakhstan, for his outstanding contributions towards fostering interna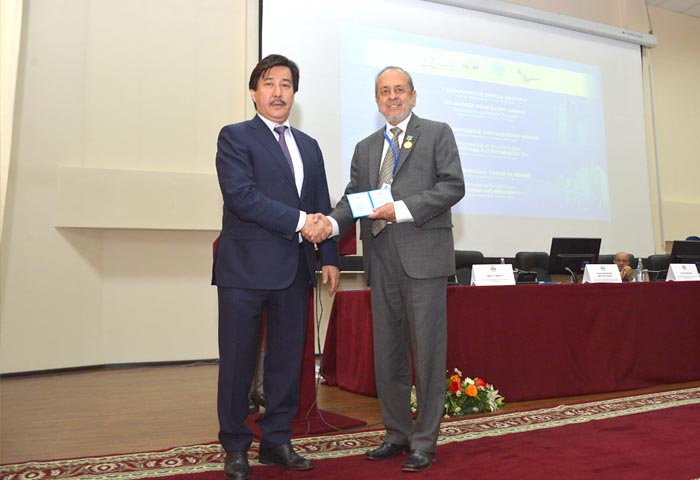 tional collaboration in science and technology. The medal was presented to Dr. Zaidi by Prof. Dr. G. M. Mutanov, Rector KazNU, on 3rd April 2018, during the inaugural ceremony of the 5th International Farabi Readings (3-13 April 2018, Almaty, Kazakhstan), which is organized annually by the university. Each year, the gold medals are awarded by KazNU to one Kazakh and one foreign scientist in order to acknowledge their contributions towards science and technology.
On the occasion, Prof. Mutanov paid gratitude to Dr. Zaidi for facilitating the scientific collaboration of KazNU and Kazakhstan with other developing countries. He also shed light on his illustrious career spanning over forty years. He congratulated Dr. Zaidi on establishing the COMSATS Institute of Information Technology (CIIT) in Pakistan, which under his leadership since inception in 2000 has grown into a top-ranked university with creditable reputation both nationally and internationally. Prof. Mutanov considered COMSATS a potent forum for facilitating scientific and technical collaboration among the developing countries, and expressed pleasure on his university's affiliation with COMSATS' Network of International S&T Centres of Excellence since May 2015.
While accepting the gold medal, Dr. Zaidi stated that it is a great honour for him, his organization and his country, to have been awarded the Al-Farabi Gold Medal. He admired the enormous contributions made by Al-Farabi in the fields of science, philosophy, mathematics and music, and pledged to follow his legacy and promote his philosophy by all means. Dr. Zaidi admired the high standing of Kazakhstan in various fields of science and technology, and stated that other developing countries can learn a lot from Kazakhstan. He stressed the need of having a stronger cooperation among the developing countries for achieving socio-economic development, for which COMSATS would continue to play an important role.