A delegation from Afghanistan comprising of Prof. M. Hassan Rashiq (Afghanistan's Ministry of Higher Education), Prof. Zalmai Zaheb (Kabul University), Mr. M. Atiq Mamozai (Kabul Education University), Prof. Dr. Del Aqa Waqar (Nangarhar University), Prof. Dr. Abdul Qayuom (Kabul Polytechnic University), and Prof. Homa Khalid (Kabul Polytechnic University), visited COMSATS Headquarters, on March 23, 2011, to hold a meeting with the Executive Director COMSATS, Dr. I. E. Q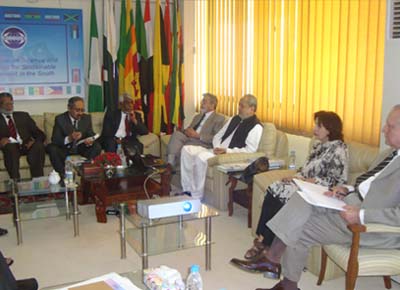 ureshi and Rector COMSATS Institute of Information Technology (CIIT), Dr. S. M. Junaid Zaidi. Also present in the meeting were other senior officials of COMSATS, CIIT, and the OIC Standing Committee on Scientific and Technological Cooperation (COMSTECH).
The presence of this delegation of Afghanistan in Pakistan was for the purpose of participating in the "Stakeholder Workshop: Identifying Joint Research and Training Opportunities Between Afghanistan and Pakistan", jointly held by the Higher Education Commission (HEC) of Pakistan and the Global Knowledge Initiative (GKI) – an America-based non-profit organization, on March 20-21, 2011, at HEC, Islamabad-Pakistan.
The objective of the meeting with Afghan delegation was to introduce COMSATS to the visitors and acquaint them with its major projects and programmes focused at sustainable socio-economic development of its Member Countries; discussing the possibilities of initiating scientific collaboration of COMSATS and CIIT with Afghanistan's Government and academic/scientific institutions; and highlighting the benefits that Afghanistan may avail through joining COMSATS as a Member State.
The meeting was preceded by a presentation made by the Executive Director COMSATS in order to inform the participants about COMSATS' operational mandate; bodies; thrust areas; international linkages; scientific capacity building events; and major programmes and projects including its new project of Thematic Research Groups.
During the meeting, the Executive Director suggested that Afghanistan may immediately initiate collaboration with COMSATS through nominating some of its rel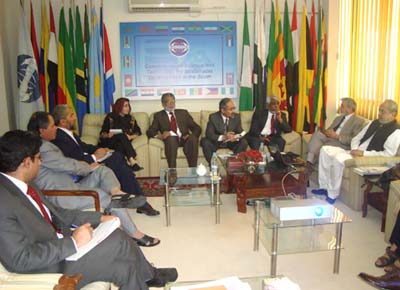 evant scientific institutions for participating in COMSATS' Thematic Research Groups; nominating its scientists/researchers for participating in COMSATS' scheduled scientific events in its Member Countries; and nominating researchers/scientists for receiving short-term trainings at COMSATS' Centres of Excellence.
The Rector CIIT reiterated CIIT's offer of 100 postgraduate scholarships for students from COMSATS' Member Countries with students' fee fully waived off and accommodation provided by CIIT, whereas travel grants extended by COMSATS. Apart from this offer, CIIT has also offered 50 postgraduate scholarships for students from OIC Member Countries, of which Afghanistan is also a member. The Afghan delegates were urged to take necessary steps on individual as well as institutional levels to benefit from these generous offers made by CIIT for building scientific capacity of COMSATS and OIC Member States.
Regarding the offer of COMSATS' membership to Afghanistan, the Executive Director informed the Afghan delegates about COMSATS' previous correspondence with Head of Foreign Relations and International Affairs, Afghanistan's Ministry of Higher Education. It was agreed that the matter of Afghanistan's membership to COMSATS will be pursued through Pakistan's Ministry of Foreign Affairs.
The Executive Director also offered COMSATS' assistance to the academic/scientific institutions of Afghanistan with regard to facilitating their collaboration with GKI through helping them in the identification of their counterparts in Pakistan.
Matters related to the current state of higher education and scientific research in Afghanistan; the need of collaboration among scientific/academic institutions of Pakistan and Afghanistan; and Pakistan's role for reconstructing Afghanistan through collaboration in science and technology; were also discussed during the meeting.