COMSATS INTERNET SERVICES (CIS)
COMSATS Internet Services Website (www.comsats.net.pk)

COMSATS Internet Services (CIS) is the pioneer Internet Service Provider (ISP) of Pakistan, established by COMSATS in 1996. Internet being a relatively new technology at that time, COMSATS established CIS to provide Internet connectivity mainly to government organizations, and also to provide a platform for social services, such as Tele-health and distance learning. CIS provided Internet services during the early days of COMSATS' Tele-health services in Gujar Khan and Gilgit Baltistan. Initially, CIS launched dial-up operations in Islamabad, Lahore, and Karachi. Subsequently, its operations were extended to Karachi, Peshawar, Sialkot, Faisalabad, Gujranwala, Gujrat, Gilgit, Multan and Sukkur. In 1998, CIS launched a data center offering hosting and co-location services. CIS became the first training partner of CISCO in Pakistan in 2000. In 2004, CIS launched DSL service in five cities. In 2005, CIS launched its wireless broadband service called Tornado® which is now its flagship product. In 2008, CIS was ranked the best ISP by the Pakistan Telecom Authority (PTA) for Internet services in Lahore, Karachi, Faisalabad, and Sialkot.
CIS has over 10,000 corporate clients tha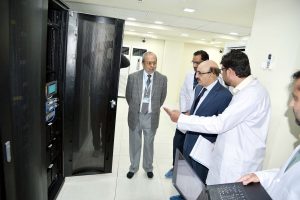 t include well-known national and international firms, software and business companies, foreign missions, consulates and embassies, non-governmental organizations, universities, social development and research organizations. With new customers signing up every month, COMSATS Internet Services is projected to continue extending its services all across the country.
The Services offered by CIS include: Wireless broadband, Domain & web hosting, On-demand broadband, Data Center Services, Video conferencing, Website designing and development, Search Engine Optimization, Virtual Private Servers, Networking, IT training, and Internet related research facilities. CIS has a state-of-the-art training center for conducting training events at Islamabad with a variety of courses including CCNA, ITIL v3 Foundation, Microsoft Office, and web development to name a few. CIS has also been a Cisco training partner. CIS' services are offered under eight brands names that are dubbed ad 'The Colors of CIS'. Core services are available under Tornado® (Wireless broadband), Hawaii™ (Domain, hosting, and VPS) and COMSpeed™ (Optical Fiber connectivity), and the value added services include Hurricane™ (On-demand broadband), Prism™ (Software development), Viacon™ (Video conferencing), COM meeting™ (Web conferencing Service), and Comclinic™ (Tele-health clinics). CIS' Comclinic™ is a Tele-health service offered for the welfare of underprivileged people by providing access to distance healthcare to people living in different rural areas of Pakistan. COMSATS Tele-health Resource Center in Islamabad, linked with Tele-health units, provides specialist healthcare consultations free of charge.
CIS has well-equipped data centers in Islamabad, Lahore & Faisalabad that offer a variety of services, like Virtual Private Servers, Domain Registration, Website Hosting, Colocation of Servers and Rack space to its customers. CIS has also been working on Internet research and development activities to improve the experience of its clients. CIS has launched L-Root mirror servers in Lahore and Islamabad with assistance of Internet Corporation for Assigned Names and Numbers (ICANN) to help improve the inter-networking efficiency of country's Internet infrastructure. CIS has also become the first ISP in Pakistan to host RIPE Atlas Anchor sponsored by the Asia Pacific Network Information Centre (APNIC) for the real time measurement of Internet connectivity.
CIS is executing a pilot project titled "Establishment of Tele-Health Clinics Network". CIS Tele-Health clinic network comprising of 13 rural Tele-Health clinics, has been functioning and successfully operating at rural Basic Health Units (BHUs) located in the vicinity of Islamabad, Rawalpindi, Peshawar, Swabi, Lahore, Multan, Khairpur, Quetta, Musakhail and Gwadar. All these clinics are fully equipped with the latest digital diagnostic equipment including vital sign monitor, digital stethoscope, examination camera, ultrasound probe and ENT scope. These clinics are further linked with CIS Tele-health Center Islamabad through live video conferencing for medical / specialist consultation. More than 55,000 patients including 26,851 Ultra Sonography (Tele USG) have been examined and advised through the system.
CIS has also signed agreement with the Punjab Information Technology Board (PITB), Lahore and Khyber Pakhtunkhwa Information Technology board (KPITB) Peshawar for establishment and maintaining Tele Health facilities at selected BHUs in their respective areas.