Profile of Chairperson Consultative Committee COMSATS
Mr. Ghulam Muhammad Memon took charge as the Federal Secretary at the Ministry of Science and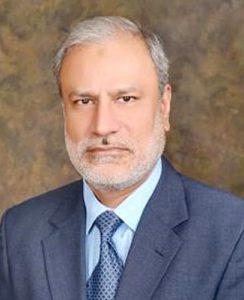 Technology, Government of Pakistan, on 7th June 2022. By virtue of his current office, Mr. Memon is the incumbent Chairperson of COMSATS Consultative Committee.
Having served as an Acting Auditor General of Pakistan and Additional Auditor General, Mr. Memon has more than 34 years of diverse experience in public sector. He has expertise in areas of Policy Formulation and Governance, Auditing and Accounting, Change Management, and Financial and Human Resource Management.
Earlier in his career, he held the portfolios of President at Audit Commission of Asia-Pacific Space Cooperation Organization (APSCO), China; Head of Department/Director General at Field Audit Offices of Commercial Audit, Defense Audit, and Local Councils Audit Sindh; Deputy Controller Air Force Accounts and Controller Military Accounts (Karachi) at Pakistan Military Accounts Department; Head of Finance Department at Pakistan Steel Mills, Employees Old-Age Benefits Institution, University of Sindh, and Pakistan Space and Upper Atmosphere Research Commission (SUPARCO).
Mr. Memon holds Bachelor degree in Medicine and Master Degrees in Economics and Business Administration with majors in Finance and Accounts. He has also taken courses and trainings from USA and Canada.