The Commission on Science and Technology for Sustainable Development in the South (COMSATS) in collaboration with one of its Centres of Excellence in Pakistan, the International Center for Chemical and Biological Sciences (ICCBS), held the foundation meeting of COMSATS' thematic research group on 'Natural Product Sciences', on November 26, 2010, in Karachi. ICCBS hosted this meeting in conjunction with its 12th International Symposium on Natural Product Chemistry (22nd – 25th November 2010).
ICCBS is the designated Lead Centre for this thematic rese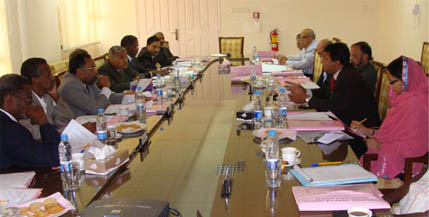 arch group with five collaborating institutions as its members: National Research Centre (Egypt); Industrial Research and Consultancy Centre (Sudan); Tanzania Industrial Research and Development Organization (Tanzania); Royal Scientific Society (Jordan); and Iranian Research Organization for Science & Technology (Iran). Other participating institutions of the meeting included: Department of Science Laboratory Technology of the Federal Polytechnic (Nigeria); Institute of Fundamental Studies (Sri Lanka); Department of Biochemistry and Molecular Biology, University of Dhaka; Department of Biology, Ege University (Turkey); and Lorestan University of Medical Sciences (Iran). In all, nineteen participants from eight countries, Bangladesh, Egypt, Iran, Jordan, Nigeria, Pakistan, Sudan, Turkey, attended the meeting.
The main focus of the meeting was to bring together scientists and researchers in Natural Product Sciences of the developing world on a forum to chalk out the programme of a joint research project. The establishment of the group was formalized during the meeting through a Memorandum of Understanding with a view to develop cooperation and build a group of researchers from developing countries to conduct joint research, as well as share their expertise and lab resources. Besides endorsing the establishment of the thematic research group on 'Natural Product Sciences', the MoU defines the specific area of collaboration as 'Phytochemical and Pharmacological Studies on Medicinal Plants and Standardization of Herbal Plants of Indus and Nile Valleys'.
During the meeting, Prof. Dr. M. Iqbal Choudhary, Director ICCBS, announced five scholarships for COMSATS' members States; three for post-doctoral research and two for technical training. The Coordinator of the Group, Dr. Farzana Shaheen of Hussain Ibrahim Jamal Research Institute of Chemistry, ICCBS, announced that a website will be developed based on the feedback from the members of this thematic group, while the decision regarding the next meeting of the group will be taken after coordination with all the stakeholders.
Speaking on the occasion, Director General COMSATS, Mr. Tajammul Hussain, considered the gathering as a fine beginning of what is hoped to later become an elaborate research cooperation. "This is an initial step", he said "and we are hopeful that the Group would soon take up relevant research studies."