From the platform of ANSO-BIDI Institute Network, the Center for Environmental Economics of the University of Chinese Academy of Sciences (CEE-UCAS), in collaboration with COMSATS, the Alliance of International Science Organizations (ANSO) and other collaborating institutions, organized the fifth term of online ANSO-BIDI School on 'Innovation, Sustainable Development and Leadership Enhancement'. The training was held from 9th November 2022 to 11th January 2023, which included 8 weekly modules, covering a wide breadth of topics to polish leadership skills of the trainees in-line with the aspirations of collaborating institutions. It afforded an opportunity to the participants for learning and sharpening skills, exchanging information, ideas and experiences, as well as promoting international cooperation.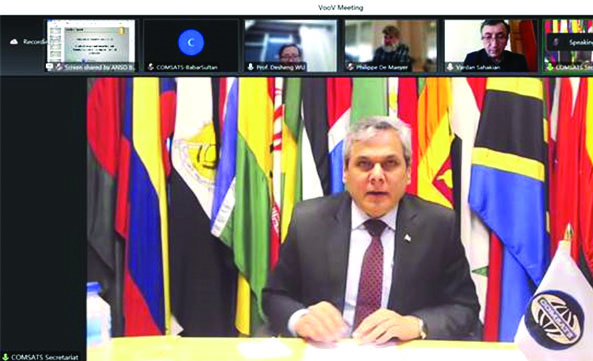 The training benefited over 80 participants, including 47 trainees recommended by COMSATS belonging to its Member Countries (Iran, Kazakhstan, Nigeria, Pakistan, Palestine and Syria). The topics covered during the training, inter alia, included: communicating spatial data (carto)graphically; disruptive technologies: the case of autonomous vehicles; basic science for facing global challenges; sustainable ecological economy; carbon sink projects; business development strategies; development of organizational leadership; management decisions under public emergency; and impact and response of epidemic on economy and society. Each training module was followed by active discussions and Q&A sessions, which facilitated exchange of ideas and knowledge-sharing.
The closing ceremony of the two-month long training course was held on 11th January 2023, which included speeches of the heads/representatives of the collaborating institutions. While making remarks on the occasion, Ambassador Dr. Mohammad Nafees Zakaria, Executive Director COMSATS, paid gratitude to the distinguished subject experts belonging to various prestigious organizations and universities for sharing knowledge, experiences, and best practices on the related topics with the participants. He congratulated all the participants who attended the training modules and benefited from the intellectual deliberations. Ambassador Zakaria stated that COMSATS is proud of being a strong pillar of ANSO-BIDI Institute Network, having collaborated to organize all five terms of the online training course since 2020. He recalled that this initiative overall benefited more than 700 scientists/leaders from various developing countries, over 300 of which were nominated by COMSATS belonging to its various Member Countries and Centres of Excellence. He stated that the demand and participation of large number of trainees indicate success of these training courses, and COMSATS looks forward to enhancing collaboration with ANSO, UCAS and other partner organizations for capacity building of the common member countries. He appreciated the untiring efforts of Prof. Desheng Wu and his team at CEE-UCAS for necessary arrangements, as well as the team at COMSATS Headquarters for facilitating the participation of relevant trainees from the Member Countries. The ceremony concluded with the distribution of certificates among the resource persons and participants.