The 57th Convocation of COMSATS Institute of Information Technology(CIIT) was held at its Lahore Campus, on October 05, 2013. Five hundred and twenty nine successful students were awarded degrees in the fields of Architecture, Mathematics, Chemical Engineering, Computer Sciences, Physics, Electrical Engineering and Management Sciences.
The Federal Minister for Science and Technology, Mr. Zahid Hamid, who is also th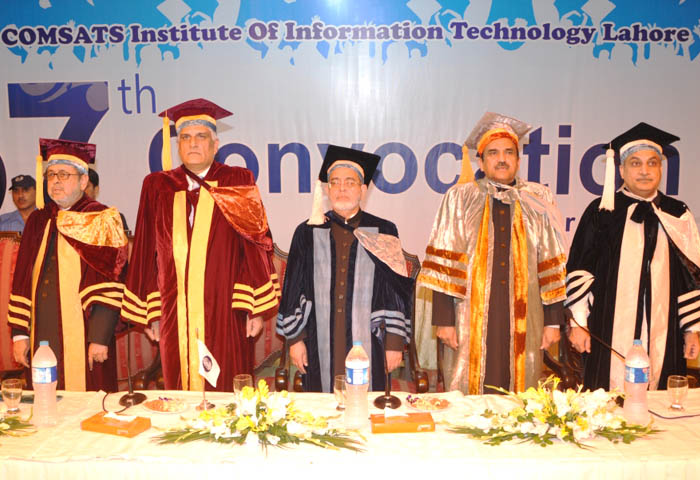 e Chancellor of CIIT, graced the occasion as the Chief Guest. Other guests of honours included, Minister for Education, Sports, Archaeology, Tourism, and Youth Affairs, Government of Punjab, Mr. Rana Mashhood Ahmad Khan; Executive Director COMSATS and Chairman Board of Governors CIIT, Dr. Imtinan Elahi Qureshi; and Rector CIIT, Dr. S. M. Junaid Zaidi.
Addressing the gathering, the Executive Director COMSATS warmly congratulated the graduates, as well as their families and the faculty members who helped them along the way towards graduation. He hoped that the knowledge and expertise acquired during the academic programmes at the Institute will help the graduates in their professional lives.
The Federal Minister for Science and Technology showed his pleasure to see a number of promising scholars, engineers, scientists, and entrepreneurs graduating from the Institute and considered them future leaders who will be taking reigns of the country. "Being the product of the 21st century, I believe you are blessed with significant potential to keep pace with the rapid challenges that the world throws before you," stated the Minister addressing the students, "All you need to do is to accept the challenges with courage and conviction to turn things around. I have great faith in your professional capabilities." The Minister reiterated the support of his ministry towards CIIT and noted that significant contributions have been made by the Ministry for promoting quality education at CIIT by supporting its 'Faculty Development Programmes'.
In his Vote of Thanks, the Rector CIIT thanked the parents for entrusting CIIT for their children's higher education and also appreciated his faculty for living upto their expectations. He took pride in the students' hard work, commitment, and sincerity during their academic programmes. He expressed his confidence in the education imparted by CIIT and believed that the degrees awarded during the occasion equipped the graduates to future challenges in their practical lives.
The graduating students with distinctions were awarded Patron's Gold Medal, and Institute's Gold, Silver and Bronze medals. Also, the Rector presented the convocation souvenir to the Federal Minister for Science and Technology, Minister for Education, Sports, Archaeology, Tourism, and Youth Affairs, Government of Punjab, and the Executive Director COMSATS.